It's time to get back on board
School is out, workers are returning to the office and everyone is ready for a summer vacation. Whether you're commuting, day-tripping or heading to the airport, you can get there on public transportation.
The health and safety of passengers and operators are very important, and Trinity Metro has worked tirelessly throughout the pandemic to keep riders safe from infection. Through contactless payment and enhanced cleaning protocols, the agency continually strives to maintain the health and safety of everyone who rides. An extension of that is the ongoing federal mandate that requires passengers and employees to wear masks when on board vehicles or when at a station.
Additionally, Trinity Metro utilizes an advanced air filtration process that is an ionizing based system to cleanse the return air flow on units. The ionizer device "ionizes" the viral atoms and by being ionized, they are able to be trapped by the filter, which is changed regularly.
Another way to enhance cleanliness is using backpack electrostatic sprayers that are used inside vehicles after use. After spraying, each vehicle has to air dry for at least two hours before returning to service.
Where can you go?
Trinity Metro's bus network makes it easy to commute to work or to visit local attractions, such as the Fort Worth Stockyards, the Fort Worth Cultural District or the Fort Worth Zoo.
Hop on TEXRail for a fun day trip to Fort Worth, North Richland Hills or Grapevine. If you're heading to the airport, TEXRail is the best way to get there. You'll arrive at Terminal B after a relaxing ride that will deliver you on time for just $2.50. If your flight is departing from a different terminal, just hop on Skylink after you go through security.
Riding Trinity Railway Express is a convenient option for traveling between Fort Worth and Dallas, especially for events at the American Airlines Center.
For easy connections, try one of the ZIPZONE options for on-demand ridesharing. The timing couldn't be better because rides are free through the end of June. Check out your choices for Southside, Mercantile, South Tarrant and Alliance ZIPZONE services.
OUR RESPONSE TO THE COVID-19 PANDEMIC 
Safeguarding the health and well-being of our passengers and employees is our priority. We are closely monitoring the rapidly changing situation and we are communicating with local, state and national health authorities to reduce the risk of COVID-19 exposure.
Is it safe to ride public transit during the COVID-19 pandemic?
There is a common misconception about public transit being a cause for the severity of urban outbreaks. Recent data shows that public transit had little or no role in the spread of this disease. The American Public Transportation Association published a research report in August 2020 that analyzed public transit ridership in multiple cities over the previous three months. This study found no correlation between the rise or fall of local COVID-19 cases and public transit ridership. If you would like to read this report, click here.

Trinity Metro and Tarrant County teamed up to provide free rides to customers who are traveling to Tarrant County Public Health COVID-19 vaccination sites. Riders may use any bus route, Trinity Metro TEXRail, Trinity Railway Express (west zone only), Trinity Metro ZIPZONE or Trinity Metro ACCESS paratransit to connect to the bus routes serving the vaccination sites.
VIEW LIST OF TCPH VACCINATION SITES >
As part of this agreement, rides to Tarrant County Public Health vaccination sites only are covered.
Appointments are required to get a COVID-19 vaccine at Tarrant County Public Health vaccination sites. Individuals who show up without an appointment will be turned away. To register to receive a COVID-19 vaccine, click here.

Trinity Metro is committed to safety. This is what we are doing to deliver you safely to your destination: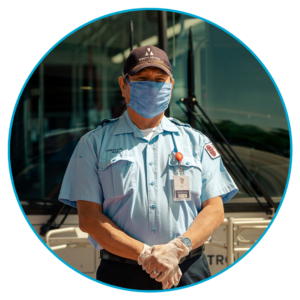 Masks

required
Face masks covering the nose and the mouth are required on board all Trinity Metro vehicles and when visiting any Trinity Metro facility. Trinity Metro's long-held policy now has federal support due to the new executive order signed by President Biden requiring mask-wearing on public transportation.
Well insulated
We have installed transparent barriers on board buses to separate bus operators from customers who are boarding and getting a ticket.
Topped with a bow
Extra efforts have been made to increase the frequency of cleaning high-touch areas such as door handles, railings, benches and ticket vending machines with disinfectant throughout each shift.
Buses and vans are sanitized daily and all buses are equipped with ionizers, which help purify the air as it is recirculated in the vehicle.
Trinity Metro TEXRail trains are disinfected daily after they have been in service.
We have installed hand sanitizing stations around Fort Worth Central Station, as well as on board all buses, ACCESS vans and trains.
All Trinity Metro employees get temperature screenings daily.
No mask? We've got you
Customers in need of a face mask should see customer care representatives at the ticket sales kiosk at Fort Worth Central Station for one or any member of the ENVOY and operations team.
APTA's Health and Safety Commitments Program
Trinity Metro joined the American Public Transportation Association "Health and Safety Commitments Program," a pledge to passengers that public systems are taking all the necessary measures to operate safely as the nation recovers from the COVID-19 pandemic. The key areas covered in this program are:
Following public health guidelines from official sources.
Cleaning and disinfecting transit vehicles frequently and requiring face coverings and other protections.
Keeping passengers informed and empowered to choose the safest times and routes to ride.
Putting health first by requiring riders and employees to avoid public transit if they have been exposed to COVID-19 or fell ill.
ZIP IN. ZIP OUT. SAFELY
Trinity Metro ZIPZONE is a ridesharing transit solution that uses smartphone technology and a fleet of dedicated vehicles to provide trips within specific service boundaries. This convenient on-demand option gives you the flexibility to travel when you choose rather than committing to a present schedule. This is what we are doing to deliver you safely when using this service. To read more about the safety measures for ZIPZONE riders and drivers, click here.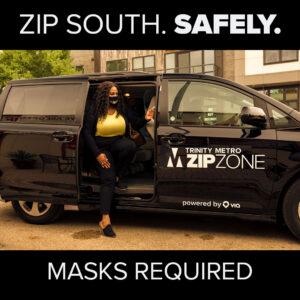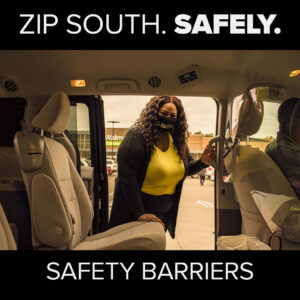 Trinity Metro customers, partners and employees are reminded to protect their health and the health of others by practicing the following recommended precautions:
Avoid close contact with people who are sick.
Avoid touching your eyes, nose and mouth.
Stay home when you are sick.
Cover your cough or sneeze with a tissue, and then throw the tissue in the trash.
Clean and disinfect frequently touched objects and surfaces using regular household cleaning spray or wipe.
Wash your hands often with soap and water for at least 20 seconds. This is especially important before eating, after going to the bathroom, and after blowing your nose, coughing or sneezing.
If soap and water are not readily available, use an alcohol-based hand sanitizer with at least 60% alcohol.
For more information on symptoms and prevention, please visit the CDC's website
Trinity Metro enforces federal face mask order
Trinity Metro's long-held policy requiring riders to wear face coverings when riding in its vehicles and when within its facilities now has federal support due to the new executive order signed by President Biden requiring mask-wearing on public transportation.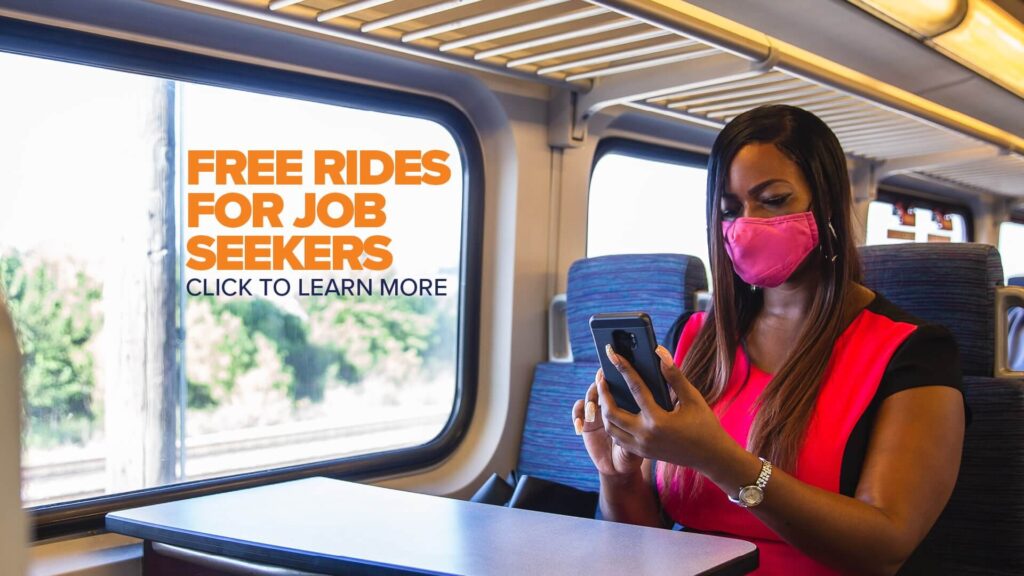 Free Rides for Job Seekers
Trinity Metro wants to help job seekers get to interviews and job fairs by offering free rides for those events.
WITH THE STAY-AT-HOME ORDER IN PLACE, ARE YOU STILL OFFERING TRANSPORATION SERVICES FOR ESSENTIAL PERSONNEL?
Yes, transportation services are essential to Tarrant County residents and Trinity Metro will continue to provide transportation services for essential personnel.
WHY DON'T YOU SHUT YOUR SERVICES DOWN?
Our services are essential to many Tarrant County residents who rely on Trinity Metro to access health care, food and medicine. This includes many first responders, healthcare professionals and essential workers who use our services daily to get to their jobs. Our top priority is to help safeguard our customers' and employee's health while we continue to meet the mobility needs of residents in Tarrant County
IF THERE IS A SHELTER-IN-PLACE ORDER ISSUED IN TARRANT COUNTY, WILL YOU CONTINUE TO PROVIDE SERVICES FOR ESSENTIAL PERSONNEL?
In the event that a shelter-in-place order is issued, Trinity Metro will continue to provide transportation services for essential personnel.
IF MY BUS ROUTE USUALLY DOES NOT OPERATE ON SUNDAYS, WHAT SCHEDULE WILL IT FOLLOW?
Routes that do not operate on Sunday, such as the downtown Lunch Line and 71-Forest Hill, will be temporarily suspended. Molly the Trolley is not operating through May 31. Express routes 63X/64X and 65X will continue to operate on their regular schedules.
HOW LONG WILL THESE SERVICE MODIFICATIONS LAST?
This service change is ongoing. Trinity Metro will continue to monitor the situation and will determine if other alterations are needed.
I WOULD LIKE MORE INFORMATION ABOUT WHAT TRINITY METRO IS DOING IN RESPONSE TO COVID-19.
For questions regarding Trinity Metro's precautionary measures in response to COVID-19 or Trinity Metro's services, call Customer Care representatives at 817-215-8600.
COMMUNITY RESOURCES
Here is a list of helpful resources from Tarrant County agencies that are providing assistance to members of our community.
GENERAL INFORMATION
Call 211 if you need assistance finding food, paying housing bills or other essential services to speak to someone who can help.
Visit Findhelp.org to find free and reduced-cost service in every U.S. city.
MENTAL HEALTH
MHMR of Tarrant County's Mental Health and Substance Use Disorder emergency support is available 24 hours a day.