MAKE YOUR MOVE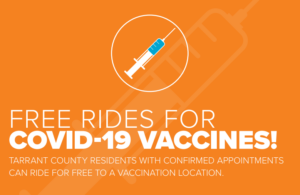 Free Rides for COVID-19 Vaccinations
Trinity Metro will offer free bus and train rides to anyone on their way to a confirmed vaccination appointment in Tarrant County.
Free rides will begin Monday, Feb. 15.
---
Trinity Metro Enforces Federal Face Mask Order

Trinity Metro's long-held policy requiring riders to wear face coverings when riding in its vehicles and when within its facilities now has federal support due to the new executive order signed by President Biden requiring mask-wearing on public transportation. 

Rider Alert:




Inclement Weather

Trinity Metro has developed contingency plans designed to maintain services to each of our major transit facilities. In the event either plan is necessary, updates will be placed on the link below.

 
---
Trinity Metro is partnering with Fort Worth Opera to bring you All About Love, a Valentine's Day edition of FWO GO, the company's LIVE, socially distanced pop-up concert series!

Join us this Friday, Feb. 12 at 6 pm at the Modern Art Museum of Fort Worth and at 8 pm at Crockett Hall in Crockett Row for a 30-minute concert filled with romantic arias, show tunes, and art songs about love.

Viewers can catch The Dash for a stress-free ride between both performances.
EXPLORE FORT WORTH
with Trinity Metro
HAPPENING THIS WEEK:
Some events might be rescheduled or canceled due to COVID-19 concerns. Please check with the event organizer before attending any of these events.
FWO GO: All About Love!

FWO GO: All About Love!

Lee Merritt, Esq. – The People's Lawyer

Presented by Modern Museum of Fort Worth

Presented by Crockett Row

Presented by Texas Christian University

| Friday, Feb. 12
6pm

| Friday, Feb. 12
8pm

| Wednesday, Feb. 17 

Modern Museum

Crockett Row

Virtual Event

To get there, ride The Dash to Camp Bowie and Van Cliburn

 

To get there, ride The Dash to Currie and Crockett

To get there, ride the TRE to Victory Station, switching to the DART Orange line to St. Paul Station.




 

 

 

 

 

A Gala Evening with Yuja Wang

Shop to Well-Being

Part-Time




Job Fair

Presented by the Fort Worth Symphony Orchestra

Presented by Blue Zones Project

Presented by Dickies Arena

| Saturday, Feb. 20

| Thursday, Feb. 25

| Thursday, Feb. 25 &
Monday, March 22

Dickies Arena

Virtual Event

Dickies Arena

To get there, ride The Dash to Gendy and Harley

To get there, ride bus route 7 to University and Harley-Botanic Gardens.

To get there, ride The Dash to Gendy and Harley



---
We'll Take the Wheel 

Season 2, Episode 2

In this episode, we feature a reading by Fort Worth City Council Member Gyna Bivens on the Historic Wall located at Fort Worth's Central Station. The Historic Wall was dedicated on Feb. 24, 2002, to commemorate the important and vibrant African-American commercial and historic warehouse district that existed at the site between 1865 and 1940. Working with the State Historic Preservation Office, the Black Historical and Genealogical Society, Historic Fort Worth, and many community volunteers, Trinity Metro developed this display to perpetuate the economic and cultural contributions of this era.
To have this newsletter delivered to your mailbox, click here and subscribe to our e-mail list.