To have this newsletter delivered to your mailbox, click here and subscribe to our e-mail list.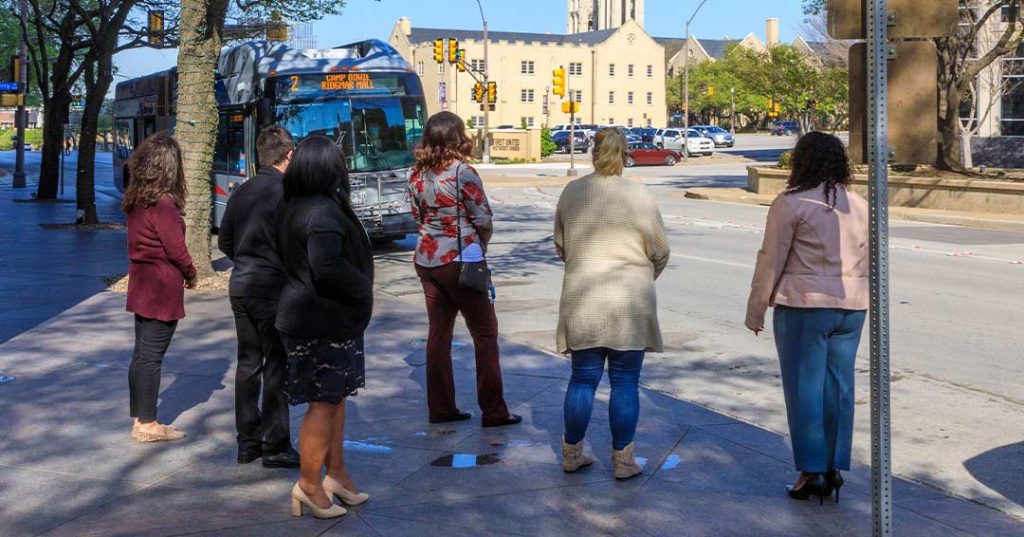 MAKE YOUR MOVE
IT'S TIME TO GET BACK ON BOARD
School is out, workers are returning to the office and everyone is ready for a summer vacation. Whether you're commuting, day-tripping or heading to the airport, you can get there on public transportation.
The health and safety of passengers and operators are very important, and Trinity Metro has worked tirelessly throughout the pandemic to keep riders safe from infection. Through contactless payment and enhanced cleaning protocols, the agency continually strives to maintain the health and safety of everyone who rides. An extension of that is the ongoing federal mandate that requires passengers and employees to wear masks when on board vehicles or when at a station.
Additionally, Trinity Metro utilizes an advanced air filtration process that is an ionizing based system to cleanse the return air flow on units. The ionizer device "ionizes" the viral atoms and by being ionized, they are able to be trapped by the filter, which is changed regularly.
Another way to enhance cleanliness is using backpack electrostatic sprayers that are used inside vehicles after use. After spraying, each vehicle has to air dry for at least two hours before returning to service.
---
WHAT'S NEW AT TRINITY METRO?
ADVANCING EAST LANCASTER SURVEY

The East Lancaster Avenue community is invited to complete a brief survey to provide vital feedback on the future vision of the historic corridor between downtown Fort Worth and beyond Interstate 820.

Taking the survey will help Trinity Metro and the City of Fort Worth create a transit-oriented development (TOD) plan to design a more connected, accessible, and thriving East Lancaster Avenue corridor through the implementation of local high-capacity transit and surrounding economic development.
JULY 4-5 SERVICE CHANGES

In observance of the Independence Day holiday, Trinity Metro will be operating on a holiday schedule on July 4 and 5.

Have a safe and happy Independence Day!
DOUBLE DASH.




DOUBLE THE FUN.

Trinity Metro is operating a "Special Events Double Dash" route to provide downtown transportation for large events at the Fort Worth Convention Center. Thanks to a partnership with Visit Fort Worth, rides on The Dash electric buses will be free during these events.
JOIN THE MOVEMENT

If you're looking for a career with great advancement opportunities, awesome benefits, a state-of-the-art gym onsite with a personal trainer, plus free access to our healthcare clinic (if enrolled in our medical plan), then Trinity Metro is where you want to be.

We are hiring positive, friendly, reliable operators.

No CDL? No problem. We can help you earn your license right here!
---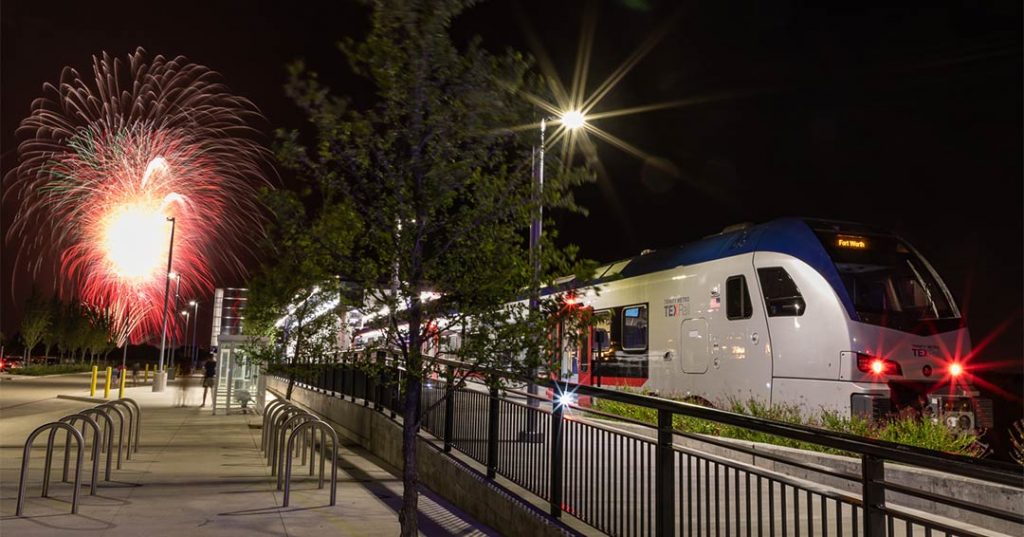 EVENTS CALENDAR
Some events might be rescheduled or canceled due to COVID-19 concerns. Please check with the event organizer before attending any of these events.
ROCKIN' THE RIVER

| July 3 – Aug. 7

Trinity Metro is the official transit provider of Rockin' The River.

Enjoy 30 Texas County, rock and soul bands and a fireworks show to end each night with a BANG. Float up to the Coors Light waterfront stage or chill on the shore with a brew and enjoy live music in the coolest seat in town.

Trinity Metro will provide picnic blanket giveaways on a first come, first serve basis to attendees.
Weekly Children's Book Readings

Fort Worth's Fourth

Derailed and Departed

Presented by John Wayne an American Experience

| July 1 – Aug. 26

John Wayne and American Experience

Presented by Tarrant Regional Water District


| July 4

Panther Island Pavilion

To get there, ride bus route 46 to Henderson and Peach.

Presented by The Palace Arts Center


| July 10

Palace Theatre

To get there, ride Trinity Metro TEXRail to Grapevine Main Street Station.

LEARN MORE >

LEARN MORE >

LEARN MORE >

Red, White, and Boots

America Strong

Vinyl Record Show

Presented by Fort Worth Stockyards


| July 2-4

Historic Fort Worth Stockyards

Presented by Fort Worth Symphony Orchestra

| July 4

Dickies Arena

To get there, ride The Dash to Gendy and Harley.

Presented by Music Connection

| July 10

Grapevine Convention Center

To get there, ride Trinity Metro TEXRail to Grapevine Main Street Station.

LEARN MORE >
LEARN MORE >
LEARN MORE >
---

At Trinity Metro, we are honored to stand with and be supportive of our LGBTQ+ community this Pride Month and beyond. As part of our Pride Month celebration, we partnered with Tony Green and Henry Abuto, hosts of the podcast On The Same Page, to show our riders some of the places they can visit to celebrate Pride Month.
| | |
| --- | --- |
| | |
| #RideWithPRIDE on TheDash | #RideWithPRIDE on ZIPZONE |
---
MEET THE ENVOY's

Juanita has been a part of the Trinity Metro family for 15 years. Her favorite part about her job is being able to explore and learn Fort Worth and the surrounding Metropolitan areas on public transit. This allows her to provide better customer service for riders. Juanita recommends riding Route 25 to Texas Roadhouse.

Juanita advises riders to try public transit at least once. Do not let fear stop you from learning an important life skill. She also encourages riders to try Envoy travel training to help make their first time riding a good experience.
---
NEW ON THE BLOG

Bus route 14 travels between Fort Worth Central Station, the Stockyards Transfer Center, Lancaster and Pine and Northside Station. Visit our blog and discover new places along this route.

NEW ON THE PODCAST

Trinity Metro's Vice President of Customer Experience, Detra Whitmore, and Grants Analyst, Eva Williams, interviewed Miss Opal Lee in the latest episode of We'll Take the Wheel.
To have this newsletter delivered to your mailbox, click here and subscribe to our e-mail list.