Trinity Metro stands with our employees, our riders, our partners, and the communities they support, in their efforts to create a more equitable and inclusive society. We recognize that addressing the need for change where we live and work requires more than a statement or one-time action though; it demands ongoing commitment. We are committed to continuing to be a positive part of such change in our community.
During Black History Month, we are featuring stories from local businesses that lift the voices of black business owners. Their stories reflect, honor and celebrate Black History Month in achievements, culture, pain and joy.
CARPENTER'S CAFE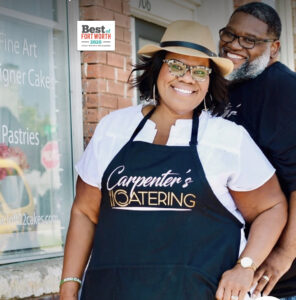 The next featured business is Carpenter's Cafe, an establishment born from a passion to serve others. Cafe owners, Travis and Katrina Carpenter have always been active in the community and get pleasure from people's satisfaction with service. Feeding people comes naturally for them since they come from a history of cooks and a tradition grounded in family conversations around quality, savory food. Carpenters Cafe aims to provide good food and a family vibe to the community.
After encouragement from friends and family, The Carpenter's transitioned from operating out of a food truck to opening their first brick and mortar in the Near Southside across from Texas Health Harris Hospital in 2020, just before the pandemic shut down the city. They share, "We would not have survived without the support of our community, and for this we are extremely grateful." 
When we asked Travis and Katrina what it meant to them to be black business owners in Fort Worth, they explained, "We strive to serve as ambassadors for restauranteurs of color. Being a black business owner in Fort Worth is a big deal to us. Everyone deserves an opportunity to launch a business aligned to their values and passions. It is our sincere hope that we make our city and community proud. Fort Worth is a diverse community and business ownership should not be relegated to only the areas with your demographic. We hope to be change agents in our community by cultivating an atmosphere of respect, inclusion and authenticity."
We also wanted to hear more from Travis and Katrina on what companies like Trinity Metro can do to continue a commitment to equality in the community. They shared, "We are thrilled to know that the Trinity Metro has added an equality statement to show their dedication to the community! We feel that this is one step of hopefully many more to follow in the right direction.  It's important for other local companies to speak out about what they are doing to show their commitment to equality as well. Let us all lead by the right examples. We hope that our city will be a collective driving force in change."
The next time you have a hankering for delicious, homemade food, you should head on over to Carpenter's Cafe at 1116 Pennsylvania Ave. When we asked Travis and Katrina what item on their menu you must try, they emphatically said, "the smoked chicken salad!"
Due to COVID-19, Carpenter's Cafe is offering curbside and take-out and limited seating for parties of 4 or less right now.
For more information on Carpenter's Cafe visit https://carpscafe.net.
For more information about Trinity Metro's commitment to equality, visit https://ridetrinitymetro.org/equality/.
Going by Transit? Carpenter's Cafe is located off bus routes 4 & 6. Additionally, the cafe is located within the Near Southside ZIPZONE service area. The Cook Children's bike-sharing station is within walking distance.