Our friends from Unbound North Texas are taking over our blog to showcase our partnership with the Underground. In conjunction with January being Human Trafficking Awareness Month, this campaign is intended to spread the word about the Unbound's underground drop-in service for victims of slavery and trafficking.
MEET SANDY HENNIP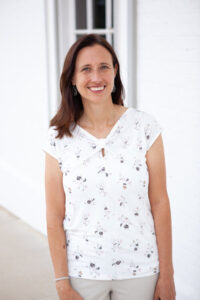 Sandy Hennip, MSW, joined Unbound Fort Worth as executive director on August 1, 2020. Sandy has over 20 years of experience working with vulnerable populations as well as equipping others through Team Development. She spent the last eight years in South East Asia overseeing the team development system for 82 international non-profit teams Previous to this, she worked for several years in Refugee Resettlement serving as Program Director and Case Manager. Sandy holds her Master's in Social Work from Baylor University.

The fight against human trafficking is in full swing, and the transportation industry is right on the front lines.
What does human trafficking have to do with the transportation industry?
Polaris, which operates the National Human Trafficking Hotline, recently published a report on human trafficking as it relates to the transportation industry. Based on input from survivors and thousands of calls to the hotline, they concluded that human trafficking intersects with the transportation industry in a few key ways. First, the transportation industry is used in recruitment. Traffickers recruit youth into sex trafficking at bus stations and bus stops where vulnerable youth – often homeless or runaways – seek shelter. All it takes is an offer of a ride or a place to stay, and the youth unwittingly takes off with a trafficker. Local bus systems can also be used in trafficking operations. According to Polaris's report, 33% of survivors reported using public buses while being trafficked. It is likely that victims of human trafficking are riding on our buses. Finally, buses were listed as the most common type of transportation used when attempting to escape. Human trafficking is a highly profitable, rapidly growing criminal enterprise. In order to combat it effectively, the business sector must be involved. Law enforcement and non-profits can't resolve this issue alone.
What exactly is human trafficking?
It's a form of modern-day slavery that occurs when a trafficker uses force, fraud, or coercion to control another person for the purpose of engaging in commercial sex acts or soliciting labor or services against his or her will. If a minor (age 17 or under) is engaged in commercial sex, it is human trafficking whether or not force, fraud, or coercion are present. Under federal law, there is no such thing as child prostitution. Trafficking doesn't have to involve travel or crossing borders. Unlike human smuggling, which is a crime against a border, human trafficking is a crime against a person. The federal law on human trafficking, the Trafficking Victims Protection Act (TVPA), defines both labor and sex trafficking. This law tells us who we can prosecute as a trafficker and who we should protect as a victim. The Trafficking Victims Protection Act can be broken down into three parts: action, means, and purpose. The action part tells us who is committing the crime of human trafficking. Anyone who recruits, harbors, transports, provides, obtains, patronizes, solicits, or advertises someone could be guilty of human trafficking.
Someone who persuades another to work for a trafficker or introduces them can be charged




with trafficking.

Someone who drives a victim to an appointment with their buyer can be charged with




trafficking.

Someone who posts an online ad to advertise someone for prostitution can be charged with




trafficking.
The inclusion of the words "obtaining, patronizing, and soliciting" is significant because this means buyers are considered traffickers under federal law. It is important to note these facts, because traffickers do not care who they exploit. Yes, they victimize the minors they sell, but they also exploit young people by having them do things like drive the victim to their appointments, post ads, befriend possible targets and bring them in contact with themselves as part of the recruitment. In this way, they put others at risk of exposure and keep themselves from being caught.
The "means" part has to be present for the situation to be considered human trafficking. Let's define the means:
Force is physical force or violence

Fraud is deception, making someone believe or expect something other than the truth or reality

Coercion is threatening, manipulating, making someone do something through the threat of force The purpose part tells us if someone is trying to make money off someone else through commercial sex or through forced labor. A commercial sex act is defined in the law as the performance of a sex act in exchange for something of value. Usually, that something is money, but it doesn't have to be. It can be for drugs. It can be for rent. It can be just a place to stay that night. And the act isn't limited to prostitution. It could include stripping, web sex, production of pornography, etc. Some of the common forms of child sex trafficking include child pornography, live video, familial trafficking (trafficking by family members), trafficking through strip clubs, being sold on the street or online, and gang-related trafficking. Most of the victims Unbound has worked with report that they have been sold through online ads during their victimization.
Unbound has worked with several youths whose moms or dads have sold them for sex in exchange for drugs – that's familial trafficking. As we mentioned earlier, trafficking doesn't have to involve travel of any sort. A person can be trafficked in their own home. As we said earlier, a minor working in a strip club or engaged in the commercial sex industry in any other way, is trafficking. We have seen cases where a high school student was recruited by a fake job ad for modeling but was really expected to work in a strip club and engage in sex with buyers. Unbound has worked with kids who were sold by pimps on the street. Our teams have also worked with kids who have been sold online. Backpage.com used to be the big marketplace, but it's still happening online- Craigslist personal ads, social media apps, chat rooms, etc. Kids can even be recruited through online gaming.
What about boys?
Male sex trafficking victims may have an even lower chance of identification, for many reasons. For one, our culture often pictures males as perpetrators of sexual crimes and females as victims of sexual crimes. Especially when talking about child sex trafficking, it's easy to assume we are talking about teenage girls. However, according to Love146, leading studies show that nearly half of child sex trafficking victims are males. The primary risk factor observed for underage male victims is homelessness. Boys may be homeless because they were thrown out of the house or have run away due to family dysfunction, including abuse or familial substance abuse. Many youths who identify as gay or are transgender report having been thrown out of their homes or have experienced significant discrimination, including bullying and abuse. One thing that may set boys apart in terms of the commercial sexual exploitation of children is the prevalence of survival sex, often connected to the needs presented by homelessness. Male victims may be recruited directly by buyers rather than a third party trafficker. They are more likely to feel a sense of agency, therefore less like a victim. They are likely to be drawn in by a buyer offering to meet their needs and providing a sense of belonging. Due to the shame and stigma surrounding both sex trafficking in general and sex trafficking of males specifically, these victims may be less likely to reach out for help. There may also be fewer resources available for male trafficking victims, and they may be less known than resources for female victims. It's important to understand that although commercial sexual exploitation of boys may look different, we need to be diligent to recognize those signs and make sure they're connected to the help and resources they need.
Who are the traffickers?
Traffickers come in many forms. They could be from the United States or another country. They could be family members or partners of their victims or total strangers. Traffickers can be male or female. They could be individual pimps or gangs.
What about labor trafficking?
According to federal law, labor trafficking is when someone is forced, lied to, threatened, or coerced to provide labor or services. This can happen through many types of work, like restaurants, health care, hotels, construction, factories, nail salons – anywhere where someone is providing labor or a type of service. These can all be legitimate jobs, but when someone is being forced, lied to, threatened, or coerced to do this, it's human trafficking.
How common is human trafficking?
Human trafficking happens everywhere.
The International Labor Organization says there are about 40.3 million human trafficking victims worldwide.

This is a huge criminal industry, worth more than $150 billion each year. Human trafficking is the fastest-growing criminal industry in the world today, second only to drug trafficking and tied with illegal arms. Experts expect it to overtake those industries. Why do you think gangs, organized crime networks, and even cartels are switching from drug trafficking to human trafficking? Human trafficking hides in plain sight, so it is far less risky for the trafficker. A trafficker can sell a person over and over, and unfortunately, there is a ready supply of vulnerable youth.

The University of Texas School of Social Work released a study on human trafficking in 2016. The study estimated that there are 313,000 victims of human trafficking in Texas. This includes an estimated 79,000 minors and youth who are victims of sex trafficking in Texas.
Who are the victims?
Any child can be at risk for sex trafficking. Kids and teenagers are at a developmental stage of exploration — trying to find where they belong and who they want to be. Even in safe homes, teenagers often are at a tumultuous stage of their relationship with parents and other authority figures. They are looking for freedom and independence, and sometimes this healthy development
leads to some unwise choices with dangerous consequences. This provides a perfect window for traffickers to step in. There are, however, some risk factors that make certain children especially vulnerable. The major ones include a history of running away, homelessness, identifying as LGBTQ, child sexual abuse, and chronic abuse or neglect. Of the nearly 25,000 endangered runaways reported to NCMEC in 2019, one in six of these were likely victims of child sex trafficking. A child could also be more at risk when facing lack of personal safety, isolation, emotional distress,
poverty, family dysfunction, substance abuse, mental illness, learning disabilities, developmental delay, promotion of sexual exploitation by family or peers, and lack of social support. One of the most difficult things to understand about human trafficking is how traffickers keep their victims if they treat them so badly. If they're not tied up, why don't they just leave? Traffickers use lies, fear, and threats. They may threaten a victim's family, lie to them about the people in their lives and police, and control them through physical violence or threat of physical violence. Traffickers often brand their victims with tattoos of the pimp's name or another symbol like a barcode or moneybag, convincing her or him that she or he is worthless, only good to be another
person's property. This often makes a victim feel hopeless, feeling like there is no way out. Traffickers use substance addiction, often introducing their victims to hard drugs and using that dependency to control them. Another theme seen in trafficking victims is trauma bonding. In many ways, this psychological bondage can be more powerful than a physical constraint.


Trinity Metro – Taking action!
We are proud to announce that Trinity Metro is doing its part to combat human trafficking and support survivors. Beginning in January, in recognition of National Human Trafficking Awareness Month, Trinity Metro buses will have cab cards featuring Unbound's Underground drop-in center for youth, a place where youth age 22 and under can go to rest in a safe place, get a light meal, take a shower, do laundry, and receive counseling and referrals for other services. This drop-in center is our community's most recent effort to prevent youth from falling prey to traffickers and for those already being exploited to seek safety. The cab cards will also include the National Human Trafficking Hotline: 888-3737-888 or text Be Free (233733). The hotline is confidential and accessible in over 200 languages 24/7 for victims to get help or community members to report a tip.
---
Unbound's mission is to support survivors and resource our community to fight human trafficking. Unbound accomplishes this through three program areas: prevention & awareness, professional training, and survivor advocacy. Unbound has served nearly 250 local survivors of human trafficking over the past two and a half years. Its training for healthcare professionals has been approved by the Texas Health and Human Services Commission, and its training for education professionals has been approved by the Texas Education Agency. Unbound is excited to be launching the Underground, its new 24/7 drop-in center for trafficked and exploited youth up through age 22.
The Underground is located in the lower level of One Safe Place, at Trinity Metro bus line 001 – Hemphill/Magnolia.

817-885-7735, TheUnderground@unboundnow.org
---
Source: Together, we can end human trafficking in our community. On-Ramps, Intersections, and Exit Routes: A Roadmap for Systems and Industries to Prevent and Disrupt Human Trafficking. Polaris, July 2018.
Unbound's Underground drop-in center for youth