Our friends from the Modern Art Museum of Fort Worth are taking over our blog to showcase their latest project, RESIST COVID/TAKE 6! This artist-led public service announcement and public art campaign is intended to spread life-saving information to communities who have been disproportionately affected by this deadly virus.
Meet Alison Hearst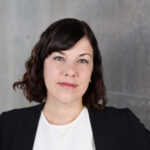 Alison Hearst is an Assistant Curator at the Modern Art Museum of Fort Worth. One of the latest projects she's been working on is RESIST COVID/TAKE 6! Alison collaborated with other local curators to bring this artist-led public service announcement and public art campaign to Dallas – Fort Worth. In the following blog post Alison writes about her experience collaborating in this multi-city project.
RESIST COVID/TAKE 6!
Hello! My name is Alison Hearst and I'm an associate curator at the Modern Art Museum of Fort Worth. I've been working on Carrie Mae Weems' project, RESIST COVID/TAKE 6!, for the last few months along with many of my colleagues at the museum and throughout the Dallas-Fort Worth Metroplex. RESIST COVID/TAKE 6! is an artist-led public service announcement and public art campaign intended to help curb the spread of COVID-19 in DFW, especially within Black, Latinx, Asian/Pacific Islander, and Native American communities who have been disproportionately impacted by the deadly virus. In the form of billboards, posters, signs, paper grocery bags, reusable cloth masks, and other takeaway items, the project aims to share important healthcare messaging and tips, send gratitude, and thanks to our essential workers, and share encouraging messages of hope throughout this difficult time.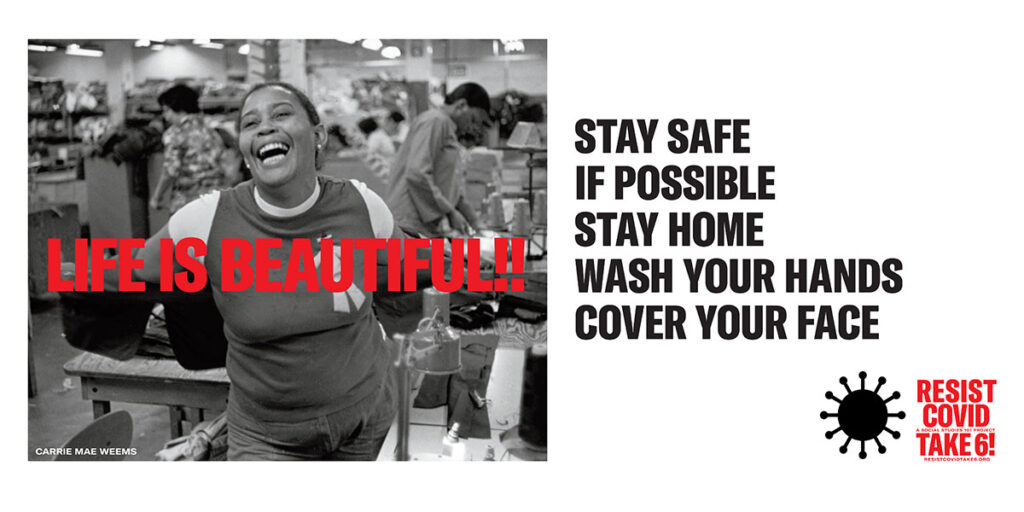 The artist behind this ambitious project, Carrie Mae Weems, is one of the most influential American artists and photographers working today. Among her many accomplishments, I wanted to particularly highlight that she is a recipient of the MacArthur "Genius Grant" and the first African-American woman to have had a solo exhibition of her work at the Guggenheim Museum in New York in 2014. The Modern is lucky to have many of Carrie Mae Weems' incredible photographs in our permanent collection, including her iconic The Kitchen Table Series, 1990, which is on view in our galleries now.
The project first launched in Syracuse and evolved from a conversation Weems had with a close friend about the pandemic and what they could do to help. Since launching this spring, RESIST COVID/TAKE 6! has also been in New York City, Detroit, Savannah/Atlanta, Chicago, Philadelphia, and now Dallas/Fort Worth until December. The Modern's involvement came about after Laurie Farrell, Senior Curator at the Dallas Contemporary, contacted us along with many other museums in the Metroplex (such as the African American Museum of Dallas, Amon Carter Museum of American Art, Crow Museum of Asian Art of The University of Texas at Dallas, Dallas Museum of Art, The Nasher Sculpture Center, and the newly-formed Gossypion Investments group of cultural consultants) to gauge our interest in working together to make RESIST COVID/TAKE 6! a reality in DFW. Together we formed a cultural consortium, led by Laurie, to roll out this ambitious project throughout the region. Our collective duties have included fundraising; determining the project's most effective imagery and messaging for our particular communities; researching what neighborhoods are most impacted by COVID; developing partnerships with organizations such as Trinity Metro and Clear Channel Outdoors to help amplify these messages; locate partners such as ATOMS to donate reusable cloth masks; community outreach; and speaking with and gauging the needs of our community partners for masks and other items to give out to their communities. It is extremely rare for so many museums to band together on a project, but RESIST COVID/TAKE 6! is truly something intended for the community, and I couldn't imagine anything other than our community approach in organizing this effort.
Billboard Locations
"No te preocupes, volveremos a darnos la mano" | 2054 E Rosedale St., Fort Worth, Texas 76104

"Don't worry, we'll hold hands again" | 813 Hemphill St. Fort Worth, Texas 76104

"Life is Beautiful" | 2100 NE 28th St., Fort Worth, Texas 76106