---
Trinity Metro stands with our employees, our riders, our partners, and the communities they support, in their efforts to create a more equitable and inclusive society. We recognize that addressing the need for change where we live and work requires more than a statement or one-time action though; it demands ongoing commitment. We are committed to continuing to be a positive part of such change in our community.
During Black History Month, we are featuring stories from local businesses that lift the voices of black business owners. Their stories reflect, honor and celebrate Black History Month in achievements, culture, pain, and joy.
---
MEET TAREKA LOFTON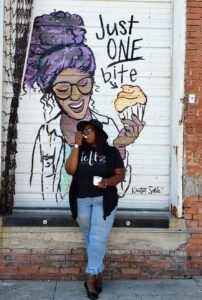 Our first business is Loft22 Cakes, a specialty cake bakery with a spirit of creative freedom located in Fort Worth's Near Southside off Daggett Avenue. It is a bakery with lots of heart that can be both tasted and seen in what they put out. Tareka Lofton, Loft22's Executive Pastry Chef and Owner, began baking cakes under the Loft22 name in 2013, upon completing culinary school at Le Cordon Bleu in Dallas. Tareka says, "We create memories, and are privileged to play in role in the important turning points within the lives of others, a wedding, a birthday, a baby shower and the list goes on." Tareka has always been a natural lover of people, she loves to serve others and make people smile. As a creative artist, without fear when it comes to color, design, recipe experimentation, and thinking outside of the box, Tareka saw the need to offer a fine art cake service for style makers, influencers, and other creatives that would appreciate having that option.
When it came time to decide where Tareka wanted to open the bakery, the Near Southside was a no-brainer.
The area already felt like home to her in a lot of ways since during culinary school she interned under Robbie Werner at Stir Crazy Baked Goods, a Near Southside staple. The details on how Tareka landed on her Daggett Avenue location seems serendipitous looking back now. Tareka fell in love with the Near Southside in its early burgeoning phase. "It was urban and offbeat. The people and vibe were very colorful, everything that I wanted the culture of Loft22 to be." She never could have imagined that the former second location of Stir Crazy would be her own bakeshop one day. Fast forward to some years later at a time Tareka says, "I had cake orders running out of my ears and needed to find a small startup bakery space and make things official." The tiny bakery on 106 E. Daggett became available and the rest is history.  
Part of having a business in the heart of the city is having access to public transit. Tareka says that accessibility to transit near the bakery has been very valuable and recognized how convenient it is that her location is within walking distance of a train station, bus stops, and bike-sharing station. She has employees that ride to work via Trinity Metro from other areas. Also, she loves that her customers are able to easily access and explore the storefront and surrounding area without having to worry about parking or traffic congestion.
When we asked Tareka what it meant to her to be a black business owner in Fort Worth, she explained, "I feel representation in every neighborhood and industry is so important. I take the title very seriously to be a Black-owned business in the city of Fort Worth.  When I first opened the bakery in the Near Southside, there was a very slim representation of black business owners in the area. I felt humbled to be among the first to have a visible storefront. I also felt a weight of the responsibility to ensure that the narrative of what it means to be a Black-owned business is evolving in a positive way. I push so hard for excellence in everything we put out from the products to branding imagery and content. Everything is intentional to make a statement that says Black business can be an excellent business."
We also wanted to hear more from Tareka on what companies like ours can do to continue a commitment to equality in the community. Tareka shared, "I find it refreshing and wonderful that Trinity Metro has added an equality statement to show their dedication to the community. It's so vital right now that other local companies begin or continue a commitment to equality. The time is now, more than ever, to make unity a priority.  This helps all companies to be better and more enriched by the differences of others. No matter the circumstances, we all have something we can learn from someone else." 
On the notion of learning something new, Tareka shares that she believes that you should experiment beyond a recipe when baking. "Do not be afraid to add fun, unexpected ingredients. For example, try replacing water with heavy cream, add an extra egg or a little extra butter, it won't hurt. Tweaking the rules makes for a richer product!"
Finally, Tareka wants everyone to know that her bakery is rooted in faith and hope. "I started with absolutely nothing. And, now here we are in the middle of a pandemic and we were blessed to go viral and land a feature on the Today Show and have had our biggest sales year yet; only God can do that. I had a dream, but no money or resources. I did, however, have GREAT faith that did not waver. After many years, many tears, and many prayers later, we are on our way to becoming a staple in the community of Fort Worth."
When the next special occasion occurs or simply when you've got a sweet-tooth craving, please go and pay Tareka and her team a visit at Loft22 Cakes located at 106 E. Daggett Ave.
Going by Transit? Loft22 Cakes is located off bus routes 4 & 6 and within walking distance of the T&P train station stop. Additionally, the bakery is located within the Near Southside ZIPZONE service area the S. Main & Daggett bike-sharing station is right outside the storefront. 
---
For more information on Loft 22 Cakes visit www.loft22cakes.com.
For more information about Trinity Metro's commitment to equality, visit https://ridetrinitymetro.org/equality/.