With public transit considered an essential service, the employees here at Trinity Metro must receive the support that they need to do their jobs safely. Thanks to the hardworking employees here at Trinity Metro, we have successfully implemented COVID-19 guidelines that keep you safe on your commute. To shine a spotlight on these amazing employees, we asked several of our managerial staff to nominate their Employees Who Make a Difference.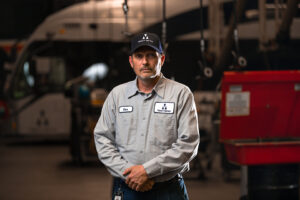 Quality Assurance Technician Don Shetter and his team are responsible for monitoring all warranty claims and repairs for proper processing and completion, as well as performing follow up inspections on repairs and scheduled maintenance to ensure the highest level of quality is achieved for fleet support. Don has been with Trinity Metro for five years and is motivated by the opportunities he has to learn and grow with technology. He enjoys collaborating with vendors and other individuals within the industry, and he prides himself on maintaining safe working conditions while dealing with his daily workload, "I work with a great group of individuals who challenge me to solve problems. The fellowship between shops and the get it done team atmosphere helps make the day go by faster. I like helping people reach their potential."
On what he would say to someone hesitant about riding Trinity Metro, "Try riding our Electric Bus, "The Dash", an electric bus with a smooth, quiet ride. Also, experience the TEXRail train, the 27-mile commuter rail line that runs from Downtown Fort Worth to Dallas Fort Worth International Airport's Terminal B."
Don was nominated by his supervisor, Bill Lambert, Director of Maintenance.
---
Lead Supervisor Vernon Porter is responsible for leading a team of Radio Control operators. Vernon is motivated by the people he works with, as well as the individual Trinity Metro riders. Vernon says he feels a lot of purpose with his role. His favorite part about his job is that he gets to help someone every day.
"If someone is hesitant about riding Trinity Metro, I would tell them that it is safe."
Recognized by his supervisor, Operations Manager Ron Newman states that "Vernon has been here a long time and supervises other operators. I was motivated to nominate Vernon because of how much I have watched him grow as an employee. Vernon has grown as a leader and mentor, and he has set the example to other operators on what to do on the job."
---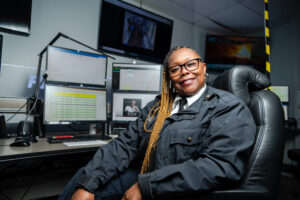 Schnea Thompson, Operations Dispatch | Radio Control Supervisor is responsible for supervising Radio Control Operators.
Schnea is motivated by her ability to help people She prides herself on being objective in her role at Trinity Metro.
"Someone who wants to work in dispatch needs to be a people-person. This job requires an open heart and an open mind because you will encounter so many different types of people."
Operations Manager Ron Newman states that Schnea moved from out of state and learned quickly within her role here at Trinity Metro. "Schnea is a quick learner. I am constantly impressed by her professional growth and how easy she makes her job look!"
On what she would say to someone hesitant about riding Trinity Metro: "I would encourage them to ride; public transportation is an essential resource, and we do our best to provide that resource."
---
TEXRail Engineer Brent Villard is motivated by his fast-paced job enjoys meeting different people, and prides himself in caring about the task at hand, not just his paycheck.
"If someone is hesitant about riding Trinity Metro, I would tell them to give it a try. Riding Trinity Metro is stress-free, and riders can sit back and relax while they travel to their destination."
---
Though we are featuring just several employees within this campaign, Trinity Metro is thankful to have hundreds of employees to which we owe our thanks every day. All of our employees work hard to remind us that we are all precious cargo.