MAKE YOUR MOVE
Bus Bridge Planned for TRE on Feb. 6
Medical/Market Center construction will impact Trinity Railway Express (TRE) passengers on Saturday, Feb. 6.
DART shuttle buses will replace TRE trains between Downtown Irving/Heritage Crossing, Medical/Market Center, Victory, and EBJ/Union stations on Saturday, February 6, 2021.
TRE is making track improvements in the area, and TxDOT is widening Medical District Drive from four to six lanes.
---
Guest Blog: Human Trafficking and the
Transportation Industry

"The fight against human trafficking is in full swing, and the transportation
industry is right on the front lines."

Ride ZIPZONE with Your Trinity Metro Local Tickets

Purchase any local ticket option, and ZIPZONE rides in Crowley, Mercantile and the Near Southside zones are included at no additional cost. Transfer between TEXRail, Trinity Metro bus routes, TRE (West zone only) and ZIPZONE for one low fare.
---
| | |
| --- | --- |
| | Transit advertising makes an impact. Our transit advertising specialists provide design, printing, installation, and advertising consultation services to those looking to use buses and bus stop benches to get your message out. |
| | |
| --- | --- |
| Wherever you ride, whenever you ride, please remember to wear your mask. #MaskUpForTransit | |
TRAVEL SAFELY
with Trinity Metro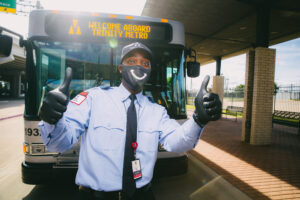 DELIVERING YOU SAFELY:
Some events might be rescheduled or canceled due to COVID-19 concerns. Please check with the event organizer before attending any of these events.
Part-Time Job Fair

Queen Nefertari's Egypt

Topiaries in the Garden

Presented by Dickies Arena

Presented by Kimbell Art Museum

Presented by Fort Worth Botanic Garden

| Thursday, Feb. 25 & Monday, March 22

| Through March 14

| Through June 30

Dickies Arena

Kimbell Art Museum

Fort Worth Botanic Garden

To get there, ride The Dash to Gendy and Harley

 

To get there, ride The Dash to Lancaster and Van Cliburn.

To get there, ride bus 7 to University and Harley-Botanic Gardens.




 

 

 

 

 

'Remote Pyramids': Young Artist Public Artworks

A Gala Evening with Yuja Wang

Bennett & Babs

Presented by the Oak Cliff Cultural Center

Presented by the Fort Worth Symphony Orchestra

Presented by Casa Manana

| Through March 6

| Saturday, Feb. 20

| Feb. 9-14

Oak Cliff Cultural Center

Dickies Arena

Casa Manana

To get there, ride the TRE to Union Station then transfer to Dart bus 11.

To get there, ride The Dash to Gendy and Harley

To get there, ride bus 7 to University and Lancaster.



---
Podcast Season 2, Episode 1

In this episode, we meet with Sandy Hennip, Executive Director of Unbound North Texas. We talk about the role that the transportation industry plays in human trafficking and what Trinity Metro is doing to prevent human trafficking in our community.

National Human Trafficking Hotline:
888-373-7888, or text "Be Free" to 233-733
To have this newsletter delivered to your mailbox, click here and subscribe to our e-mail list.