About Rail Safety Week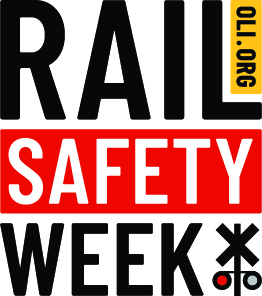 Rail Safety Week is Sept. 21 – 27, 2020! Due to COVID-19 concerns, all Rail Safety Week activities will be conducted virtually. The goal of Rail Safety Week (RSW) is to raise awareness of the need for rail safety education and to empower the general public to keep themselves safe near highway-rail grade crossings and railroad rights-of-way. Join us in observing Rail Safety Week this year. Visit our Facebook, Twitter, or Instagram pages to find educational content related to Rail Safety. Throughout this week we'll share important information to help you stay safe when you are near railroads and rail crossings.
2019 Track Statistics in Texas
Let's talk about taking photographs near train tracks
Let's be real…do you spend an unnecessary amount of time scrolling through social media? You're not alone! We all do…and if you are a victim of this guilty pleasure, then you've probably seen a photo of someone taking pictures near or on railroad tracks. Many of us more than likely gave it a double tap and continued to scroll without giving that picture much thought after that…but you should. Taking photos on train tracks is considered trespassing on private railroad property. Did you know there were 2,216 highway rail crossing collisions in the U.S in 2019? Unfortunately, Texas led all states with 251 collisions. It's extremely imperative we each do our part in educating ourselves, and educating others. Here are six "must-know" facts for anyone considering a photoshoot near train tracks:
Trains can't stop quickly to avoid people or vehicles on the tracks.

An optical illusion makes it hard to determine a train's distance from you – and its speed.

The average train overhangs the track by at least three feet.

Railroad tracks, trestles, yards, and rights-of-way are private property.

No tracks should be assumed to be abandoned or inactive.

People mimic your behavior when they see your photos on the web and social media.
No photo is worth the risk. Do your part in preventing track tragedies. If you are looking for more information on rail safety, click here to visit the website for Operation Lifesaver. In the spirit of rail safety week please take the time to look over all the great information we will be sharing on our social media accounts this week.