Trinity Metro services are essential to many Tarrant County residents who rely on us to access food, medication and health care. This also includes many essential workers who use Trinity Metro services daily to get to their jobs. Tarrant County officials have asked residents to stay at home to reduce the risks of COVID-19 spread. What are some things you can do to protect your health should you leave your home and get on board Trinity Metro buses or trains?
We are committed to safeguarding the health and well-being of our customers and employees. That is why we are taking extra steps to increase the cleaning frequency with disinfectant of high-touch areas such as door handles, railings, seats and benches. Additionally, we have reduced seating capacity on board to 35% and we are offering free rides on all Trinity Metro buses, ACCESS paratransit and TEXRail to decrease the contact between operators and customers.
If you are able to stay home, please do so. Limit your trips on board Trinity Metro services to essential trips only. If you must travel and your schedule is flexible, plan your trip during non-peak times when there are fewer people commuting. When you are riding, don't forget that keeping a safe distance from others is key to avoid spread. Please observe the Centers for Disease Control and Prevention's recommended 6-feet distance from others. We have reduced seating capacity to ensure customers are able to observe these guidelines.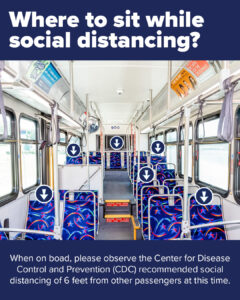 We have taken extra steps to sanitize high-touch areas and you can go the extra mile by making sure you wash your hands before and after your trips. When on board, avoid touching your eyes, nose and mouth with unwashed hands. Also, cover your cough or sneeze with a tissue, then throw the tissue in the trash. If you don't have a tissue, cough or sneeze into your upper sleeve, not your hands.
To read more about our response to the coronavirus pandemic, click here.