Beginning July 24, ride Trinity Metro ZIPZONE in the Near Southside and receive a FREE face covering valid for special discounts and offers at dozens of participating Near Southside businesses. (Available while supplies last.)
Wear yours to score deals at Chadra Mezza and Grill, Danette's Urban Oasis, Nonna Tata, Etico, Stir Crazy Baked Goods, Brewed, The Table Market & Culinary Studio and many more!
The Near Southside ZIPZONE is a new and affordable on-demand rideshare solution, powered by Via. Rides are FREE through Aug. 31. Grab lunch. Shop. Run an errand. And don't worry about parking! Operates daily from 6 a.m. until 8 p.m.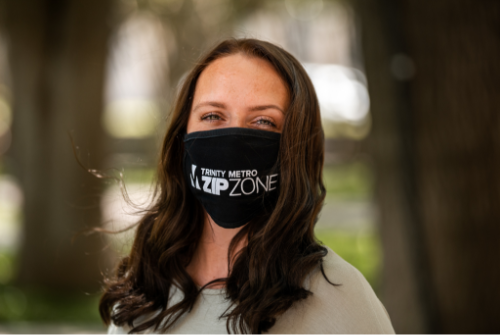 SAVE 20% AT THESE BUSINESSES
BLACK CAT PIZZA
Food purchase only.
401 Bryan Ave. Ste. 109
CARPENTER'S CAFE AND CATERING
Excludes FRY-DAY specials.
1116 Pennsylvania Ave.
POURING GLORY
1001 Bryan Ave.
BLOOM HEMP MARKET
Minimum purchase of $30.
1411 W. Magnolia Ave. Unit #101
CENTER FOR HEALING ARTS
312 W Leuda St.
SHINJUKU STATION
Excludes alcohol.
711 W. Magnolia Ave.
BREWED
Excludes Alcohol.
801 W. Magnolia Ave.
KENDALL DAVIS CLAY
1208 W. Magnolia Ave. #104
STIR CRAZY BAKED GOODS
1251 W. Magnolia Ave.
BOMBSHELL BEAUTY FACTORY
See Amanda and save 10% on hair services.
See Crystal and save 20% on anesthetic services.
909 W. Magnolia Ave. #4
DUSTY BISCUIT BEIGNETS
20% Off Your Order or a Free Coffee.
105 S. Main St.
GAME THEORY RESTAURANT + BAR
Two free Mini Pies (with minimum purchase of $3).
804 S. Main St.
PANTHER CITY SALON
20% discount on haircuts and/or four blowouts
(wash, conditioner, blowout & style) for $89.
Please call 817-921-1700 or email
panthercityapplicant@gmail.com for an
appointment with Taryn, Becca,
Caitlin, Paige, Brenda, or Michele. Please
mention the ZIPZONE discount.
1300 Hemphill St.
CHADRA MEZZA AND GRILL
A free hummus, babaganouj or muhumarra and pita
bread with purchase of an entree.
1622 Park Pl. Ave.
ETICO
Free gift with purchase of $75 or more.
1455 W. Magnolia Ave. Ste. 109
LE'S WOK
Free egg roll or spring roll.
812 W. Rosedale St.
PANTHER CITY VINYL
15% off used merchandise.
1455 W. Magnolia Ave. Ste. 113
ROOTS COFFEEHOUSE
$2 off your purchase.
400 Bryan Ave., Ste. 101
THE TABLE MARKET & CULINARY STUDIO
Free Gift w/ any purchase (while supplies last).
120 St Louis Ave. Ste. 103b
DANETTE'S URBAN OASIS
15% off retail purchase or 60-Minute Massage for
$35 with Free Hot Stones (by appointment only).
101 S. Jennings Ave. Ste. 103
FOUR SISTERS – A TASTE OF VIETNAM
1pc Beer Braised Pork Belly Bao Sandwich.
1001 S. Main St. Ste. 151
NONNA TATA
Order one dessert and receive another for free.
1400 W. Magnolia Ave.
RANCHO LOMA VINEYARDS
25% off all bottles of 2017 RLV White Wines and Rose.
411 S. Main St. Ste. 104
ROSEN HOUSE INN
Save 10% off your stay for using the ZIPZONE.
1714 S. Henderson St.