You spoke. We listened.
Throughout the process of determining the goals for the new network, five key trade-offs were established: System Priorities, Waiting or Walking, Fixed or Flexible Service, Downtown or Grid Network, and Peak or All-Day Service. We have now developed three options that we'd like your feedback on. These options show how we could design the network depending on which priority is most important, using the same budget we have today.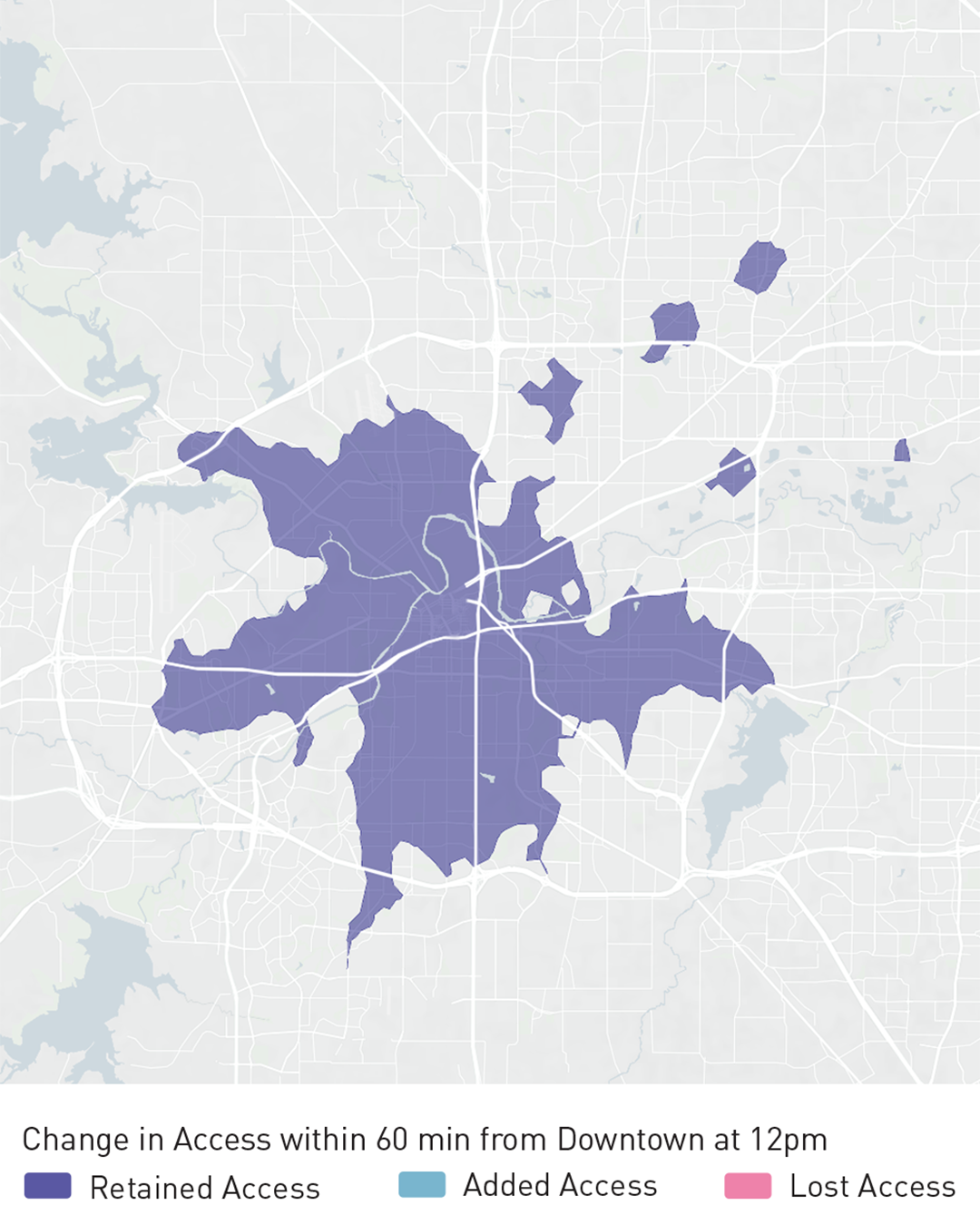 Option A incorporates the changes we heard riders overwhelmingly want for the network. Options B and C build on Option A's changes and represent the two tradeoffs that were less conclusive. Option B responds to the question of whether or not riders favor longer walks to stops but have faster service (improved frequency). Option C incorporates more ZIPZONEs, while removing some local neighborhood routes. The options are not proposals. The Draft Plan will be designed based on public input.
OPTION A:
SYSTEM SIMPLIFICATION
Providing consistent, all-day service on straighter and simpler routes with some new service areas.
North-south crosstown routes on east and west sides of the city.
More legible routes and route names (no A/B routes).
Better connectivity with rail network.
Less direct connections to Downtown.
OPTION B:
WALK MORE, WAIT LESS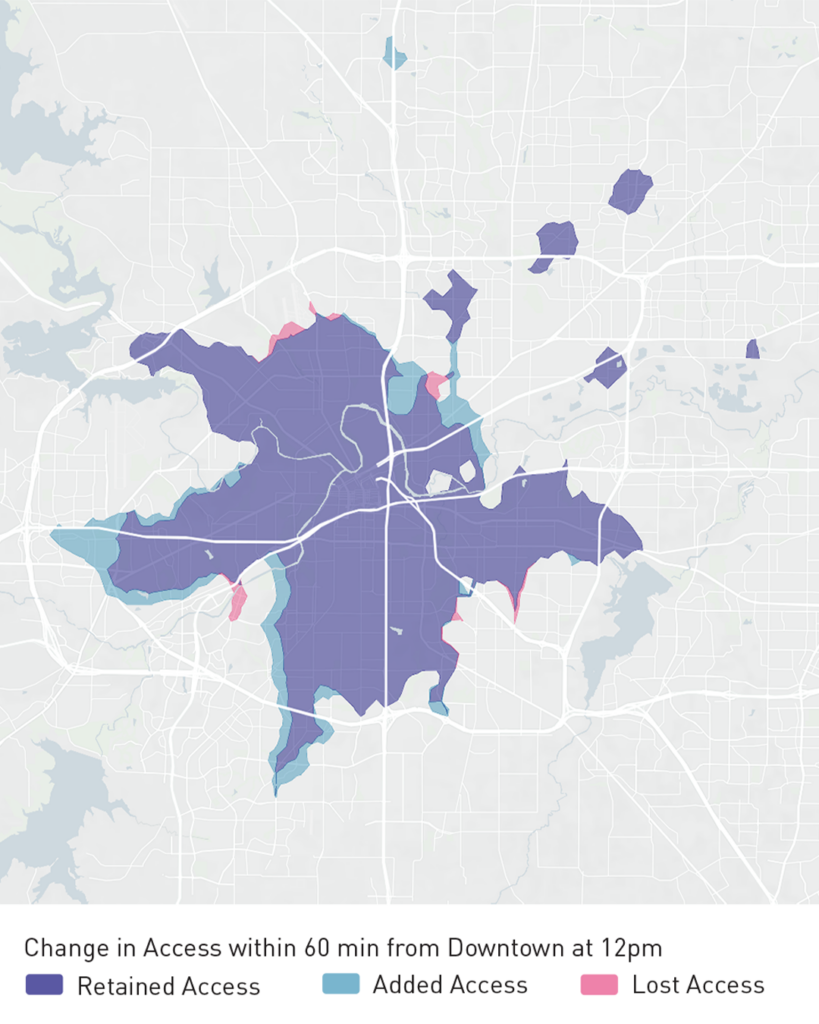 Providing increased frequency to more of the network.
More frequent service in main corridors.
Added Sunday service in southeast area.
Longer walks for some riders.
Decreased service in northwest area.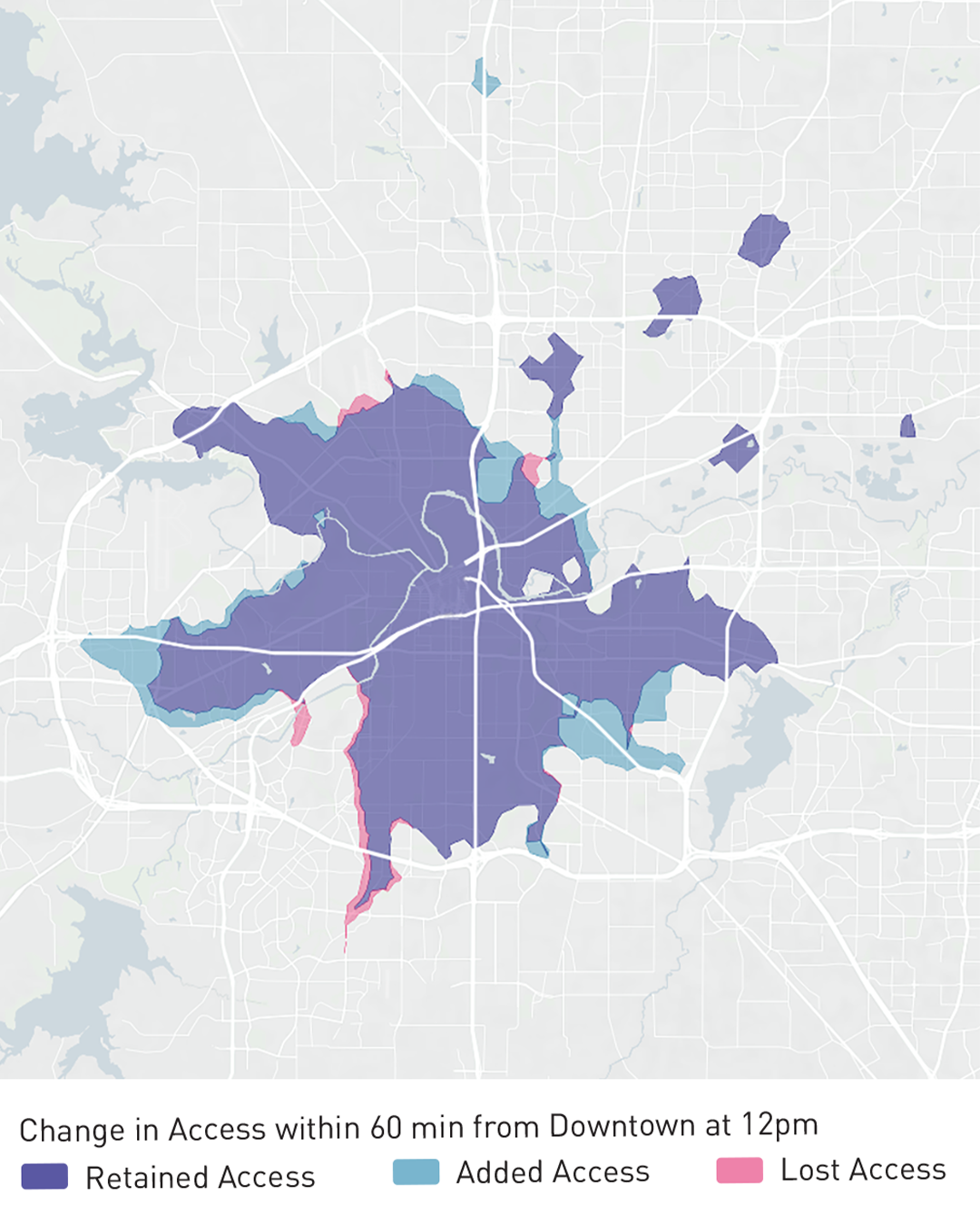 Providing ZIPZONEs instead of hourly neighborhood routes.
Reduces walking distances.
Makes poor and/or missing sidewalks less of a barrier.
Areas with poor sidewalk quality have options with less walking.
More direct service for short trips within the ZIPZONE boundaries.
Ability to better time connections with crosstown routes.
Less regular service.
For commuters, needing to summon a ride every day might be a hassle.
Passengers without a smartphone will need to verbally call for a ride.
LEARN MORE ABOUT EACH ALTERNATIVE HERE
This option is a simplified version of the current network and serves as the base for Options B and C. By incorporating the changes that all riders want (based on our goals and trade-offs outreach), Option A provides some more regular service, straighter routes, and service added to new areas. It removes, combines, or alters redundant routes and realigns circuitous routes to be more direct. Use the tool below to compare Option A to the Current Network.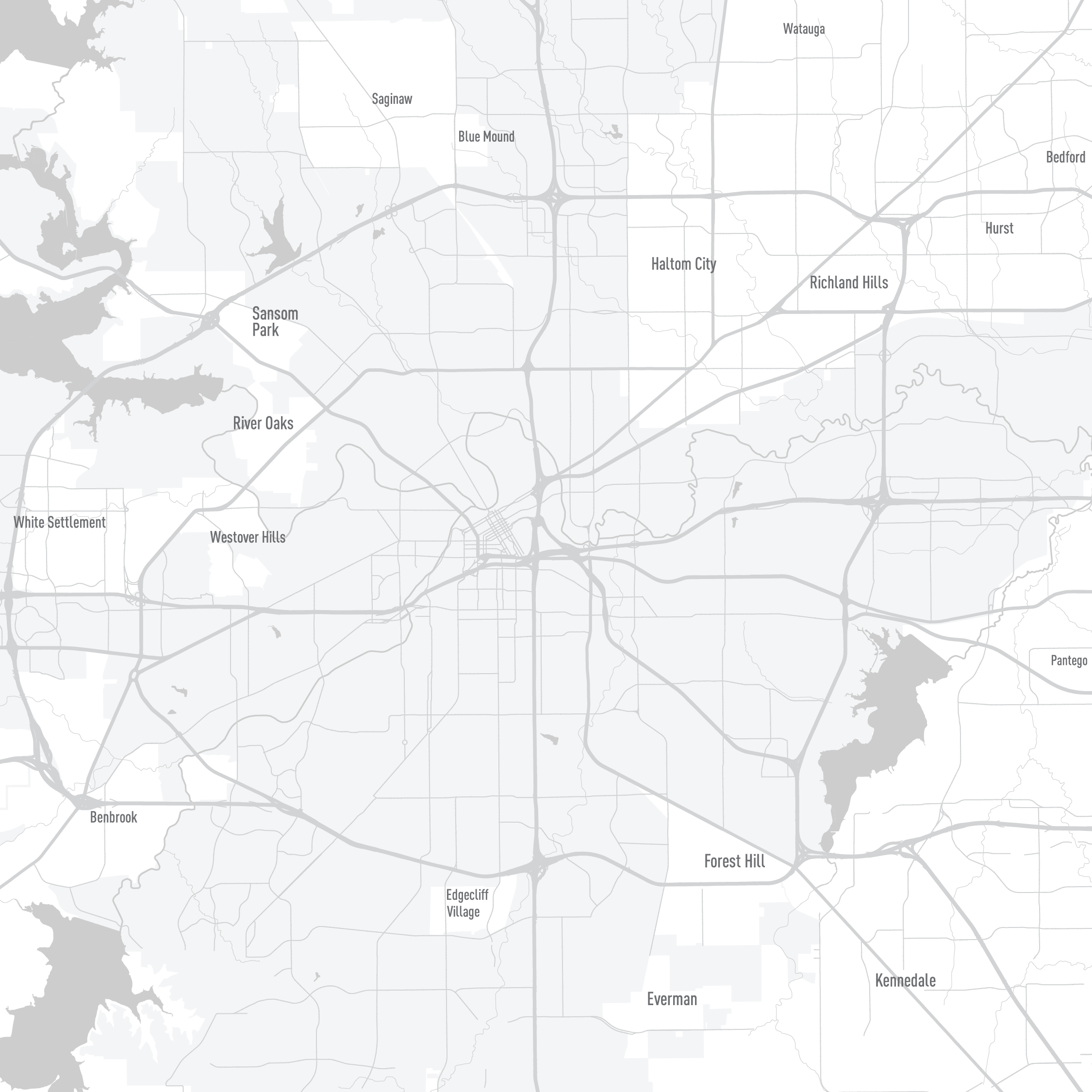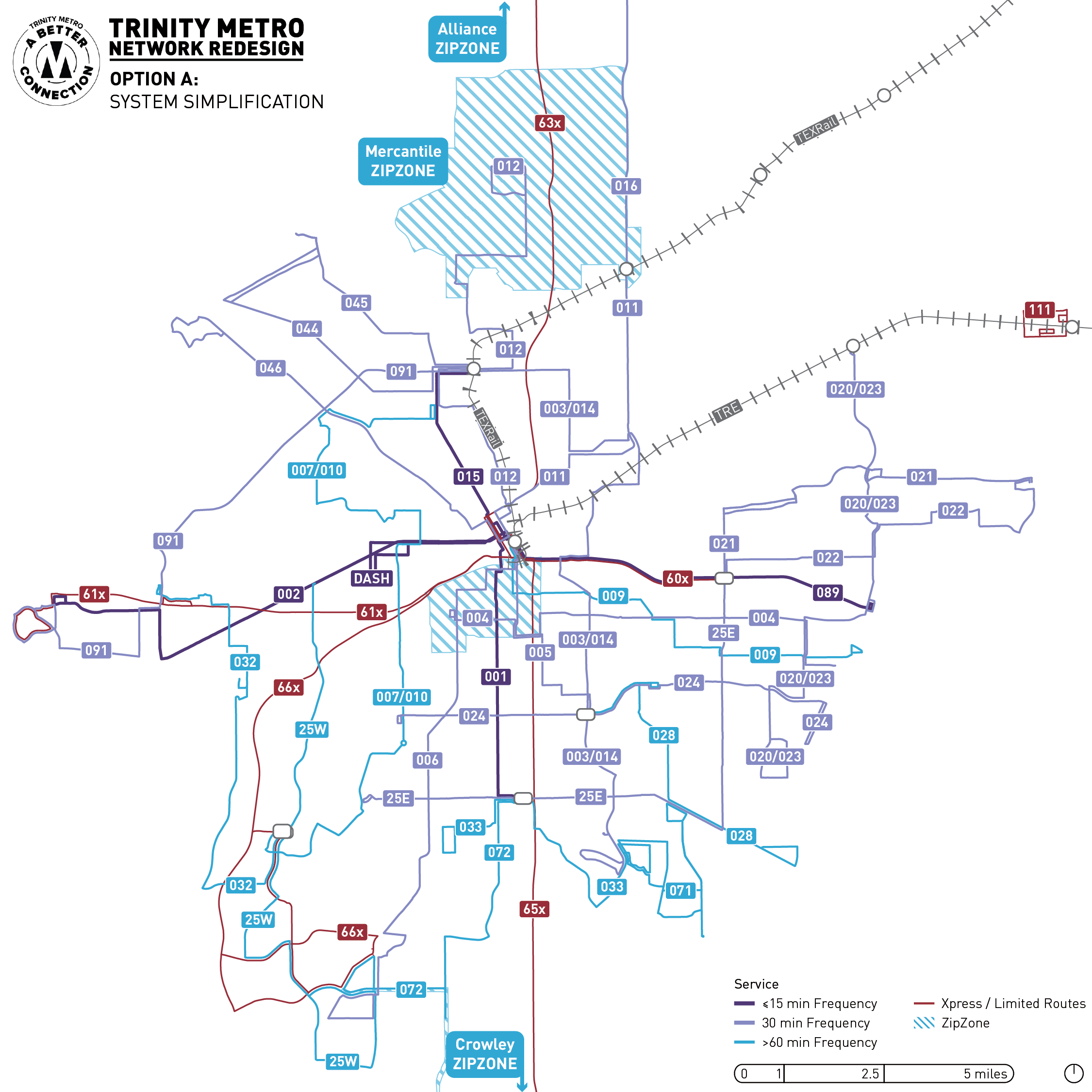 KEY CHANGES
---
West
Extended 002 westward along Calmont Ave to Las Vegas Trail and removal of Ridgmar Mall Transfer Center

.
091 and 026 merge

.
027 and 032 merge

.
Through the extension of the frequent 002 and the 091 extension, it is now much more convenient for riders to get to the central and north portions of the network. The combined 032 and 027 provides new connections westward and northward for those in southwest Fort Worth

.
North
Bus connections move from the Stockyards Transfer Center to Northside Station for better train connectivity

.
010 to merge with 007 and connect northwards instead of to Downtown.
012 extension northwards to Amazon (Mercantile Center still covered by ZIPZONE).
Route 063X and 064X combined and going to North PNR instead of Denton DCTA will still operate a route from the North Park and Ride to Denton.  Alliance area will be covered by a ZIPZONE.
Streamlining bus routes to Northside Station creates more opportunities for riders to utilize TEXRail,. The new 007 also creates a new north-south connection on the west side. The 012 extension provides reliable service to a previously un-served area
East
014 extended as a north-south crosstown.
023 and 020 merge into the new 020.
004 to end in Medical District instead of Downtown.
025 split into 025E and 025W.
Route 014 previously terminated Downtown, and now creates new cross-city connections southwards to the TCC South Campus. These single-seat direct trips are much more reliable for riders. The new 020 also enables new connections from north to south on the far east side.
South
025W and 006 create a southward extension of the network.
New Xpress connection from Hulen Mall to Downtown.
007 extended southwards to Hulen Mall (and north to connect to 015).
Where previously service did not reach south of Sycamore Rd, the 025W and 006 now serve this area, providing new connections. The new 066X also gives this neighborhood a direct connection to Downtown. The new 007 now serves as a more grid-like crosstown route. The new 033 replaces a portion of the 005b and 005a.
In this option, some riders have to walk further to get to bus service, but more riders have frequent service. In addition to many of the changes that are in Option A, Option B negotiates the balance between bus stop spacing, bus speed, and walking distance for passengers. By removing routes that serve similar areas, more routes can run more often. Option B represents the direct trade-off between increased service and increased coverage.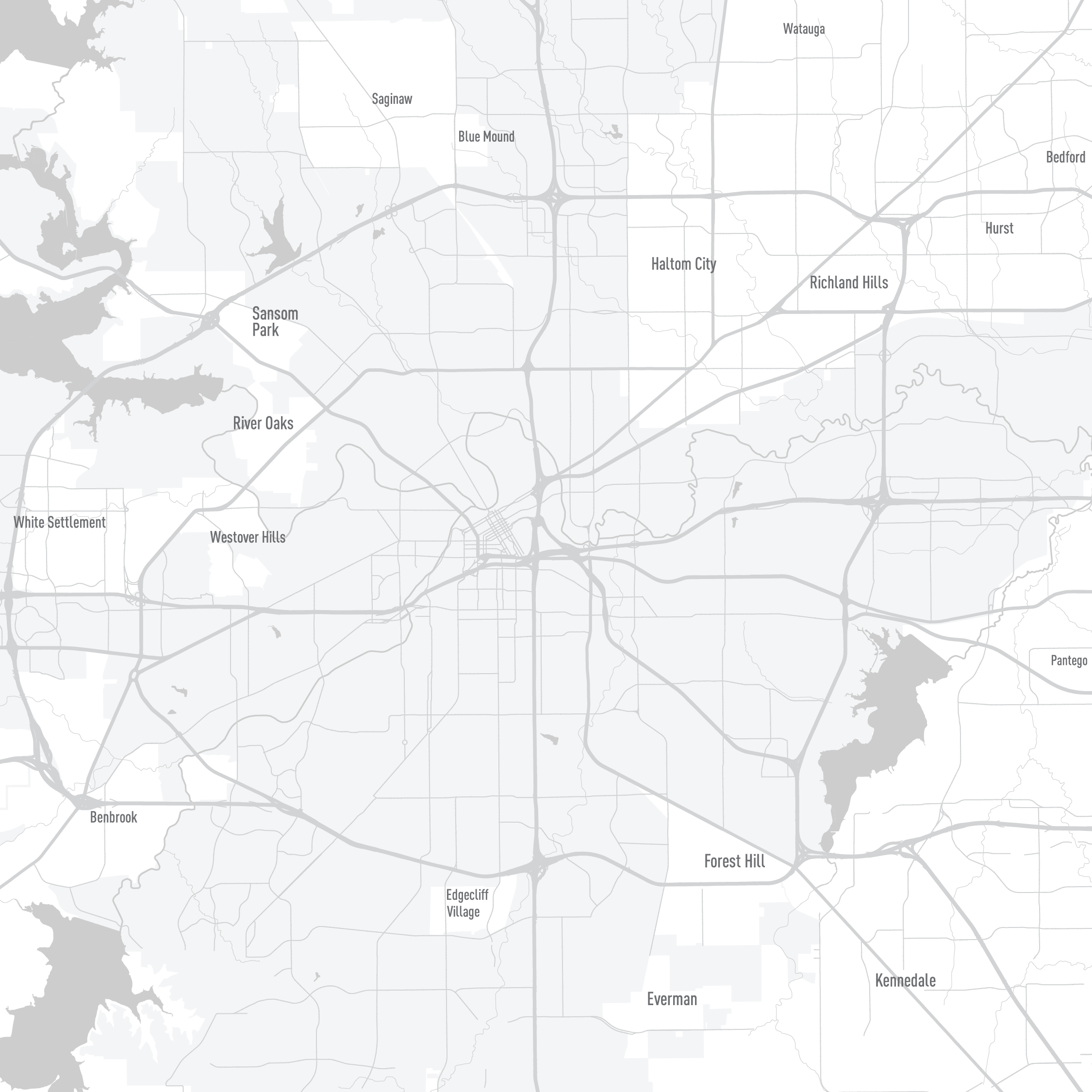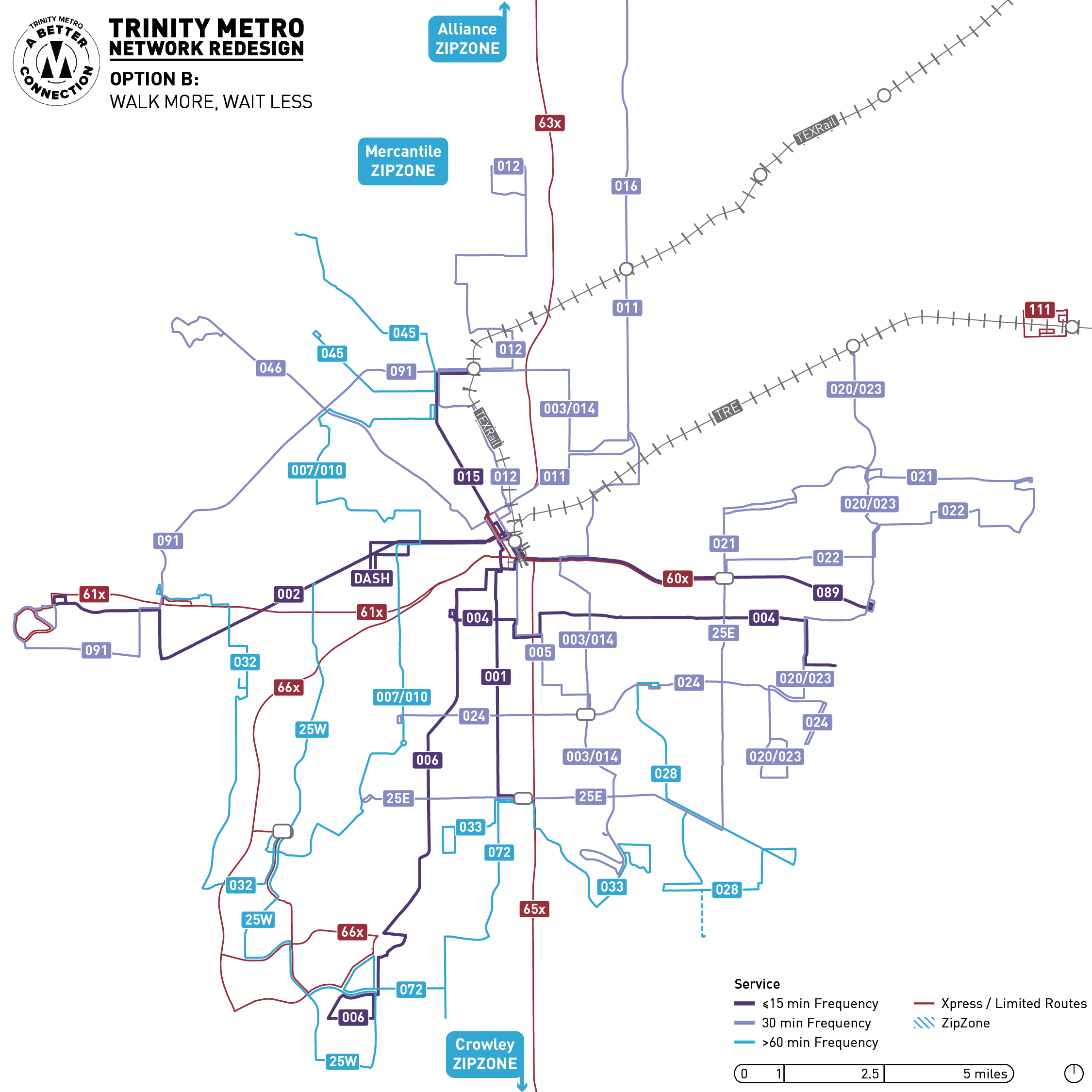 KEY TRADEOFFS
---
This trade-off is about the balance between bus stop spacing, bus speed, and walking distance for passengers. This does not affect all parts of the service area. It is specifically for areas with a well-connected street network and many parallel streets. It also questions the need for routes that run in close proximity to each other.
Added High-Frequency Routes
004 Medical District to
the east side.
006 Downtown to south Fort Worth.
Areas with Added Walking
044 and 045 combined into one route.
009 removed.
071 and 028 merge into the new 071.
Through this combination, more service is able to be provided on other routes. The merging of 028 and 071 allows for Sunday service, which was not available before in this area. The new 028 makes a point deviation to the Villas at Forest Hill. Passengers would have to call ahead for service to Villas at Forest Hill.
Option C eliminates some neighborhood routes and replaces them with new ZIPZONEs instead of higher frequency service. In addition to many of the changes that are in Option A, Option C favors ZIPZONEs over increased frequency on main routes. The addition of the ZIPZONEs also includes the removal of some neighborhood routes.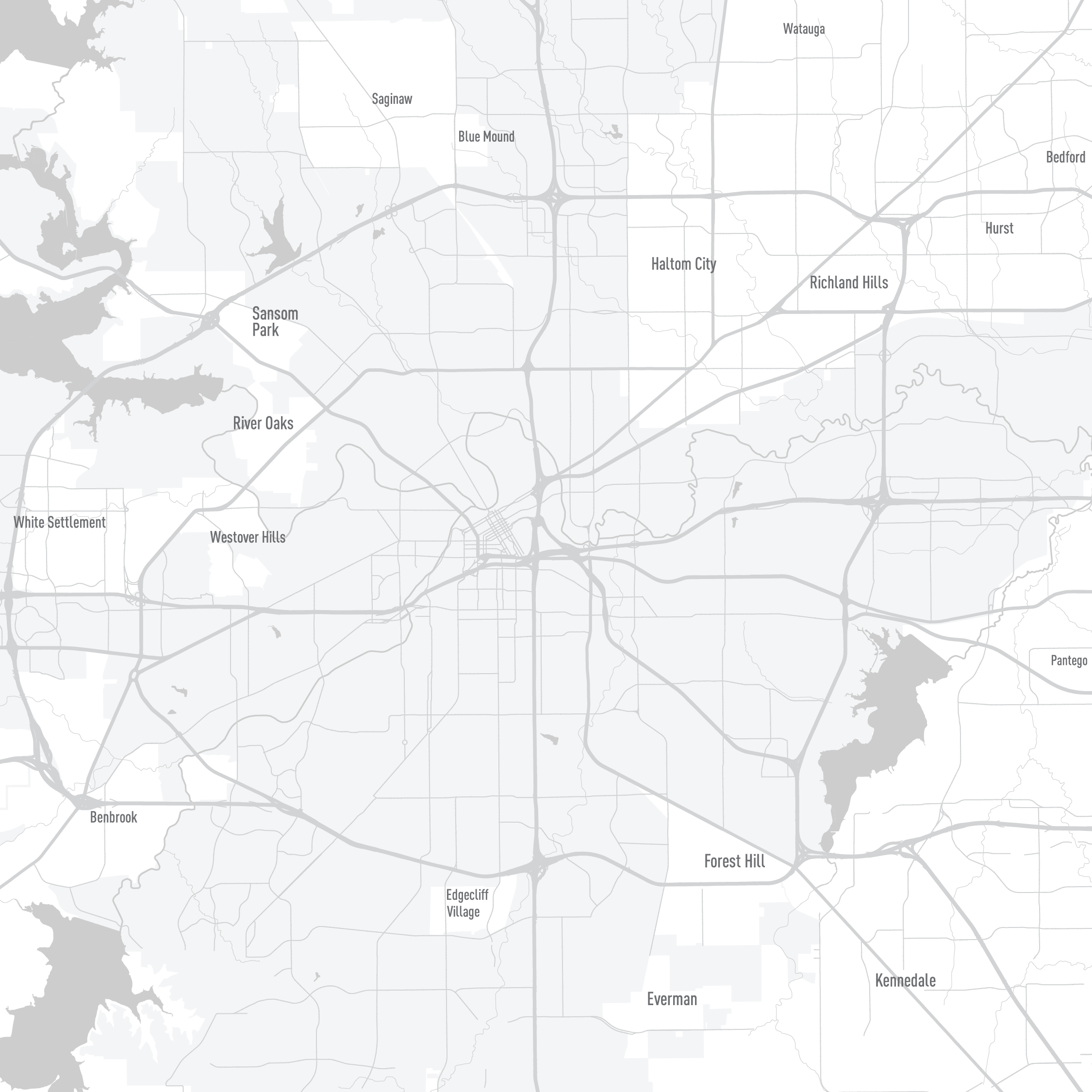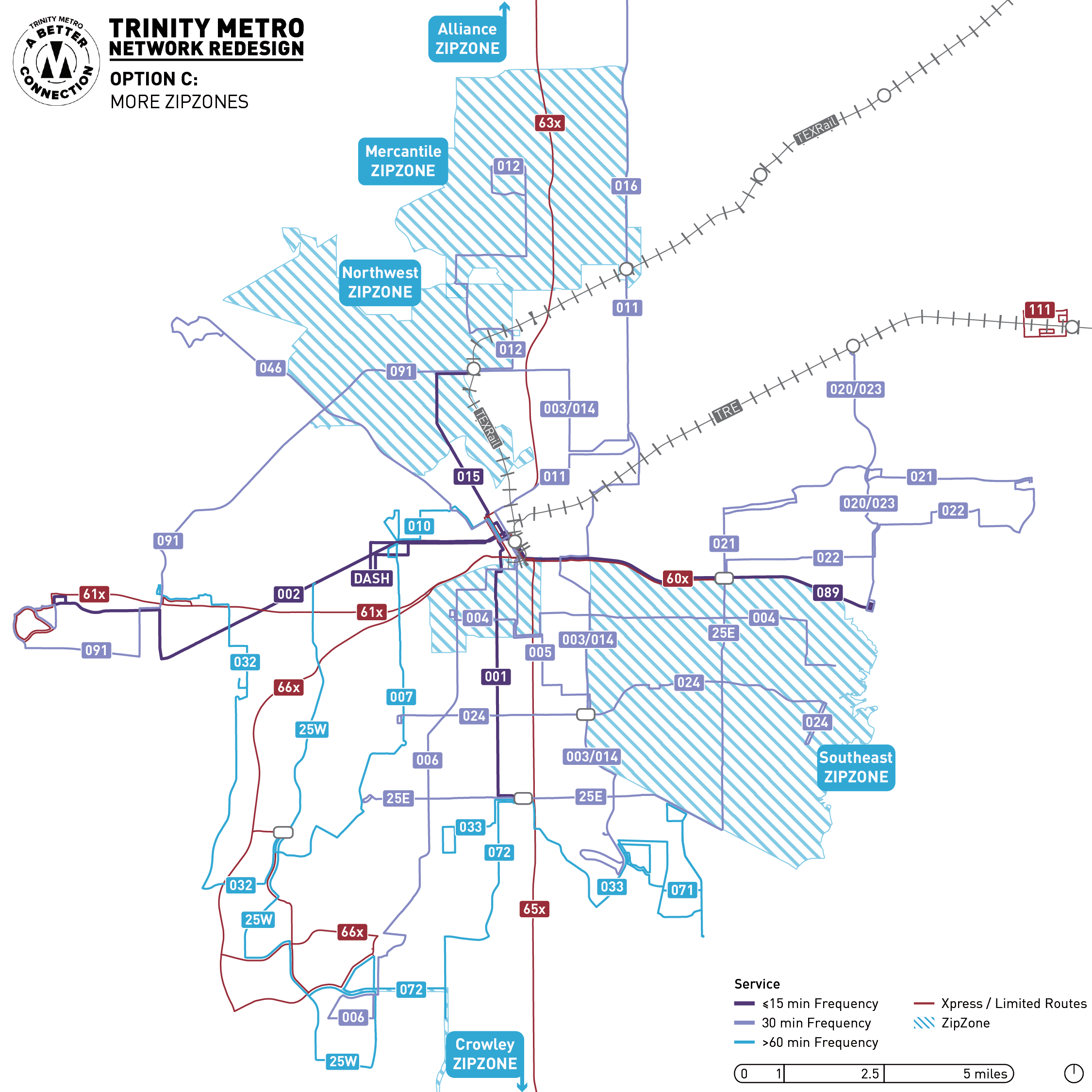 KEY TRADEOFFS
---
Many neighborhoods far away from a main street corridor are not served by high-frequency buses. There are two primary ways that transit can serve these neighborhoods: through "fixed" bus routes that come once an hour on a given path, and through ZIPZONEs — on-demand vans that pick people up within a specific neighborhood and take them somewhere else nearby.
New ZIPZONEs
Northwest ZIPZONE.
Southeast ZIPZONE.
Less Regular Service
Removed Route 044 and 045.
Route 012 shortened to Northside Station.
Removed Routes 009 and 028.
Route 020 shortened to Lancaster.
The northwest and southeast ZIPZONEs could provide many convenient connections for riders within those zones. They can also drop riders off at transfer centers that are within the zone to allow them to make connections to other parts of the network. In Option C, routes 007 and 010 are not connected, and 007 runs 30 minutes during peak and 60 minutes off-peak.
COMPARE THE ALTERNATIVES,
GIVE YOUR FEEDBACK
Please answer a few questions so that we can
create a better network for you.
Please answer a few questions so that we can create a better network for you.
Choose networks to compare.
By using this tool, you can compare the different options. In the survey below, we will ask you about specific changes as well as your thoughts on the alternatives as a whole. As mentioned previously, these options are not each individual proposals. They enable us to get your feedback on different ideas, and the draft plan will be designed based on the input we receive.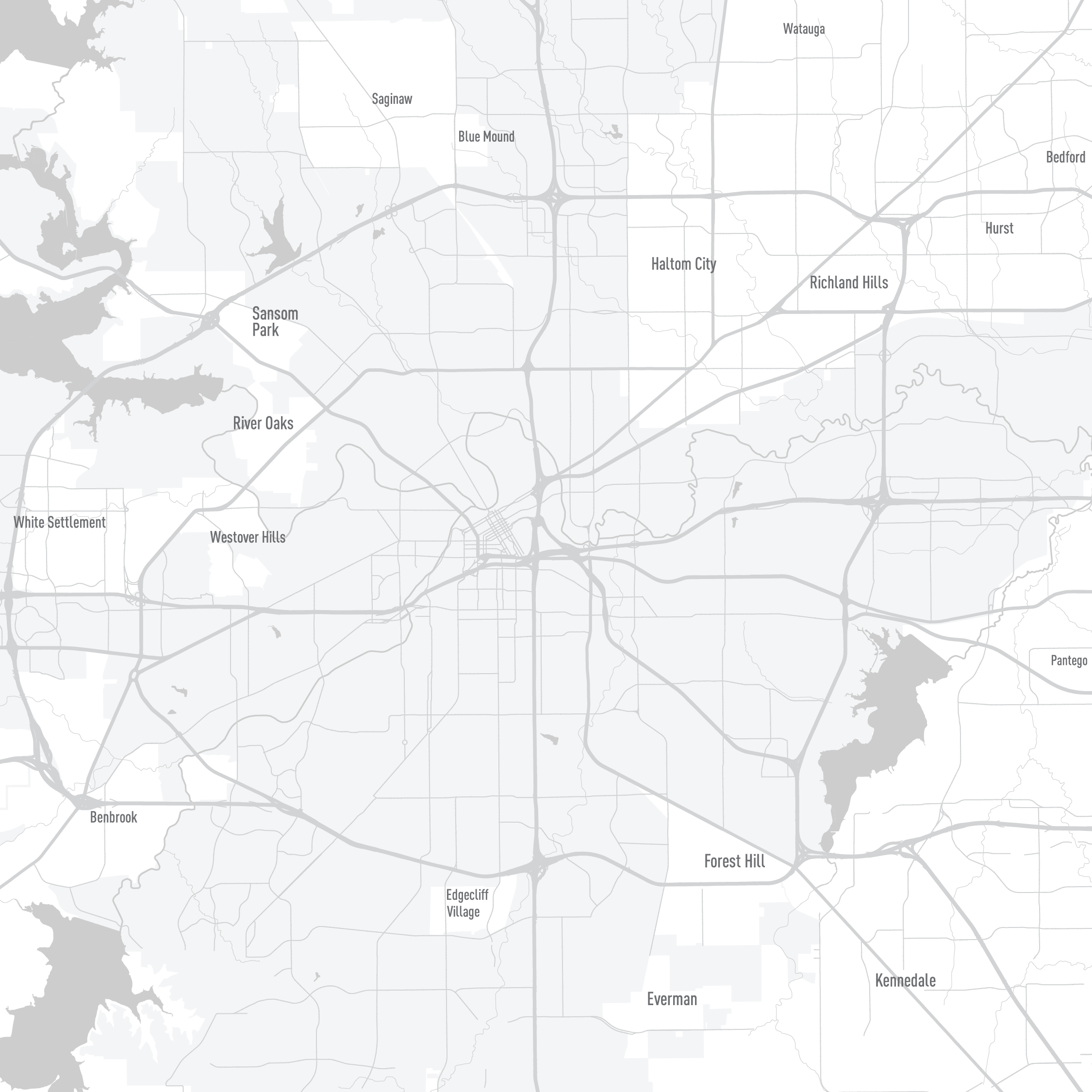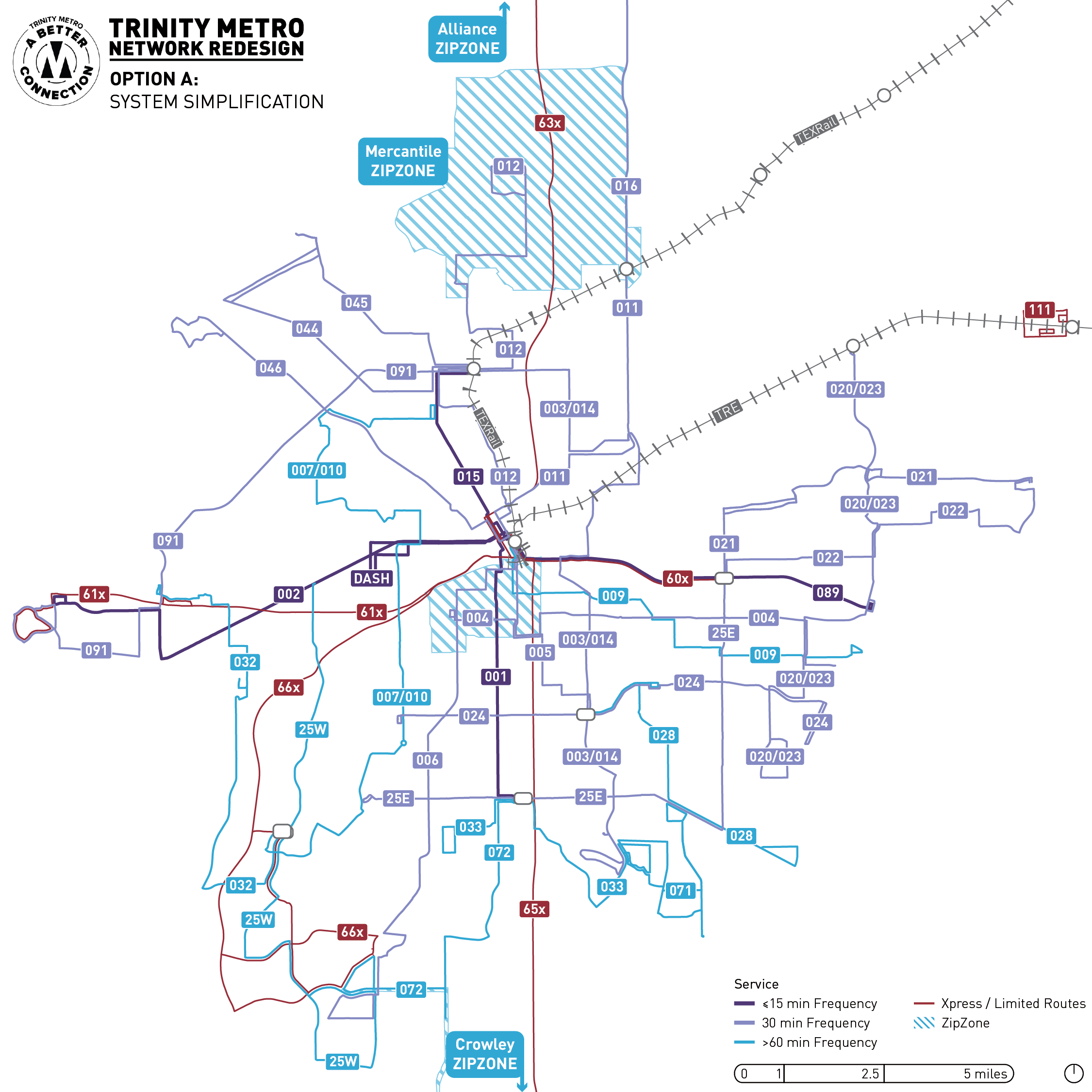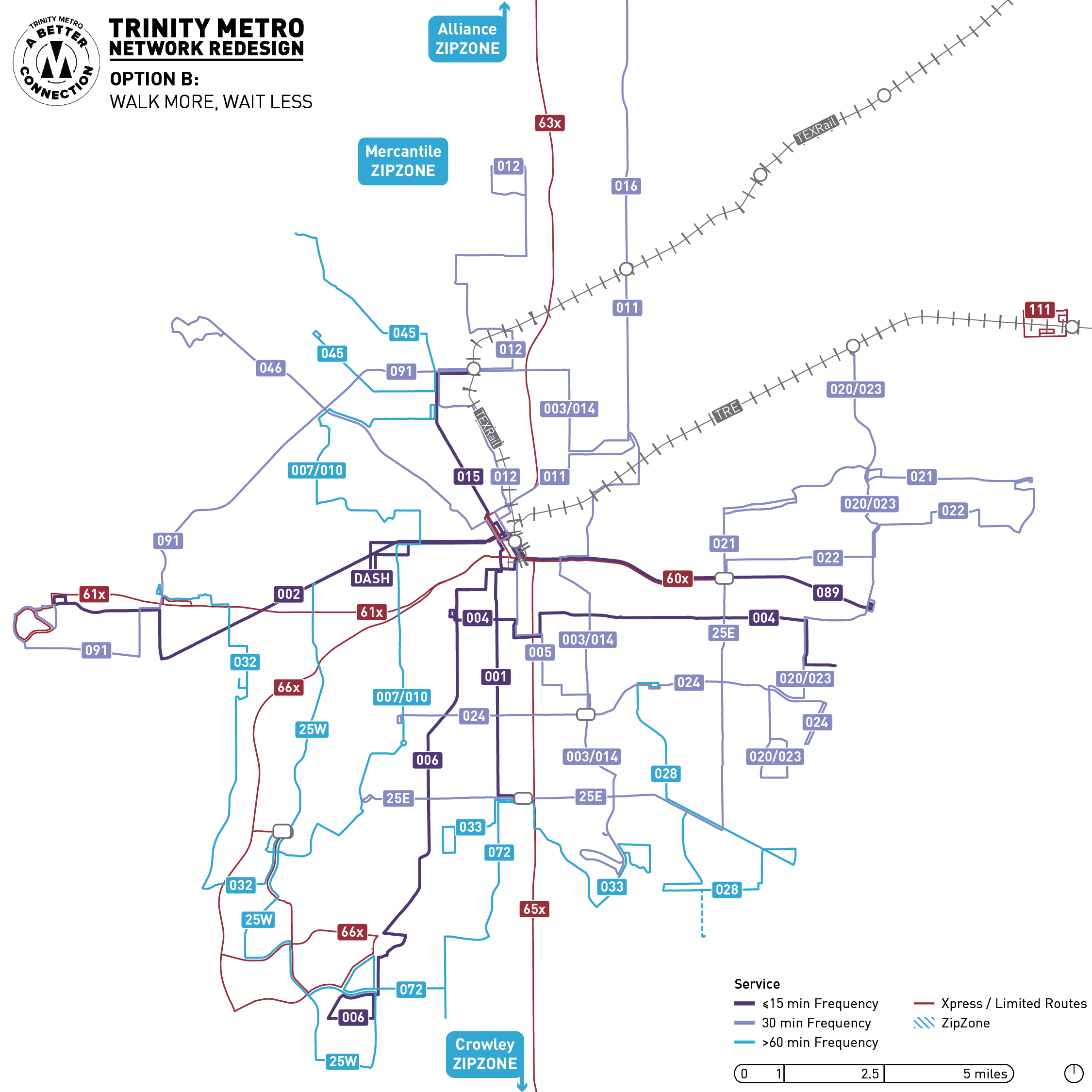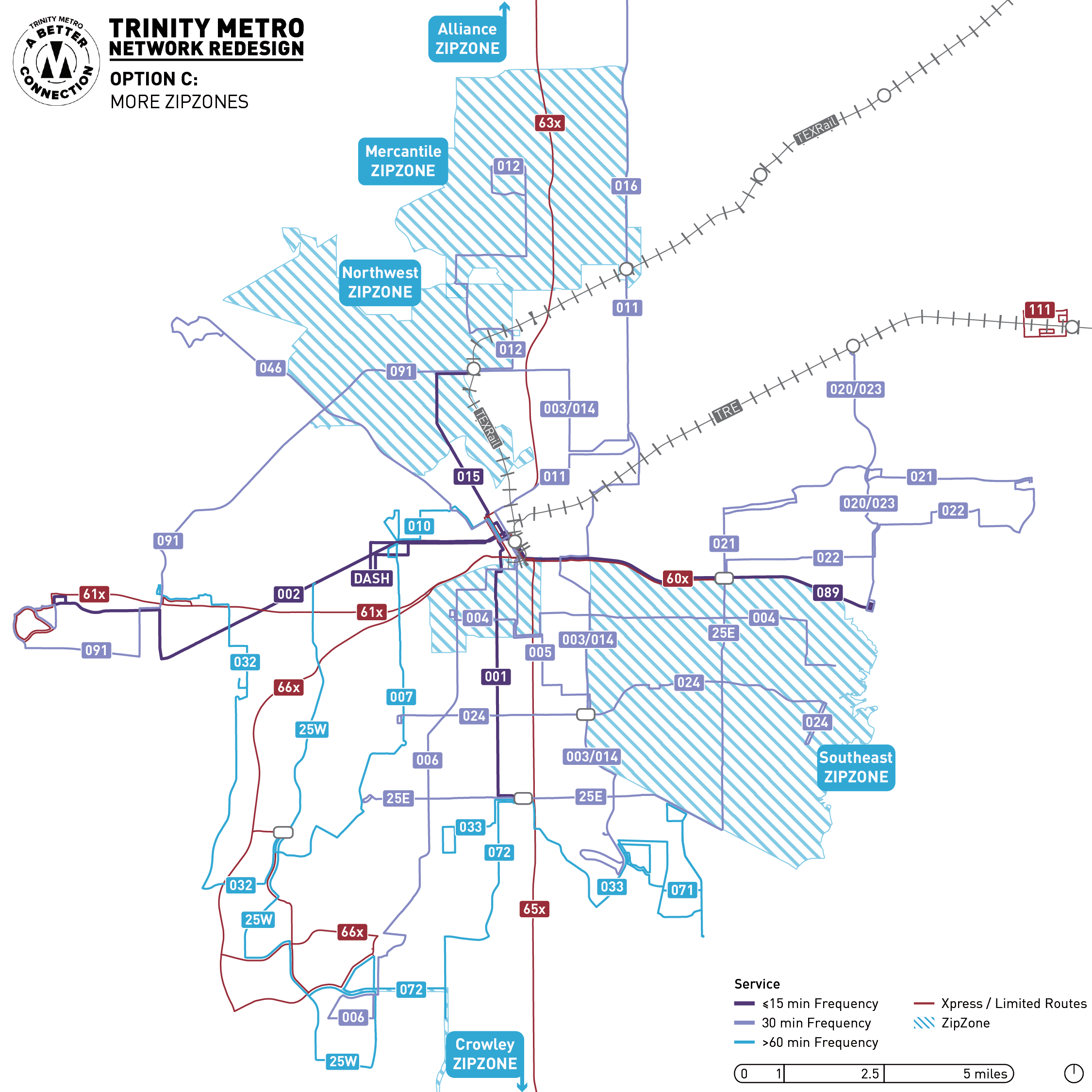 Rider Survey – How can we best serve you?
The alternatives engagement survey has ended.