TRINITY METRONOMICS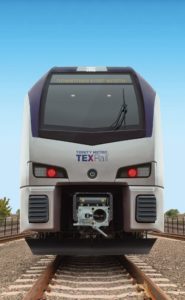 Did you know? TEXRail service starts Jan. 5, and Trinity Metro is not charging fares until Feb. 1.
(See details below.)
421,739
Bus
November
4.31

%
from previous month.
153,874
Trinity Railway Express
November
11.27 %


from previous month.
336 million
in transit oriented development along the TEXRail route in Grapevine, North Richland Hills and Fort Worth.
93%
On-Time Performance
Trinity Metro consistently out performs in fixed route services in its on-time performance.
TEXRail service begins Jan. 5, 2019
Like a kid waiting for the holiday break, everyone is anxiously awaiting the arrival of TEXRail. And we don't have to wait much longer. TEXRail, the 27-mile commuter rail line between downtown Fort Worth and Dallas Fort Worth International Airport's Terminal B, will begin service on Saturday, Jan. 5, 2019. Need an added incentive to ride the new train? Trinity Metro is offering free rides through Jan. 31. Starting Feb. 1, a one-way ticket is only $2.50.
Passengers can soon ride in comfort along the nine-station route that begins in Fort Worth with stops in downtown, near the Fort Worth Stockyards and Mercantile Center. Multiple bus routes connect with the TEXRail trains to help everyone travel around town. After Fort Worth, the train makes two stops in nearby North Richland Hills before heading to Grapevine, a historic railroad town and popular tourism destination. Airport travelers with long layovers may choose to take the eight-minute train ride to Grapevine to pass the time.
We anticipate that TEXRail will be very popular with tourists and convention attendees because of the ease and convenience of traveling by train. From the airport, TEXRail only takes 48 minutes to be in the heart of downtown Fort Worth. Area workers will benefit from the new service because they can choose to travel in style and not worry about the stress of driving on congested highways and then searching for parking. DFW Airport has more than 60,000 employees, and now they have an option of taking the train and forgetting the hassles. With service starting at 3:30 a.m. from Fort Worth, employees with early shifts – or travelers with early flights – can arrive at the airport via TEXRail.
TEXRail fun facts
In the original Swiss design, the racks inside the trains were for hanging ski racks. We had the ski racks redesigned as vertical bike racks.
At 266 feet in length, TEXRail is almost as long as a football field (300 feet).
TEXRail is almost 4 feet taller than the NBA basketball hoop (13'6" vs. 10').
The designated quiet car is what the Swiss designate as their first class car.
In Grapevine, North Richland Hills and Fort Worth, there's more than $336 million in transit oriented development along the TEXRail route.