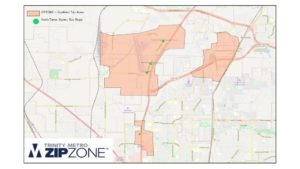 386,571
Fixed RouteBus
February 2019

4.00 %
from previous month.
143,268
Trinity Railway Express
February 2019

5.03 %
from previous month.

RIDERSHIP
February 2019
32,998

97%
On-Time Performance
Trinity Metro consistently out performs in fixed route services in its on-time performance.
New Trinity Metro "first mile/last mile" ZIPZONE service helps you commute to work
With the new ZIPZONE service in Alliance corridor, choosing public transportation for commuting to work is even easier. As part of your transit pass, you can use ZIPZONE to connect with the North Texas Xpress that operates between downtown Fort Worth and Alliance and Denton. The first mile/last mile transportation solution is the result of a regional partnership with the Denton County Transportation Authority (DCTA).
"When we started North Texas Xpress with DCTA in Fall 2016, we knew the bus route would be a good choice for employees in the Alliance area," said Trinity Metro President/CEO Paul Ballard. "Now we're taking it one step further to help Alliance employees travel to work and leave their cars at home."
Alliance ZIPZONE replaces the Alliance Link, a pilot that ended in January 2019. Since Feb. 1, ridership has increased by 41 percent to a total of 251.
Service is provided through Lyft, an on-demand transportation company. Trinity Metro passengers can conveniently use the Lyft app, entering a specific code to gain access to the first mile/last mile rides fare free. Hours of operation are 4:30 a.m. to 7:30 p.m. Monday through Friday. On weekends, hours are from 5:30-7:30 a.m. and 4-7:30 p.m.
Trinity Metro is currently considering implementing ZIPZONE in other parts of its service areas. "It's an attractive solution for helping riders get to their final destination," Ballard said.
For more information, call Trinity Metro's customer care department at 817-215-8600.