(FORT WORTH, TX – Feb. 7, 2022) – Fort Worth Bike Sharing and Blue Zones Project have teamed up once again to offer the Free First Fri-Yay bike share program throughout the year. That means once a month, bike rentals are fre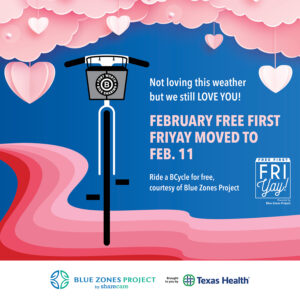 e for area cyclists or anyone looking for a fun way to explore the city on two wheels.
The Free Fri-Yay falls on the first Friday of the month. Because the first Friday of February was less than hospitable, the free day has been moved to Friday, Feb. 11.
How does it work?
Access the full-day bike sharing pass at no cost by using promo code 92020 at any one of 55 Fort Worth Bike sharing kiosks located around Fort Worth. You can also use promo code 92020APP on the BCycle app.
Free First Fri-Yay dates for 2022
Feb. 11
March 4
April 1
May 6
June 3
July 1
Aug. 5
Sept. 2
Oct. 7
Nov. 4
Dec. 2
About the program
Since Free First Fri-Yay kicked off in 2020, 584 free full-day passes have been claimed.
"The entire sharing system saw a record number of rides and users in 2021, and Free First Fri-Yay has proven to be really popular," said Jennifer Grissom, executive director of Fort Worth Bike Sharing. "We added 12 new stations last year and plan to introduce 14 more in 2022."
 About Trinity Metro
Trinity Metro is a regional transportation system that provides public transportation to meet the mobility needs in Tarrant County. The agency offers connections throughout the North Central Texas region, providing passenger trips on buses, TEXRail, ACCESS paratransit, ZIPZONEs, Fort Worth Bike Sharing, vanpools and the Trinity Railway Express (TRE), a 34-mile commuter rail line jointly owned and operated with Dallas Area Rapid Transit (DART). Trinity Metro is the sole owner and operator of TEXRail, a 27-mile commuter rail line that runs between downtown Fort Worth and Dallas Fort Worth International Airport's Terminal B.
 About Blue Zones Project Fort Worth
 Blue Zones Project is led by Texas Health Resources and partners with businesses, schools, community leaders, and residents to support longer and better lives. More than 94,500 people and 364 groups and organizations have worked together to improve well-being. Fort Worth is the nation's largest Blue Zones Community.