(FORT WORTH, TX – Nov. 1, 2019) – When Trinity Metro announced a Bus Stop Cleanup Day, volunteers came in droves to support the effort. The 40 participating teams represented the City of Fort Worth, Steer Fort Worth, Tarrant Transit Alliance, City of Forest Hill, Trinity Metro and many others.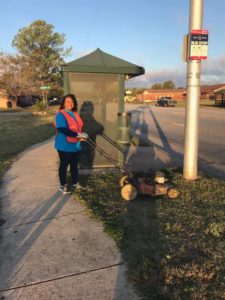 "Having clean and well-kept passenger shelters and bus stops is important for the 'curb appeal' of public transportation," said Detra Whitmore, vice president of customer experience. "We were overwhelmed by the amount of support and helping hands we received for our event."
Volunteers selected a route and then traveled from stop to stop, trimming and cleaning whatever was needed – from mowing grass to cleaning glass panels at passenger shelters. At the end of the day, more than 110 trash bags had been filled with grass clippings, weeds and trash.
Creative cleanup
To add to the fun, Trinity Metro awarded prizes to the teams with the most creative names. First place went to "We got 99 problems, but trash ain't one of them," followed by "Bus a rhyme" in second place and Forest Hill 
Gumps in third.
"This year was such a success that we plan to make it an annual event," Whitmore said. "Everything our teams did contributes to a better experience for our customers."
The sponsors for the event included Keep Fort Worth Beautiful, Tolar Manufacturing, Cox Racing, WurthUSA, Inc., and Central Market. Keep Fort Worth Beautiful donated trash cleanup tools and worked two routes during the event.
About Trinity Metro
Trinity Metro is a regional transportation system that provides public transportation to meet the mobility needs in Tarrant County. The agency offers connections throughout the North Central Texas region, annually providing 8 million passenger trips on buses, TEXRail, vanpools and the Trinity Railway Express (TRE), a 34-mile commuter rail line jointly owned and operated with Dallas Area Rapid Transit (DART). Trinity Metro is the sole owner and operator of TEXRail, a 27-mile commuter rail line that runs between downtown Fort Worth and Dallas Fort Worth International Airport's Terminal B.