(FORT WORTH, TX – Jan. 25, 2022) – Ariel Davis is an artist, gallerist, art consultant, and arts advocate based in Fort Worth. Her work reflects on humanity, shared experiences, and time. In her work, you can find at the core the idea of relationships that play with symbolism to tell a story. In preparation of creating a painting, she employs the process of photography, collage, and digital manipulation to create a unique source image. Many times she will engage individuals in the community to collaborate with her as subjects in her work. Capturing and portraying the energy, experience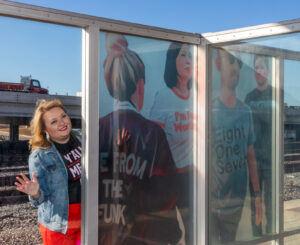 and mood of a scene, group or individual is more important than the details, which is defined by her loose style and use of bold color.
"Friends in Fort Worth T-Shirts" is all about the community coming together to show pride in our city. The intent of imagery in this artwork was to welcome those using public transit to our downtown area, showing the diverse faces who are physically wearing their pride and welcoming all with open arms. 
The project began as an open-invitation group event, where friends and strangers were invited to participate in a photoshoot wearing their favorite t-shirt that promoted or memorialized Fort Worth in some visual capacity. People of all backgrounds came to be photographed.
These portraits were then digitally collaged together to create a panoramic image of people walking in all directions as if they too were moving on and off the TEXRail trains. It is her hope that this artwork will commemorate the welcoming hospitality that the people of Fort Worth are known for and encourage an open and warm embrace of both our friends and strangers. 
You can learn more and see Ariel's work at www.ariel-Davis.com. Follow her on Instagram at @arieldavisart