Coming Soon: Trinity Metro Medical Clinic opening at HRP
Trinity Metro is known for getting people where they need to go, and now Trinity Metro is delivering convenient health care to employees and dependents. The new Trinity Metro Medical Clinic will celebrate its grand opening on Monday, Sept. 9, at HRP. The facility will be located in the former print shop area on the first floor.
Trinity Metro has partnered with Premise Health, the nation's leading worksite healthcare provider, to provide employees and eligible dependents access to a variety services.
"We know our employees stay busy, and it's often hard to find time to get to a doctor's appointment," said Kelli Shields, vice president of human resources. "The on-site medical clinic provides a convenient location for DOT physicals and services ranging from preventive to urgent care."
Services will include, but not limited to:
Annual physicals
Preventive exams
Biometric screenings
DOT physicals
Lab draws
Allergy & flu shots
Immunizations
Acute & urgent care
Women's health
Wellness coaching
Pediatric care (ages 2 and up)
Employees who use the clinic are eligible to earn reward points, and services are free to employees and dependents who are enrolled in the medical plan.
Trinity Metro is also committed to the privacy of medical clinic visitors. All interactions, services, and medical records at the medical clinic will be held in strict confidence. This means that your records will be maintained solely by Premise Health, and they will not be shared with Trinity Metro.
Be on the lookout for more information coming soon about this exciting employee benefit!
Now you can catch Trinity Metro TEXRail more often
Trinity Metro TEXRail has been a big hit with customers, and now they are enjoying even more service with 30-minute frequencies during peak hours. The commuter rail line between Fort Worth and Dallas Fort Worth International Airport is now operating 73 trains daily instead of the previous tally of 48. The increased service started on Sunday, July 28. TEXRail operates on the same timetable every day of the week.
Another milestone for TEXRail was achieved with the introduction of Spike, the eighth train set manufactured by Stadler in Salt Lake City, Utah. The train got its name because it was featured at the grand opening celebration for Stadler's new facility in May. The grand opening event coincided with the 150th anniversary of the Golden Spike celebration, which marked the historic spike that joined the rails for the First Transcontinental Railroad.
If you see Spike out on the route, you'll see the name emblazoned on the front of the train. In August, Marketing and Communications members rode Spike and encouraged passengers to post photos about their ride on social media. The team also surprised riders with free Spike t-shirts, and promoted Spike through a social media campaign.
For specific information about times and locations, go to the online schedule.
Trinity Metro's new electric bus, The Dash, has been testing throughout the summer and is almost ready to start service. The route begins operations on Sunday, Sept. 22, and a celebratory launch event will be held on Monday, Sept. 23, at Crockett Row.
The Dash will run from downtown Fort Worth to the city's cultural district along the 7th Street corridor and will include a stop at the new Dickies Arena. Trinity Metro has four electric buses and a charging station, which were paid for by grant funding provided by the North Central Texas Council of Governments.
The line is a public-private partnership, with funding from community investors. The City of Fort Worth, Blue Zones Project – Fort Worth, Real Estate Council of Greater Fort Worth, and Visit Fort Worth have all made a three-year financial commitment to The Dash.
Other investors include the Kimbell Art Museum, Modern Art Museum Fort Worth, Amon Carter Museum of American Art, the University of North Texas Health Science Center, Crockett Row, Museum Place and Sheraton Downtown Fort Worth.
The Dash will offer daily service, with later hours on Friday and Saturday nights.
Mercantile ZIPZONE provides first mile/last mile solution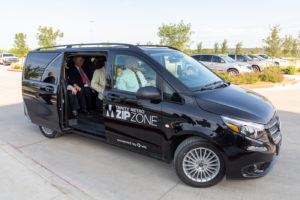 Trinity Metro recently introduced a new service to help employees in the Mercantile area get to work. The Mercantile ZIPZONE started July 22, and is helping TEXRail and bus commuters who travel to the Mercantile Center Station connect to their jobs.
After arriving at the station or bus stop, passengers can use the rideshare option to complete their commute. The first-mile/last-mile ride is provided by Via through a contract with Trinity Metro. During the service launch, Trinity Metro is not charging an additional fee for the rideshare option.
The Mercantile ZIPZONE operates 7 a.m. to 7 p.m. Monday through Friday. The Mercantile area employs approximately 18,000 workers.
Trinity Metro partnered with the City of Fort Worth to provide funding for Mercantile ZIPZONE, which is a one-year pilot project. The city has dedicated $500,000, and the remaining $500,000 is part of Trinity Metro's operating budget.
Carla Forman celebrates 40 years of service
This summer, Carla Forman, director of paratransit and contracted services, celebrated her work anniversary of 40 years. To put that in perspective, 1979 is the year that Trivial Pursuit was launched, Pink Floyd released "The Wall" album, and Margaret Thatcher was elected prime minister in the United Kingdom. Jimmy Carter was president, gas was 86 cents a gallon, and you could buy a Toyota Corolla for about $3,700.
We asked Carla to reflect on her time, and to share more about her experience at Trinity Metro and outside of public transportation.
How did you first find out about the company?
I was taking graduate courses at the University of Texas at Arlington, and I saw a Transit Management Intern position listed on the job board.
What do you like most about your current role?
That ACCESS makes a difference in people's lives.
Any unusual or interesting jobs before coming to the company?
I worked as a dog groomer (did not like the dog bites), and I also worked in a pharmacy.
What is a fun fact we may not know about you?
I swam competitively from elementary school through sixth grade.
What do you like to do outside of work?
I enjoy working on special projects around the house and spending time with my family and dogs.
Fitness IQ: Summertime sunscreen health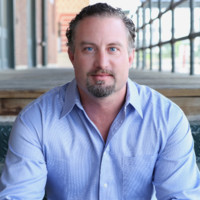 Most of us know that we're supposed to use sunscreen, but we don't all do a good job of knowing how sunscreen actually works. Here are a few things you should know:
Sunscreen expires, so make sure you use sunscreen that is not expired for it to be effective at protecting your skin.
Use a sunscreen that is a minimum 30 SPF and broad spectrum so that it protects from both UVA and UVB rays. A water-resistant variety will help it last longer when swimming or sweating.
Reapply every two hours.
Remember: You must wait at least 15 minutes for sunscreen to absorb before it starts working. If you apply and immediately go into the sun, you won't be protected right away.
Summer is one of the best seasons for staying healthy and active. While you're enjoying the outdoors, make sure to take the proper measures to protect your skin.