See Something? Say Something!
If you see something that concerns you, report it using one of these options:
See Say app
See Say web form (below)
Text-a-Tip number (817-409-8686)
Call 911 to report criminal activity and emergencies.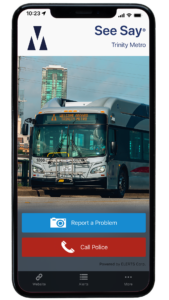 See Say app is a convenient option for customers to provide information about Trinity Metro's rail, bus, bus stops, stations, and transfer centers. The app gives our customers the ability to report safety and security concerns, and other suspicious activities while riding Trinity Metro's bus, TEXRail, and TRE services. Help us maintain a safe environment for Trinity Metro customers and employees by remembering that if you see something, say something.