Sal Espino joins Trinity Metro as Director of Government Relations
 Former Fort Worth City Council Member served six terms
(FORT WORTH, TEX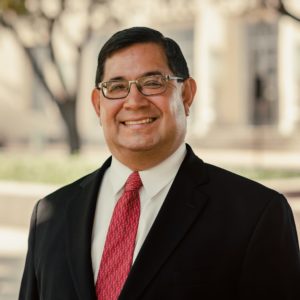 AS) July 16, 2018 – Trinity Metro announces the hiring of former Fort Worth City Council Member Salvador Espino as the agency's Director of Government Relations. In this capacity, he will manage Trinity Metro's governmental relationships at the local, state and federal level. Espino also will develop and implement a strategic legislative plan for Trinity Metro, analyze legislation affecting transit and work with elected officials and their staffs.
During his tenure on city council, Espino served as chairman of the Infrastructure and Transportation Committee and the Legislative and Intergovernmental Affairs Committee. He also served on the Regional Transportation Council, the independent transportation policy body of the North Central Texas Council of Governments.
"We are pleased to have Sal join our agency," President/CEO Paul Ballard said. "He brings a wealth of Fort Worth knowledge and legislative experience to this role. His background in public policy and his transportation leadership will be essential, as he develops a strategic legislative plan for the future of transit in Tarrant County."
In addition to city council, Espino served as president of Cassata High School from 2006 to 2010 and has worked in the field of law since 1995. He has managed a title company in his law office since 2003 and has experience as a staff and litigation attorney. Earlier in his career, Espino worked in accounting roles at Accounting Professionals CPE Institute and NTCS, Inc.
Since 1995, he has held various leadership positions at All Saints Catholic Church. He has also served the community, volunteering with the St. Joseph Health Care Trust Grants Committee, Imagination Celebration Fort Worth, the Kimbell Art Museum, the Rose Marine Theater, and Fort Worth Academy of Fine Arts/Texas Boys Choir.
Espino graduated magna cum laude with a Bachelor of Business Administration in Accounting from Texas Christian University and a Doctor of Jurisprudence from the Dedman School of Law at Southern Methodist University.
About Trinity Metro
Trinity Metro is a regional transportation system that provides public transportation to meet the mobility needs in Tarrant County and offers connections throughout the North Central Texas region. Trinity Metro annually provides 10 million passenger trips on buses, vanpools and the Trinity Railway Express (TRE). Trinity Metro jointly owns and operates the TRE with Dallas Area Rapid Transit (DART). Trinity Metro is constructing TEXRail, a new commuter rail line that will operate from downtown Fort Worth to Dallas Fort Worth International Airport's Terminal B, with revenue service to begin in January 2019. Trinity Metro is governed by an 11-member board of directors, consisting of eight Fort Worth City Council appointments and three Tarrant County Commissioners Court appointments.