Number of students has grown substantially since May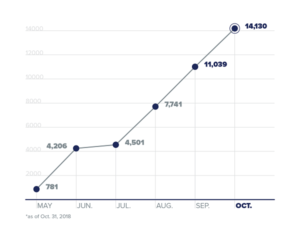 (FORT WORTH, TEXAS) Oct. 26, 2018 – Thousands of Tarrant County College (TCC) students are enjoying the public transportation benefit they receive for furthering their education. When TCC started covering the cost of Trinity Metro bus and rail rides in May, students took nearly 1000 rides in Tarrant County. The upward trend skyrocketed in subsequent months, with more than 14,000 rides in October.
As part of the agreement, Trinity Metro added service to TCC's Northeast and Southeast campuses in August. Now students can access all of the TCC campuses at no cost to them.
For students like Alexandra Lopez, having TCC pick up the tab has made a big difference. "It has saved me so much money and I am just so grateful for it," she said. Having the flexibility to reach multiple locations is another aspect of the program that has made a significant impact on her education.
"One of the campuses I attend is Southeast campus and before the program, there wasn't any bus to Southeast," Lopez said. "Some of the courses that I needed to take were only available there. I thought I was going to have to wait until I transfer to a university, which is something I did not want to do. I want to thank the people who were involved in the program because they made life so much easier – not just for me but for many TCC students."
TCC Chancellor Eugene Giovannini is pleased with the program's progress. "It is gratifying to see what a major impact our partnership with Trinity Metro already is having on our students as they work to pursue their higher education goals," he said. "Providing our students with free transportation to every TCC location through our Ride On Program furthers our goal of being a student-ready institution and removes a significant barrier to completion for many of our students."
Trinity Metro President/CEO Paul J Ballard said the partnership is working as planned. "When Chancellor Giovannini and I talked about this agreement last year, we hoped that the opportunity for students to access all campuses would enhance their college experience and provide the flexibility they need to enroll in classes they choose, regardless of the location," he said. "Because TCC students enjoy unlimited rides, they also benefit by having convenient options for getting to the grocery store, medical appointments or weekend entertainment. The success we're seeing so far shows that the program is working."
About Trinity Metro
Trinity Metro is a regional transportation system that provides public transportation to meet the mobility needs in Tarrant County. The agency offers connections throughout the North Central Texas region, annually providing 10 million passenger trips on buses, vanpools and the Trinity Railway Express (TRE), a 34-mile commuter rail line jointly owned and operated with Dallas Area Rapid Transit (DART). Trinity Metro is constructing TEXRail, a 27-mile commuter rail line that will operate from downtown Fort Worth to Dallas Fort Worth International Airport's Terminal B, with revenue service beginning in January 2019. Trinity Metro is governed by an 11-member board of directors, consisting of eight Fort Worth City Council appointments and three Tarrant County Commissioners Court appointments.
About TCC
Serving more than 100,000 students each year, Tarrant County College is one of the 20 largest higher education institutions in the United States. The two-year college offers a wide range of opportunities for learners of all ages and backgrounds, including traditional programs, such as Associate of Arts degrees, Community & Industry Education courses, workshops and customized training programs. The College, established in 1965, has six campuses throughout Tarrant County, including TCC Connect that provides flexibility with e-Learning and Weekend College. TCC also assists employers in training their workforces with its TCC Opportunity Center.