(FORT WORTH, TEXAS) Nov. 8, 2018 – Teresa Ayala, a commercial contract professional, has been appointed to the Trinity Metro Board of Directors by Council Member Carlos E. Flores, who represents Fort Worth District 2.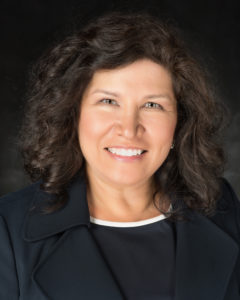 Ayala currently serves as a Senior Contracts Compliance & Privacy Administrator with Texas Health Resources and is a member of the national Health Care Compliance Association. Her professional experience extends to mentoring and managing at Top 25 Fortune companies throughout the United States, Mexico, Canada, South America and Asia.
"Teresa brings a wealth of knowledge and experience to the board," said Trinity Metro Board Chair Scott Mahaffey. "She joins us at an important time in Trinity Metro's history. We will begin TEXRail service in January, and our bus services are going strong. We just started operations in Forest Hill this week, and our Tarrant County College partnership continues to grow. Ridership among TCC students exceeded 14,000 rides in October."
Ayala is active in the community and serves as the board secretary for the Tarrant County College District Board of Trustees. She is a member of the Association of Community Colleges Trustees, Community College Association of Texas Trustees and the Association of Latino Community College Trustees. She is the Trustee liaison to the college in creating a dynamic cultural and institutional transformation involving the implementation of guided academic and career pathways for all students.
For Ayala, using the public transportation system is a familiar transit option. "Because I grew up in Fort Worth, I have been riding public transit for years," she said. "I look forward to serving our community by working with fellow board members and Trinity Metro staff to initiate those foundational refinements necessary to meet emergent customer needs while delivering safe and reliable service to Trinity Metro riders."
Her other volunteerism includes serving on the Executive Council for Read FW, working with youth organizations and serving on boards in the City of Fort Worth including Tax Increment Financing Districts, Parks and Recreation Advisory, Commission for Women and the Community Development Council. In 2016, Ayala was recognized as a Great Woman of Texas for her significant civic contributions; dedication to family and her community.
She attended Tarrant County College and earned her bachelor's and master's degrees in liberal arts from Texas Christian University. She and husband Charles M. Bruton, Jr., have a 12-year-old son.
About the Board of Directors
Trinity Metro is governed by an 11-member board of directors, consisting of eight Fort Worth City Council appointments and three Tarrant County Commissioners Court appointments.
About Trinity Metro
Trinity Metro is a regional transportation system that provides public transportation to meet the mobility needs in Tarrant County. The agency offers connections throughout the North Central Texas region, annually providing 10 million passenger trips on buses, vanpools and the Trinity Railway Express (TRE), a 34-mile commuter rail line jointly owned and operated with Dallas Area Rapid Transit (DART). Trinity Metro is constructing TEXRail, a 27-mile commuter rail line that will operate from downtown Fort Worth to Dallas Fort Worth International Airport's Terminal B, with service beginning Jan. 5, 2019.