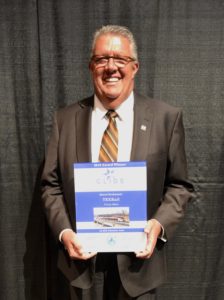 (FORT WORTH, TEXAS) June 18, 2019 – TEXRail was honored Friday with a CLIDE (Celebrating Leadership in Development Excellence) Award from the North Central Texas Council of Governments.
The CLIDE Awards, which began in 2003, recognize innovative development programs that plan for the region's future growth and seek to support a sustainable North Texas. This year's competition featured 41 nominees, which yielded 17 winners in the categories of New Development, Redevelopment, Special Development, Public Planning and Policy, and Raising Public Awareness.
TEXRail was recognized in the category of Special Development, which honors projects that exemplify outstanding promotion of specific elements of the Principles of Development Excellence. The judging committee was comprised of some of the nation's top urban planning experts.
Trinity Metro President & CEO Bob Baulsir accepted the award. "Receiving a CLIDE Award for TEXRail is a tremendous honor for us," he said. "We are grateful for the recognition and appreciate everyone's efforts in bringing our commuter rail project to fruition."
About Trinity Metro
Trinity Metro is a regional transportation system that provides public transportation to meet the mobility needs in Tarrant County. The agency offers connections throughout the North Central Texas region, annually providing 10 million passenger trips on buses, vanpools and the Trinity Railway Express (TRE), a 34-mile commuter rail line jointly owned and operated with Dallas Area Rapid Transit (DART). Trinity Metro is the sole owner and operator of TEXRail, a 27-mile commuter rail line that runs from downtown Fort Worth to Dallas Fort Worth International Airport's Terminal B.