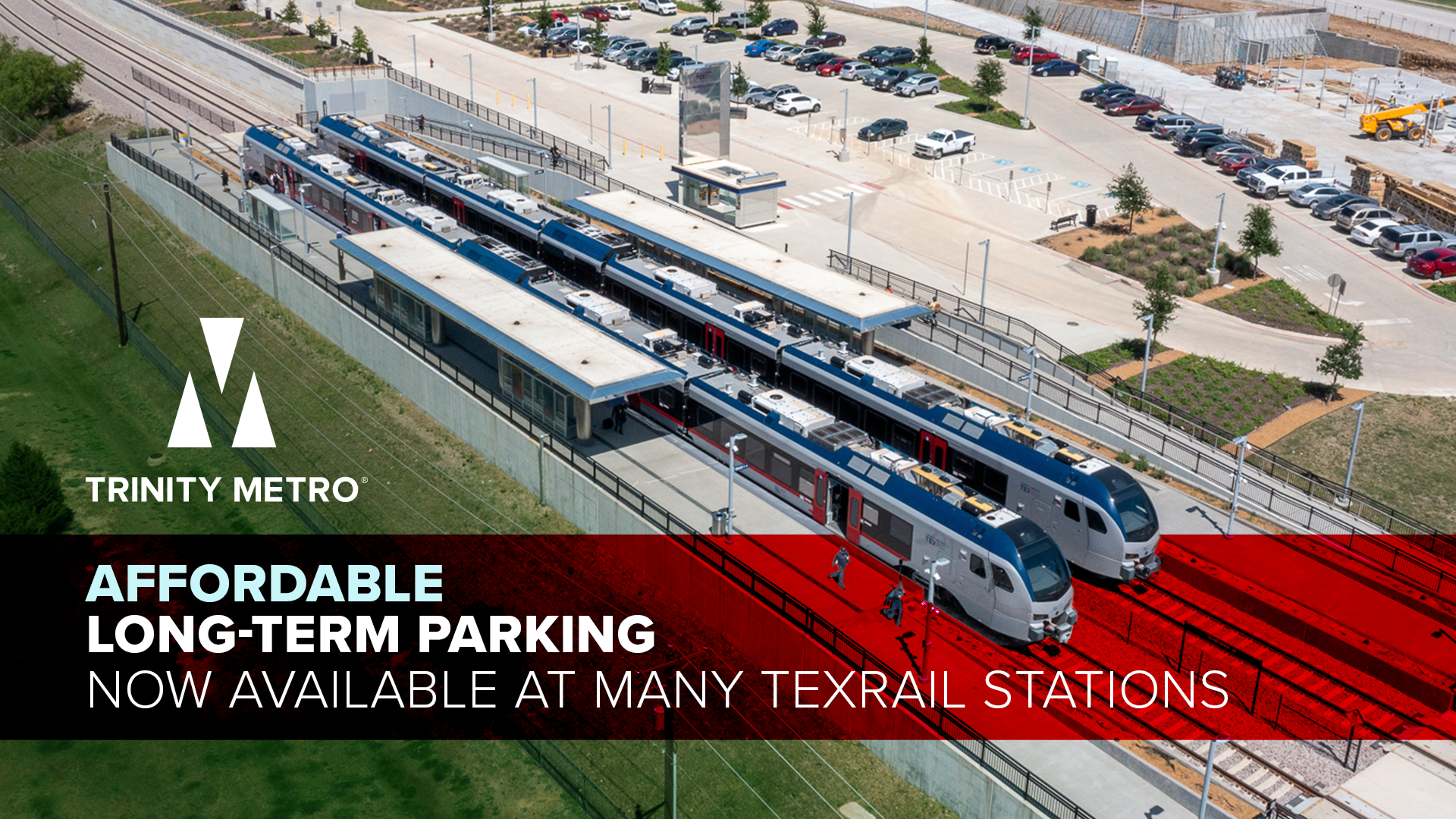 LONG-TERM PARKING AT TEXRAIL STATIONS
In case you need another reason to choose Trinity Metro TEXRail to the airport, five of the TEXRail stations – three in Fort Worth and two in North Richland Hills – have designated long-term parking for only $5 a day.
Stations in Fort Worth with long-term parking are Fort Worth T&P Station, North Side Station and Mercantile Center Station. In addition, North Richland Hills/Iron Horse Station and North Richland Hills/Smithfield Station also offer long-term parking. On average, each of the five stations have 20 designated spots for long-term parking.
Customers will not be reserving a specific numbered space, but can use any one of the numbered spaces. The oversell or duplicate sales are prevented by the capacity. For example, if the lot has 20 spaces available, the website will only sell 20 on any given timeframe and show a sold-out message if the 21st customer attempts to purchase. We will evaluate usage and determine if more spots may be needed.
If your flight is delayed, rescheduled, or cancelled outright, additional parking days can be purchased via the app if the total number of spaces are not oversold.
Should you encounter an issue with your reservation, please contact ACE Parking at 214-748-5535.
Customers can make reservations and payments in the Ace Parking app on Apple or GooglePlay devices.
*PARKING DURING THE HOLIDAY SEASON*
TEXRail's long-term parking options have been increased to help riders traveling to DFW Airport for holiday destinations. Five of the TEXRail stations already have an average of 20 spots for long-term parking, and now an additional 15 spaces are available for overflow parking needs.
Thanksgiving week is peak travel time, and parking lots will begin to fill up more quickly as holiday travel increases. Please allow an extra 10 minutes to find parking when utilizing one of our TEXRail parking options, and ensure you arrive at your respective ticket counter two hours prior to scheduled departures.
Overflow parking will continue to be offered through Jan. 8. Trinity Metro is working with Ace to reflect the additional parking for customers.
For questions about the app, completing payments and where to park if all of the spaces are full, contact Darrin Smith, Ace parking account manager and site manager, at 214-724-6758 or dlsmith@aceparking.com.