(FORT WORTH, TEXAS) Jan. 16, 2019 – North Texans gave TEXRail a warm welcome during the commuter rail line's opening weekend, Jan. 12-13. More than 11,000 riders experienced the new TEXRail train that travels across a 27-mile route from downtown Fort Worth to Dallas Fort Worth International Airport's Terminal B.
Ridership on Saturday reached 6,489 and Sunday's ridership was 4,625, yielding a weekend total of 11,114.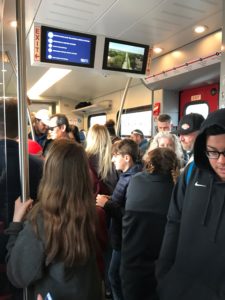 "We couldn't be more pleased with the ridership numbers," said Trinity Metro President/CEO Paul J Ballard. "We anticipated a strong turnout, but the number of riders exceeded our expectations."
Numbers from the weekend show that some of the most popular places to board were the Fort Worth Texas & Pacific (T&P) Station, Grapevine/Main Street Station and DFW Airport Terminal B Station. The Downtown ITC/Fort Worth Station and North Richland Hills/Smithfield Station also reflected strong ridership
On Saturday, 220 riders boarded at the Fort Worth T&P Station for one of the trains. At Grapevine, 170 riders boarded a morning train. An afternoon train had 236 riders board at the DFW Airport Terminal B Station. On one of the Sunday trains, 201 passengers boarded at the T&P Station. On the other end of the line, 167 riders boarded the train at the DFW Airport Terminal B Station.
"From the feedback we received, riders were trying TEXRail for a number of reasons," Ballard said. "Some were taking day trips with their families, and others were testing out the route in anticipation of commuting to work during the week. We also saw travelers with luggage going to or from the airport."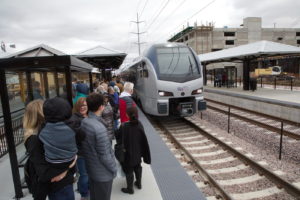 About Trinity Metro
Trinity Metro is a regional transportation system that provides public transportation to meet the mobility needs in Tarrant County. The agency offers connections throughout the North Central Texas region, annually providing 10 million passenger trips on buses, vanpools and the Trinity Railway Express (TRE), a 34-mile commuter rail line jointly owned and operated with Dallas Area Rapid Transit (DART). Trinity Metro is the sole owner and operator of TEXRail, a 27-mile commuter rail line that runs from downtown Fort Worth to Dallas Fort Worth International Airport's Terminal B.