(FORT WORTH, TEXAS) Jan. 22, 2019 – To say TEXRail is the ride of choice may be an understatement. In the first 12 days of service, nearly 55,000 passengers have ridden on the new commuter rail service.
"We have had a tremendous response to TEXRail," said Trinity Metro President/CEO Paul J Ballard. "The high number of riders reflects the region's desire to leave the car behind and choose public transportation."
As North Texans traveled during the holiday weekend, more than 18,000 chose to take their journey on TEXRail. The Martin Luther King Jr. holiday carried the highest number of daily riders to date with 8,287 passengers. Ridership on Saturday, Jan. 19, totaled 4,710 and Sunday, Jan. 20, ridership peaked at 5,005. The total for the three-day weekend was 18,002.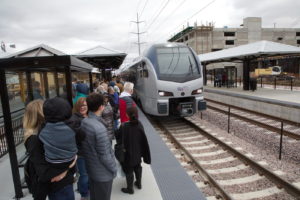 One of Monday's eastbound trains picked up 247 riders at the Fort Worth Texas & Pacific Station and another 162 at the Downtown ITC/Fort Worth Station. On one of the westbound trains, 264 passengers boarded at DFW Airport Terminal B Station and another 168 boarded at Grapevine/Main Street Station. At full capacity, a train carries 488 passengers.
"Throughout the weekend, we have heard from riders who tried TEXRail for the first time – and a few who have ridden every day since we began service," Ballard said. "The feedback is overwhelmingly positive, and everyone loves the smooth ride."
At the inaugural run of TEXRail, Fort Worth Mayor Betsy Price discussed the possibility of extending TEXRail's route to new stations in the Medical District and in the TCU/Berry Street area.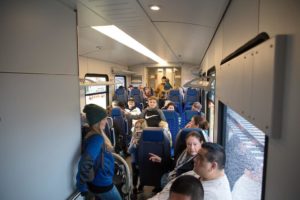 "We agree that extending the TEXRail route is a viable option to pursue," Ballard said. "The initial response indicates that the extension would be a popular option for medical employees to travel to work and for students to go to class."
About Trinity Metro
Trinity Metro is a regional transportation system that provides public transportation to meet the mobility needs in Tarrant County. The agency offers connections throughout the North Central Texas region, annually providing 10 million passenger trips on buses, vanpools and the Trinity Railway Express (TRE), a 34-mile commuter rail line jointly owned and operated with Dallas Area Rapid Transit (DART). Trinity Metro is the sole owner and operator of TEXRail, a 27-mile commuter rail line that runs from downtown Fort Worth to Dallas Fort Worth International Airport's Terminal B.