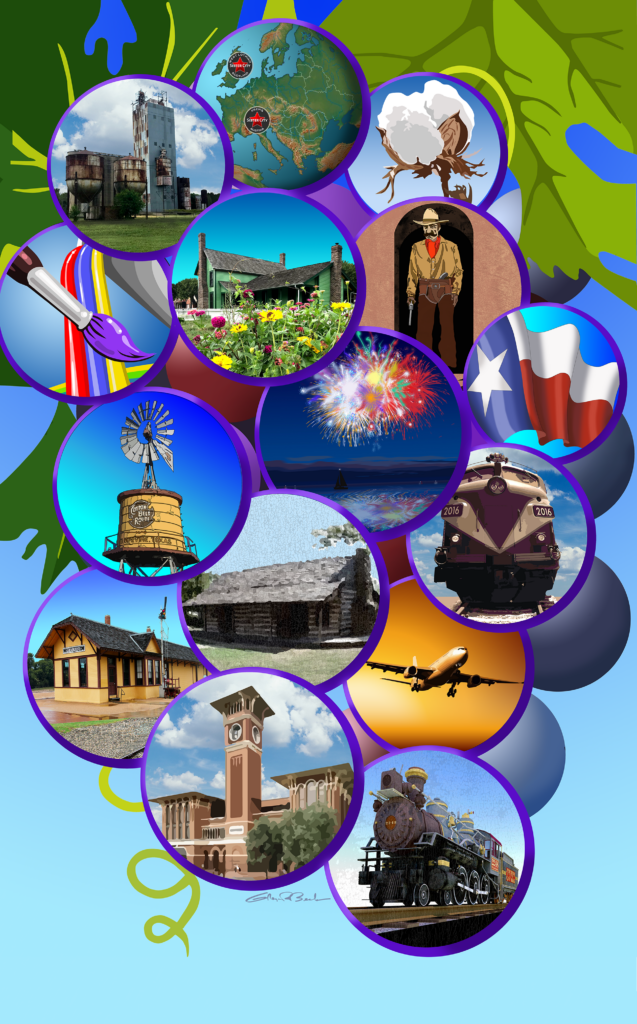 The city of Grapevine and its surrounding area are a welcoming, cultural and family fun oriented area of North Texas, offering a multitude of varied treasures. It has been a great honor for me to have my digital art designs selected as an enhancement to Grapevine and its rich history, art community and bright vision toward the future.
Exploring the area prior to my initial design concepts sparked my inspiration. Identifying historical locations and other landmarks in the region was an eye-opening experience.
"City on the Vine" is a design that gave me the opportunity to show an overview of Grapevine's history and points of interest, utilizing each grape with one digital design, to represent an iconic image.
"Hit the Trails" and "Lake Grapevine" represents my design inspiration for the versatile local outdoor activities; hiking, biking, boating and fishing. I have personally spent many hours riding the north shore Mountain Bike & Hiking Trails over the years.
"The Night Watchman" is presented in a view not seen by many. The view from behind him impresses the importance his role represents in his vigil, watching over the city, searching for trouble and keeping the city safe.
The digital images of GrapeFest, "Time for Wine" and "Celebration of Christmas," are two of the most notable International festivals hosted by Grapevine. My concept is to portray them as colorful and fanciful digital designs, depicting the celebrations of both seasons for travelers arriving into the region from DFW Airport North Station.
In summary, my digital designs are influenced by the importance of history, family fun, wonderful people and the excitement that Grapevine has to offer the long-distance traveler, as well as folks from Texas.
Artist: GREGORY BECK
I've been an artist from the time I picked up my first crayon. Consequently, I discovered painting, sculpting, computer graphics, designing, and video making – any artistic medium I could get my hands on. I work in multiple disciplines, styles, and mediums. Realistic, impressionistic, abstract. To me, all are exciting and captivating.
I have focused on public art design, creating wall-mounted murals and contemporary and figurative sculptural monuments: City of Fort Worth Police Department – 80' x 10' detailed painted aluminum mural; Cedar Park, Texas – 22' tall etched granite Veterans Memorial; Federal Building Grounds, Jackson, TN – M.D. Anderson Memorial; Amon G. Carter Stadium, Texas Christian University – three 12' x 3' concrete bas-relief images, along with many other public art projects.
I've exhibited figurative sculpture and abstract paintings in national & international galleries and exhibitions, including the National Sculpture Society, New York City and the Florence, Italy International Biennale. My artwork has received accolades in multiple national art magazines and television features. Studying with the best figurative sculptors, home and abroad, I have honed my abilities as an artist, while continuing to develop digital design and illustrative skills for public art application.