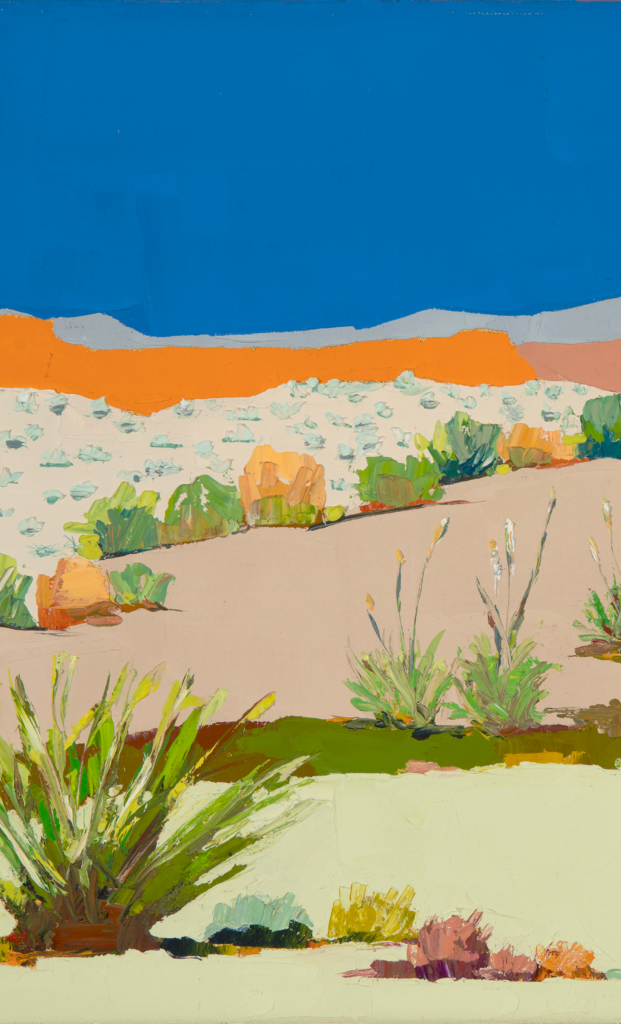 Western Vistas by Donna Walker
Donna Walker's artwork depicts the large, bright vistas of the rugged Texas landscape. Simple homesteads, native plants, rough hills, and open skies showcase the rugged beauty of our state. Walker's bright colors and impactful compositions contrast with the urban scenes of downtown Fort Worth around the train station and the bustle of people and schedules. Fort Worth is a busy city, but it is also on the edge of the countryside.  Within a few miles, you are in the open range, with ranches, farms, and large, expansive vistas. It is a wonderful combination that makes this city a unique place. Her work invites the traveler to let their mind wander to what lies beyond the city.
As you move through the six images of the artwork, with their rich, saturated colors, the perspective changes, and there is a rhythm to the abstracted landscape, imagined homesteads, and changing horizons. There is a different pace to life represented in Walker's scenes, with a hint of nostalgia.
Donna's art has a strong composition and a simple, straight forward design that creates an impact on a viewer, and perhaps an emotional connection. The images can be read quickly by a commuter or if they have time, or can be looked at more closely, with the panels' small details, texture, and connected themes. It is a gift, especially in today's busy world, to take time to look, to slow down, to reflect and be transported to a new colorful space.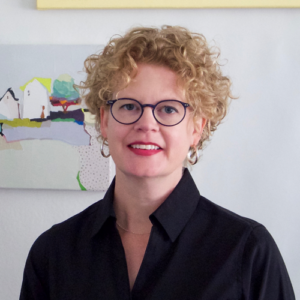 Donna Walker was born in Detroit, MI, grew up in Fort Wayne, Ind., and now lives in Fort Worth with her husband Scott. She has studied drawing, painting and printmaking. She earned a Bachelor of Fine Arts from Illinois Wesleyan University and a Master of Fine Arts from the University of Michigan. 
Walker has had various jobs in art conservation (working on several mural projects, including the restoration of Dallas Fair Park), arts organizations, and an auction gallery. She has been a professional artist painting full time for over a decade.
Walker exhibits her paintings through galleries in Fort Worth, Dallas, Boston, and Atlanta. Her work is in many private collections across the country.
Her paintings have also been seen on the cover of Kent Haruf's novel, "Plainsong" (Diogenes Press), and as set decoration for television shows: "The Carrie Diaries" (2014), "American Odyssey" (NBC 2015), "Ringside" (ABC 2016), and the Jennifer Lopez film "Second Act" (2018).