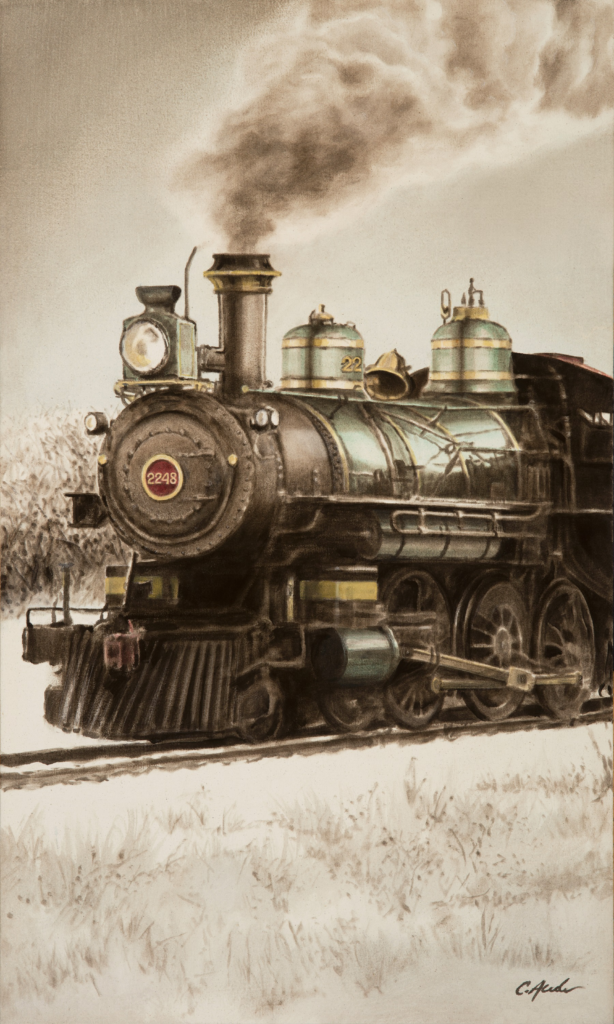 These artworks depict the historic architecture, iconic windmills, beloved vintage trains, and other cherished destinations and attractions of Grapevine, Texas.
My intention for this project was for my artwork to invoke a nostalgic, sentimental feeling for the places and subjects depicted in each painting. The colors I chose were designed to coordinate with those of the surrounding environment.
I was able to achieve this nostalgic look by first painting in a sepia-tone on raw canvas, then "colorizing" them by adding washes of transparent color.  
My hope is that my artwork will entice passengers to exit the train and go experience everything Grapevine has to offer for first-hand.
Artist: CAROL ACEDO
Carol Acedo was born in Louisville, Ky., and moved to North Carolina as a teenager, where she later attended North Carolina State University and earned a degree in industrial design. She has now settled in Fort Worth, where she owns an industrial design consulting business that specializes in the design of commercial grade lighting fixtures. Her creative ambitions carry over to her love of art that she has expressed throughout her career by creating large scale artwork for commercial spaces, commissioned artwork for individuals, and themed works for exhibitions.
Acedo is best known for her unique method of painting in which she applies acrylic paint onto a raw, prepared canvas. This method produces a soft, light absorbing, matte surface not common to most paintings. Most of her works are monochromatic while others have color layered on top of a monochromatic underpainting. Ranch life, cityscapes, animals, architecture and musicians are common subjects in her artwork. Her artwork can be found at various galleries in Texas, Oklahoma, and in exhibitions and personal collections around the United States.