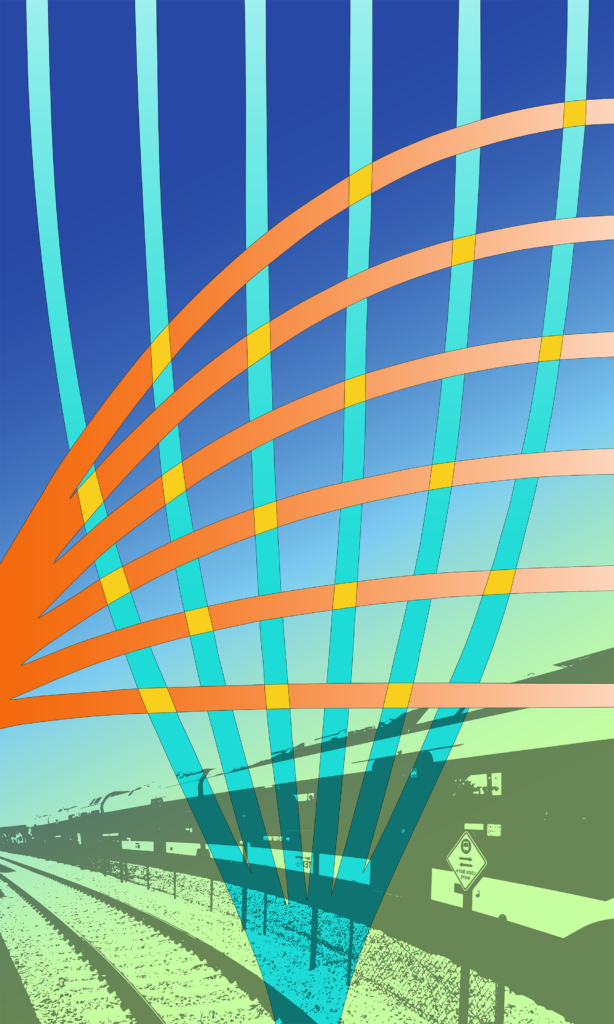 My design evolved over several weeks after multiple visits to the North Richland Hills/Iron Horse Station and observing the flow of the trains and passengers. The intent in developing this design was to have fun with my art while reflecting some of the unique qualities of North Richland Hills that come from its farming, ranching and railroad history.
My art is all about color and perspective. This design incorporates both railroad images and what I see as furrows made by the farmer's plow, that merge to resemble hay rakes, thus impacting people by connecting them to the rich history of North Richland Hills. Farming, ranching, and the railroad have been important in this history.
Furrows and railroad tracks are similar and visually relate to one another. They both follow the contour of the land and enjoy a symbiotic relationship. The mirror images that I have created using complimentary colors excite the eye. The placement of the panels will result in each passenger being exposed to a different view.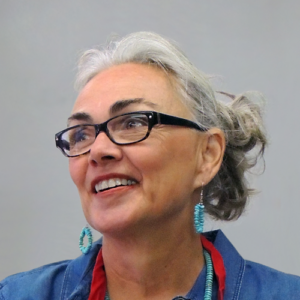 Artist: Pamela Summers
I am predominantly a ceramic artist who makes wheel-thrown vessels, handmade tiles and tile mosaics using a variety of methods. My original designs have evolved over 30 years as a full-time artist and I continue to explore new combinations of shape and color.
I attended the Pretoria Art School at the College for Advanced Technology in Pretoria, South Africa. This is where I was introduced to clay. My time in South Africa definitely influenced my work. Most of my early impressions were mainly colorful patterns and texture.
I also studied at The University of Texas at Arlington, where I focused on ceramics and sculpture.
After returning to Texas, I became a full-time ceramic artist selling as well as exhibiting my ceramics through out the Southwest. I also started teaching throwing and Raku-firing workshops. In time, I developed a strong signature technique for my contemporary Polychrome and Raku ceramics.
Most of my vessels are thrown on the potter's wheel. When working in my "Polychrome" style, I use white earthenware clay. After bisque-firing each piece, I draw on it using a special tape. These designs are then painted with several coats of brightly colored glazes, and then the piece is fired multiple times.
I have created several outdoor ceramic mosaic murals in Fort Worth.
In September 2014, I finished designing and installing a 233' recycled glass tile mosaic reflecting the natural prairie grasses and flowers native to Grand Prairie. This was a public art project for the City of Grand Prairie and was funded in part by a National Endowment for the Arts grant.
Along with my husband, glass artist Raymond Rains, and our dog, Barney Summers, I own and operate Cliff House Studio and Gallery in Fort Worth, Texas.