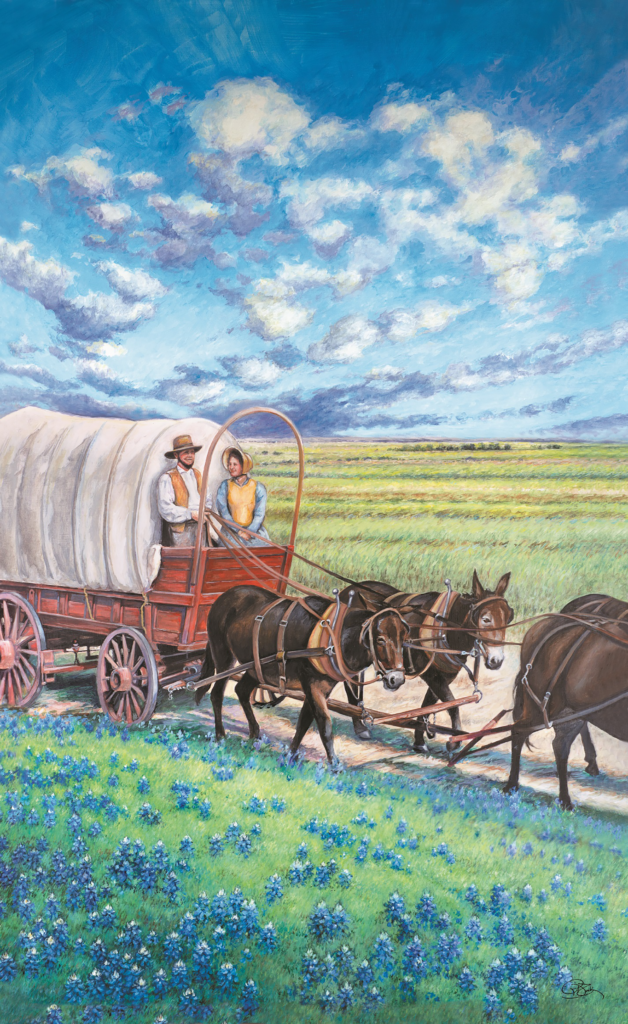 North Richland Hills
OUR STORY | 1848 TO TODAY
Developing a concept for the 8-panel Smithfield Depot proved to be a unique artistic challenge. I began by researching the city of North Richland Hills to learn more about its history before formulating a plan. In the process, I uncovered a fascinating story starting with the area's beginning as part of the historic Peters' Colony settlement, to population growth when the railroad came and the town was named Smithfield, to the annexation of Smith-field by North Richland Hills leading up to today. "OUR STORY" became the concept. Each panel features a specific year with an illustration of an event and written details. My goal was to create an engaging and interactive display that not only told a story of the past, but also highlighted the best features of the North Richland Hills of today. "Gone to Texas", fighting fires with burlap sacks, a snubbing by Richland Hills, when Evel Knievel came to town, and what is 1,161 feet long and 81 feet tall are just a few of the things you will learn about.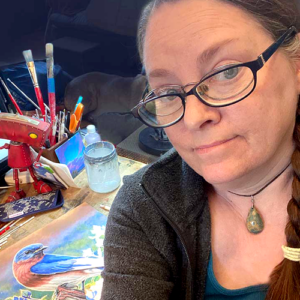 As a native Texan, Rebecca Zook grew up with an appreciation of the unique beauty that Texas offers. Wandering the trails, playing in the creek near her childhood home and befriending every creature she encountered, Rebecca found a true love in nature. This connection is something that's remained a part of her throughout her life and this love of the landscape and its inhabitants is expressed through each brushstroke.
"Earth and Sky", how Rebecca refers to the entirety of her skyscapes and landscapes is an ongoing body of work that is a true labor of love for the artist. It focuses almost exclusively on the Texas landscape from the ground sky-ward. Swaying grasses of the endless prairie and the vast skies with their ever changing cloud formations evoke a unique beauty that defines the gateway to the American West. The "Earth and Sky" series features acrylic paintings in a representational style with hints of impressionism. Gessoed panels that she prepares herself are Rebecca's preferred painting surface. Her acrylic technique often involves many overlapping layers of thin washes of color. She finds this better conducive to capturing the unique qualities of light.
"If you stop and watch the sky for any length of time, you realize how quickly it transforms itself. Clouds spring to life, change shape and dissipate right before your eyes. Sunrises and sunsets are the most dramatic. Almost second by second the colors grow and fade. My paintings capture one brief moment of that perpetually changing beauty." -Rebecca
Rebecca has a Bachelor of Fine Arts degree from Southern Methodist University majoring in advertising with a studio arts minor. She's had many successful solo shows, as well as local and national level awards. She has Master Signature Status in the Artists of Texas group and was granted Signature Status in the National Oil and Acrylic Painters Society. Rebecca also created a 15-1/2 ft by 5 ft sunrise mural on Magnolia Avenue near downtown Ft. Worth.
Rebecca is a true creative; excelling in many forms of expression in addition to fine art painting including graphic design, photography, copy and blog writing, illustration and holiday home decor design. She illustrated the children's book, "A Zebra Tale", for the Immune Deficiency Foundation. This is a free publication to help children understand the diagnosis of a Primary Immune Deficiency, which she also has. Rebecca doesn't let the challenges that come with chronic illness keep her from living a happy, fulfilling and productive life.
Rebecca is represented by The Dutch Art Gallery in Dallas and Your Private Collection Gallery in Granbury, Texas. To get to know Rebecca better, follow her on Facebook and Instagram where she posts in progress photos of her work. To see all available work visit her website. She is also known for wildlife paintings and pet portraits and accepts commissioned work of most subject matter.
rebeccazook.com
facebook.com/rebecca.zook
instagram.com/rebeccazookfineart