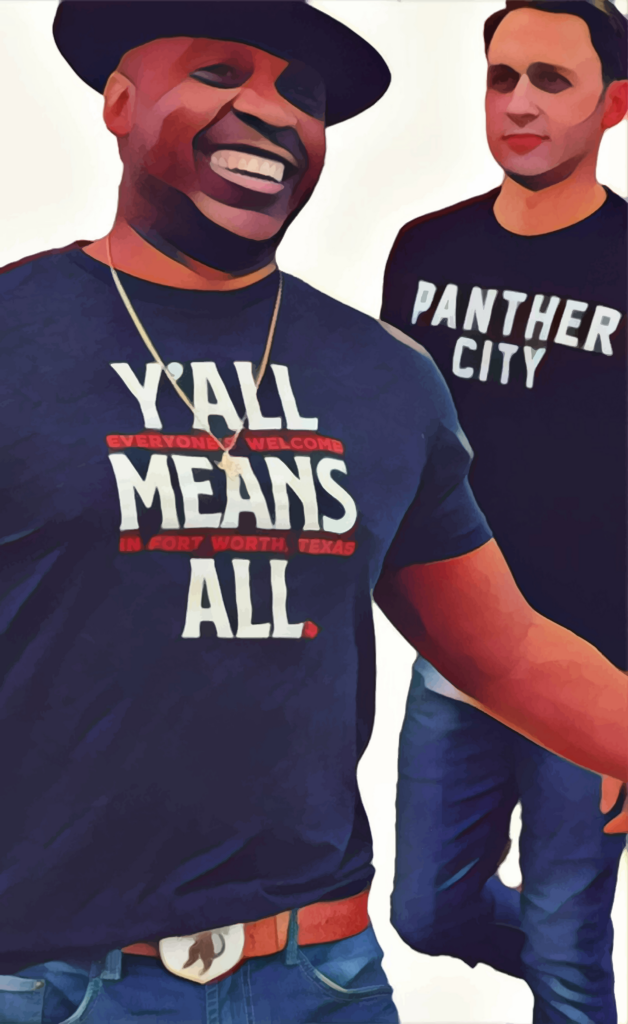 "Friends in Fort Worth T-Shirts" is all about the community coming together to show pride in our city. The intent of imagery in this artwork was to welcome those using public transit to our downtown area, showing the diverse faces who are physically wearing their pride and welcoming all with open arms.
The project began as an open-invitation group event, where friends and strangers were invited to participate in a photoshoot wearing their favorite t-shirt that promoted or memorialized Fort Worth in some visual capacity. People of all backgrounds came to be photographed.
These portraits were then digitally collaged together to create a panoramic image of people walking in all directions as if they too were moving on and off the TEXRail trains. It is my hope that this artwork will commemorate the welcoming hospitality that the people of Fort Worth are known for and encourage an open and warm embrace of both our friends and strangers.
Ariel Davis is an artist, gallerist, art consultant, and arts advocate based in Fort Worth. Her work reflects on humanity, shared experiences, and time. In her work, you can find at the core the idea of relationships that play with symbolism to tell a story. In preparation of creating a painting, she employs the process of photography, collage, and digital manipulation to create a unique source image. Many times she will engage individuals in the community to collaborate with her as subjects in her work. Capturing and portraying the energy, experience and mood of a scene, group or individual is more important then the details, which is defined by her loose style and use of bold color.  
She earned her BFA from the University of Texas at Austin, where she studied under Melissa Miller and Dan Sutherland in painting. Primarily a painter and muralist, she has had her mural work displayed in Inspiration Alley, Mistletoe Station in the Near Southside in Fort Worth, and in the new home of the Texas Rangers Baseball Organization at Globe Life Field. Her paintings have shown with the Fort Worth Art Collective, at her booth in the 2019 Main Street Arts Festival, and group shows at the Fort Worth Community Art Center and various galleries. Throughout her career, she has been in over 35 exhibitions and has co-organized over 80 art events and exhibitions in the DFW area over the last four years. In 2018, she was named Best Fort Worth Artist by Fort Worth Texas Magazine and was Fort Worthian of the month in February 2020.  
Along with completing two large works for the Texas Rangers Globe Life Field in 2020, she recently completed a collaborative project for the Mariachi Program at North Side High School though FGIII Fine Art Productions, and her first Fort Worth Public Art Project will be installed at Trinity Metro TEXRail's Fort Worth T&P Station in 2021. Also in 2020, she was one of six finalists to receive The New Normal Grant, funded by Fine Line Group (the family office of Sasha and Edward P. Bass), Alice L. Walton Foundation, Donny Wiley Memorial Fund at the North Texas Community Foundation, and Kit and Charlie Moncrief. 
You can learn more and see Ariel's work at Ariel-Davis.com.
Follow her on Instagram at @arieldavisart