Transportation executive joins Trinity Metro as Vice President & Chief Operating Officer
Wayne Gensler will oversee bus and paratransit services
(FORT WORTH, TEXAS) August 28, 2018 – Wayne Gensler, a transportation executive with more than 25 years of experience, has joined Trinity Metro as Vice President and Chief Operating Officer for Bus and Paratransit. In this role, he will oversee the agency's operations, maintenance, service planning and safety.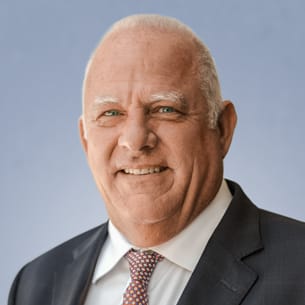 Gensler comes to Fort Worth from Houston, where he served as Director of Contract Operated Services at the Metropolitan Transit Authority. In that capacity, he managed contract compliance and ensured adherence to the agency's service goals while managing an annual budget of $90 million. He worked to improve the customer experience by using innovative technologies and enhancing first mile/last mile opportunities.
"Wayne is an excellent addition to our leadership team," said Paul Ballard, president and chief executive officer. "His experience in transportation and industry know-how will help guide long-term planning of our services and resources."
Gensler's previous roles include serving as senior project manager at MV Transportation in St. Louis, region vice president at First Student in St. Louis, district manager at Allied Waste Service in Nashville, and vice president and general manager at Laidlaw Transit in St. Louis. He earned a Bachelor of Science in economics at Northern Illinois University and a Master of Business Administration from Webster University in St. Louis.
About Trinity Metro
Trinity Metro is a regional transportation system that provides public transportation to meet the mobility needs in Tarrant County. The agency offers connections throughout the North Central Texas region, annually providing 10 million passenger trips on buses, vanpools and the Trinity Railway Express (TRE), a 34-mile commuter rail line jointly owned and operated with Dallas Area Rapid Transit (DART). Trinity Metro is constructing TEXRail, a 27-mile commuter rail line that will operate from downtown Fort Worth to Dallas Fort Worth International Airport's Terminal B, with revenue service beginning in January 2019. Trinity Metro is governed by an 11-member board of directors, consisting of eight Fort Worth City Council appointments and three Tarrant County Commissioners Court appointments.