(FORT WORTH, TEXAS) Nov. 29, 2018 – Paul J Ballard, President and CEO of Fort Worth's Trinity Metro, will retire in April 2019, with completion of his five-year contract, Trinity Metro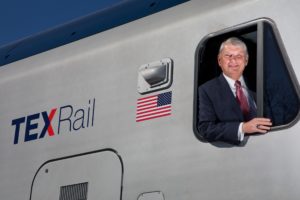 Board Chairman Scott Mahaffey announced today.
"Without Paul, the staff he assembled, and our dedicated Board members, there would be no TEXRail," Mahaffey said, referring to the 27-mile commuter rail line between downtown Fort Worth and DFW Airport, which is set to begin passenger service on Jan. 5, 2019. 
"We're on track, on time, and under budget," Mahaffey said.  "Tell me how many government projects can claim that. That level of exceptional performance is why I recruited Paul for the job."
Ballard previously led the successful startup of the Music City Star commuter train in Middle Tennessee.  He has served 46 continuous years as a general manager, CEO, or president of transit systems in both public and private sectors.  He began his career as a brakeman and trainman on the Boston and Maine Railroad, and he was a bus operator and supervisor of public transit before becoming one of the youngest transit systems general managers in the country. 
During his years in the private contract management industry, he oversaw management of public systems in 47 U.S. cities and 17 states.  He has provided management and consulting services internationally.  Ballard has held numerous leadership positions in the American Public Transportation Association, and he has participated in activities of the National Transportation Research Board, most recently evaluating new transportation research projects seeking federal funding.
 "TEXRail has undoubtedly been the biggest challenge of my career," said Ballard. "It's been five years of one really tough issue after another, several of them cliffhangers."
 Among the most daunting tasks of "working on the railroad" were  funding issues, negotiating agreements among several railroads, concerns from local governments, construction delays, plans for Positive Train Control, compliance with the Federal Railroad Administration and the Federal Transit Administration, and procurement of equipment and property.
 As TEXRail gears up for its New Year's Eve celebratory event, Ballard said, "This is the perfect time for me to step back and look toward doing a little consulting and traveling the rails around the world."
 Ballard personally rides buses and trains whenever possible, and he loves to share the experience with visitors from out of town.  "Most of all," he said, "I want to be known for implementing public transit from the rider's perspective."