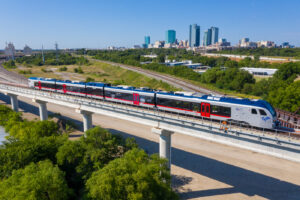 (FORT WORTH, TEXAS) Aug. 2, 2023 – Trinity Metro has selected the Huitt-Zollars + TranSystems team as final design consultant (FDC) for its TEXRAIL extension project, a critical element of Trinity Metro's strategic plan to expand transit and improve public transportation in Fort Worth, Texas.
The $167 million program encompasses a 2.1-mile commuter rail extension from the Fort Worth T&P Station to a new station (Near Southside Station) located in the Fort Worth Medical District, which employees 50,000. In addition to the rail extension, this project also includes the design of the new Near Southside Station with a 100-space park-and-ride lot. Construction will begin in 2024.
"This commuter rail expansion represents a crucial milestone in the development of Fort Worth's transportation infrastructure," said Trinity Metro President and CEO Richard Andreski. "By connecting riders to the Near Southside and Medical District, we are offering medical workers, patients and visitors an opportunity to ride the very popular and very successful TEXRAIL. The expanded rail service will provide a great commuting choice many people while also offering Near Southside residents a seamless connection to DFW Airport."
David Campbell, Huitt-Zollars vice president, said the Huitt-Zollars and TranSystems partnership was created to specifically to support Trinity Metro for the TEXRail Extension.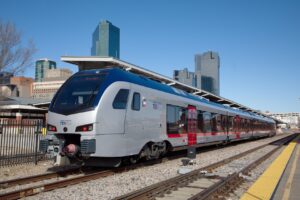 "We've got a great team in place and complement each other in services we provide to bring these projects to fruition," Campbell said. "Over the years, Huitt-Zollars and TranSystems have been integral to TEXRAIL projects, such as the commuter rail line's maintenance facility and the initial TEXRAIL line from downtown Fort Worth to the Airport. This partnership brings complementary skills together for exceptional results."
"We are pleased to partner again with Huitt-Zollars and TranSystems," said Chad Edwards, executive vice president of strategy, planning and development at Trinity Metro. "Our previous collaborations yielded highly successful results, so we are looking forward to continued excellence for our community."
About the Project Team
The Huitt-Zollars + TranSystems team has partnered to bring Trinity Metro and the TEXRail extension proven leadership and expertise in rail and transit station design. Both firms have worked for Trinity Metro on several projects over the years, including the TEXRail Track and Stations project, which was completed by TranSystems, and the Mahaffey Maintenance Facility, which was completed by Huitt-Zollars. The team has worked together successfully on multiple projects in Fort Worth and throughout the state.
About Trinity Metro
Trinity Metro is a regional transportation system that provides public transportation to meet the mobility needs in Tarrant County. The agency offers connections throughout the North Central Texas region, providing passenger trips on buses, TEXRail, ACCESS paratransit, ZIPZONEs, Fort Worth Bike Sharing, vanpools and Trinity Railway Express (TRE), a 34-mile commuter rail line jointly owned and operated with Dallas Area Rapid Transit (DART). Trinity Metro is the sole owner and operator of TEXRail, a 27-mile commuter rail line that runs between downtown Fort Worth and Dallas Fort Worth International Airport's Terminal B.