(FORT WORTH, TX – July 24, 2019) – Trinity Metro TEXRail has some great news for passengers. The commuter rail line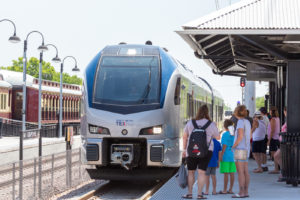 between Fort Worth and Dallas Fort Worth International Airport is about to start operating more trains. On Sunday, July 28, TEXRail will begin offering 10 hours of 30-minute frequency during peak hours, seven days a week. This increases the number of daily trips from 48 to 73.
Bob Baulsir, president and chief executive officer of Trinity Metro, said the increased frequency will enhance the already popular service. "We always intended to increase frequency after six months of service to provide more options for commuters, travelers and other passengers," he said. "Riders love our service, and we often hear that they are eager for more trains to run."
Additional schedule changes include time adjustments to accommodate the increased volume of service. For example, a train that currently leaves at 25 minutes past the hour will now leave at 43 minutes past the hour. Visitors to Downtown Fort Worth and Fort Worth Stockyards will enjoy later service eastbound to DFW Airport, with the last train leaving Fort Worth Central Station at 12:47 a.m. (currently 11:30 p.m.) and leaving North Side Station at 12:55 a.m. (currently 11:38 p.m.). TEXRail's first departure from DFW Airport to Fort Worth will be at 4:40 a.m. (currently 4:55 a.m.). Passengers should consult the online schedule prior to departure.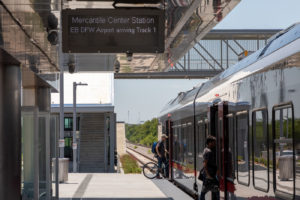 About Trinity Metro
Trinity Metro is a regional transportation system that provides public transportation to meet the mobility needs in Tarrant County. The agency offers connections throughout the North Central Texas region, annually providing 10 million passenger trips on buses, vanpools and the Trinity Railway Express (TRE), a 34-mile commuter rail line jointly owned and operated with Dallas Area Rapid Transit (DART). Trinity Metro is the sole owner and operator of TEXRail, a 27-mile commuter rail line that runs from downtown Fort Worth to Dallas Fort Worth International Airport's Terminal B.