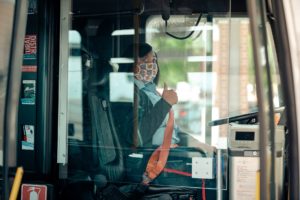 (FORT WORTH, TX – May 11, 2020) – After nearly two months of free fares on buses, TEXRail and ACCESS paratransit, Trinity Metro will resume fare collection on Sunday, May 17.
The agency suspended fares from mid-March to mid-May to help reduce the spread of COVID-19 by increasing social distancing and decreasing interactions between bus operators and passengers and between train conductors and riders.
Since the COVID-19 crisis began, Trinity Metro has been implementing new safety measures. The most recent project was to install transparent safety barriers at the front of all regular bus routes. The safety shield is placed between the driver and the fare box, so customers can easily validate or pay for a ticket when boarding.
"The protective barrier will add a safety layer for our customers and our bus operators," said Wayne Gensler, vice president and chief operating officer for bus and paratransit. "We also encourage our drivers and passengers to wear masks to help reduce the risk of spreading COVID-19."
With new safety measures in place, passengers will resume boarding buses from the front.
Social distancing and cleaning
Social distance practices are still in place at passenger shelters and stations and when on board bus, train and paratransit vehicles. Trinity Metro will continue limiting the number of riders to 35 percent of capacity.
Trinity Metro continues to take extra steps to increase the cleaning frequency of high-touch areas such as door handles, railings, seats and benches with disinfectant throughout each shift. Buses, vans and ACCESS vehicles are sanitized daily. Trinity Metro TEXRail trains are disinfected daily after they have been in service.
About Trinity Metro
Trinity Metro is a regional transportation system that provides public transportation to meet the mobility needs in Tarrant County. The agency offers connections throughout the North Central Texas region, annually providing 8 million passenger trips on buses, TEXRail, ACCESS paratransit, vanpools and the Trinity Railway Express (TRE), a 34-mile commuter rail line jointly owned and operated with Dallas Area Rapid Transit (DART). Trinity Metro is the sole owner and operator of TEXRail, a 27-mile commuter rail line that runs between downtown Fort Worth and Dallas Fort Worth International Airport's Terminal B.