MARCH 2020 ON TIME PERFORMANCE AND RIDERSHIP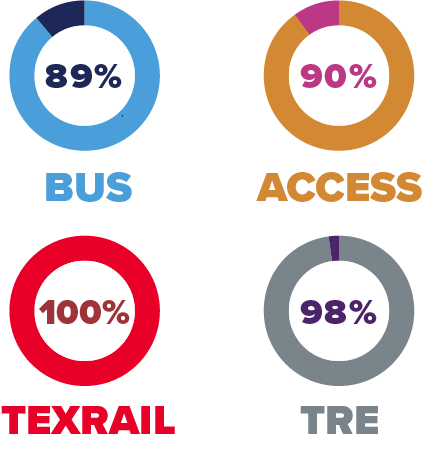 ACCESS provides essential medical trips during COVID-19 crisis
Throughout the COVID-19 crisis, Trinity Metro has been on the road and on the rails to fulfill its commitment to helping people get where they need to go. When the health crisis hit North Texas, operators, engineers and other frontline staff stepped up to keep key services operating.
A prime example is the ACCESS paratransit team, who work every day to make sure customers reach their essential medical appointments. In March, nearly 50 percent of ACCESS rides were for health-related visits, with 39 percent of passengers going to dialysis treatments and another 9 percent traveling for other medical visits. A total of 9,318 passengers were able to get to those appointments because of dedicated ACCESS drivers.
Another 19 percent, or 3,665 riders, used ACCESS to travel to work. Another 419 rode for shopping, 110 rode for social services, 99 for school and 1,163 for personal business.
Trinity Metro is proud to serve Tarrant County and to help customers reach their destinations. Thank you to all first responders and healthcare professionals who help care for those who have been impacted by the pandemic.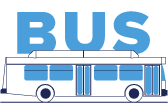 318,479
from previous year: 22.5% ⯆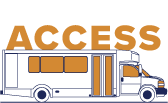 20,083
from previous year: 28.2% ⯆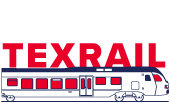 28,476
from previous year: 27% ⯆
110,765
from previous year: 31.5% ⯆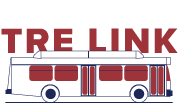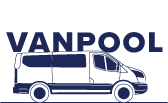 15,262
from previous year: 5.6% ⯆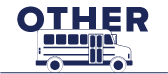 Other services include Grapevine Visitors Shuttle, NETS and TCTS.
3,622
from previous year: 28.7% ⯆
*Service started in 2019.
**Alliance ridership 405, 33.7% ▲ from previous year.
Mercantile service started in July 2019.