Trinity Metro will be operating some services on their usual schedules and others on limited operations during the Thanksgiving holiday.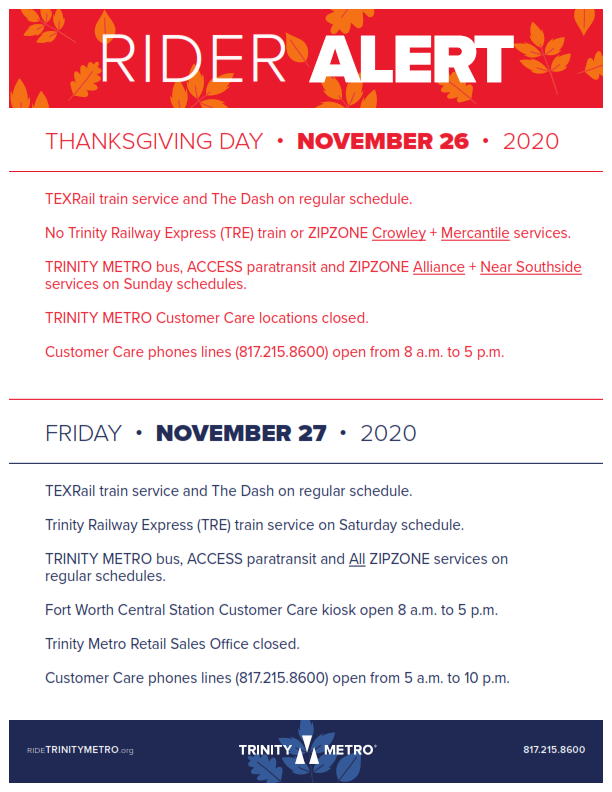 (FORT WORTH, TX – Nov. 11, 2020) – As Trinity Metro continues working toward redesigning its bus network to create A Better Connection (ABC), the agency is hosting a series of public meetings to keep everyone updated and to generate more input. Trinity Metro is now considering three options for redesigning the bus network without increasing the agency's operating budget.
"We're asking the public to help us weigh the options," said President & CEO Bob Baulsir. "We can simplify the bus system and serve some new areas or we could increase frequency to more of the network. Another choice is to add more on-demand service instead of hourly routes."
Board Chairman Jeff Davis said, "Now is the time to take a thoughtful look at how we want our transportation services to better serve the community."
The meetings will be held via Facebook Live and continue through Dec. 9.
Facebook Live sessions
6:30-7:30 p.m. Wednesday, Nov. 11
11 a.m.-12 p.m. Saturday, Nov. 14 (Spanish)
12-1 p.m. Wednesday, Nov. 18
6:30-7:30 p.m. Wednesday, Dec. 2
12-1 p.m. Monday, Dec. 9
ABC key elements
The bus system redesign is intended to make substantial improvements by reviewing the entire network and focusing on five key trade-offs. Through the earlier rounds of research and feedback, Trinity Metro has created three options for the redesign:
System Simplification – consistent, all-day service on straighter and simpler routes with some new service areas.
Walk More, Wait Less – increased frequency to more of the network.
More ZIPZONEs – more on-demand ZIPZONE options instead of hourly neighborhood routes.
Visit the Trinity Metro website for more details about ABC.
About Trinity Metro
Trinity Metro is a regional transportation system that provides public transportation to meet the mobility needs in Tarrant County. The agency offers connections throughout the North Central Texas region, annually providing 8 million passenger trips on buses, TEXRail, ACCESS paratransit, ZIPZONEs, vanpools and the Trinity Railway Express (TRE), a 34-mile commuter rail line jointly owned and operated with Dallas Area Rapid Transit (DART). Trinity Metro is the sole owner and operator of TEXRail, a 27-mile commuter rail line that runs between downtown Fort Worth and Dallas Fort Worth International Airport's Terminal B.
TEXRail will have a temporary service disruption on Tuesday, Nov. 10.