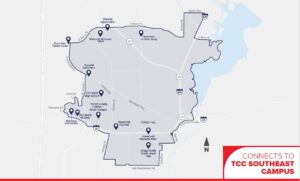 Trinity Metro's Southeast ZIPZONE is expanding to include the City of Forest Hill, beginning Wednesday, Nov. 1. The popular on-demand rideshare service will now provide a public transportation option to the city, which includes the 76119 and 76140 ZIP codes.
The expansion provides Forest Hill residents with opportunity to connect with two Tarrant County College campuses and the Sierra Vista Transfer Center, which offers connections to other Trinity Metro services. Other points of interest in the Southeast ZIPZONE include Fort Worth VA Clinic, Resource Connection and Walmart Supercenter.
Timing for the expanded service couldn't be better for new riders because all rides are free in November while Trinity Metro is celebrating 40 years of serving the community.