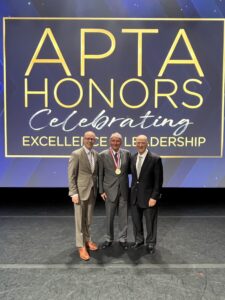 Two former Trinity Metro leaders were inducted into the American Public Transportation Association Hall of Fame during this week's APTA EXPO in Orlando. Congratulations to Paul J Ballard and John P. Bartosiewicz for being honored among the best leaders in the North American transit industry. Their fall induction coincides with another celebration: Trinity Metro's 40th anniversary of serving the community.
Paul Ballard was president and chief executive officer when Trinity Metro TEXRail launched commuter rail service between downtown Fort Worth and Dallas Fort Worth International Airport. Trinity Metro President & CEO Richard Andreski presented the award to Paul Ballard.
John Bartosiewicz was president and executive director when Trinity Railway Express and the downtown Fort Worth station and transit hub were built. The meeting room inside the station was named in his honor: John B. Community Room.