(FORT WORTH, TEXAS) Oct. 9, 2023 – To celebrate its 40 years of serving the community, Trinity Metro is offering free rides for all passengers traveling in Tarrant County for the month of November. That includes all buses, TEXRail, ZIPZONE on-demand rideshare services and ACCESS paratransit. Plus, passengers will enjoy free rides in the west zone (between Fort Worth T&P Station and CentrePort Station) of Tr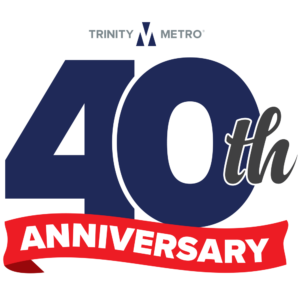 inity Railway Express.
"Trinity Metro has been an integral part of the community for 40 years," said President & CEO Richard Andreski. "We want to celebrate our 40th anniversary by offering free trips throughout November as way to thank our loyal riders – and to invite new riders to try our transit network."
Trinity Metro began operating on Nov. 8, 1983, as the Fort Worth Transportation Authority. Much has changed over the years as our range of services and our community have grown and developed.
About Trinity Metro
Trinity Metro is a regional transportation system that provides public transportation to meet the mobility needs in Tarrant County. The agency offers connections throughout the North Central Texas region, providing passenger trips on buses, TEXRail, ACCESS paratransit, ZIPZONEs, Fort Worth Bike Sharing, vanpools and Trinity Railway Express (TRE), a 34-mile commuter rail line jointly owned and operated with Dallas Area Rapid Transit (DART). Trinity Metro is the sole owner and operator of TEXRail, a 27-mile commuter rail line that runs between downtown Fort Worth and Dallas Fort Worth International Airport's Terminal B.