More than a half million rides and miles traveled on TEXRail since Jan. 10, 2019
(FORT WORTH, TX – Jan. 6, 2020) – Time flies when you're riding in style to the airport.
On Jan. 10, Trinity Metro TEXRail will celebrate one year in operation, providing a comfortable and convenient ride between downtown Fort Worth and Dallas Fort Worth International Airport's Terminal B.
At the end of 2019, TEXRail ridership reached 545,345 for the year. December was a record-setting month, with 51,217 passengers and the trains were on schedule 99.15 percent of the time. The previous record for paid ridership was 44,741, which o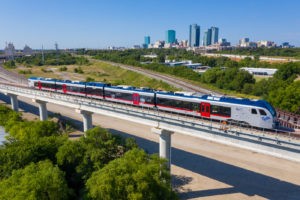 ccurred in November.
Jon-Erik "AJ" Arjanen, vice president and chief operating officer for rail, said TEXRail's reliability is key to increasing ridership.
"Riders want to know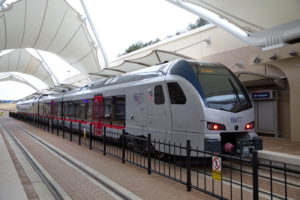 that the train is going to pick them up on time and take them safely to their destination as scheduled," Arjanen said. "If you're traveling to the airport to catch a flight, you don't want to worry about when you'll arrive."
Ridership patterns emerged during the first year, with DFW Airport Terminal B Station consistently ranking first in ridership on weekdays and Sundays. On Saturdays, Grapevine/Main Street had the highest ridership.
"We found that more business and leisure travelers are choosing to leave their cars at home and not worry about getting stuck in traffic," Arjanen said. "In 2020, we expect our commuter base to grow as more companies take advantage of the 25 percent discount we offer through our EasyRide program."
First year fun facts
To put the one-year anniversary in perspective, consider the number of miles TEXRail has traveled since beginning operations. Between Jan. 10, 2019, and late July, the trains traveled 230,442 miles between Fort Worth T&P Station and DFW Airport Terminal B Station. Frequency increased to 30 minutes during peak travel times late in July. From that point through Jan. 10, 2020, the mileage is 297,594.
528,036 total miles traveled on TEXRail
560,345 rides (estimated)
3,600+ maintenance inspections
1,792 seats (224 per train)
832 train washes
688 windows (86 per train)
41 railroad crossings
27 miles each way
23 bridges
9 stations
8 trains
$2.50 one-way ticket
About Trinity Metro
Trinity Metro is a regional transportation system that provides public transportation to meet the mobility needs in Tarrant County. The agency offers connections throughout the North Central Texas region, annually providing 8 million passenger trips on buses, TEXRail, vanpools and the Trinity Railway Express (TRE), a 34-mile commuter rail line jointly owned and operated with Dallas Area Rapid Transit (DART). Trinity Metro is the sole owner and operator of TEXRail, a 27-mile commuter rail line that runs between downtown Fort Worth and Dallas Fort Worth International Airport's Terminal B.