A BETTER CONNECTION IS NOW HERE!
You spoke. We listened. Here is the System Redesign.
A Better Connection offers more frequent routes, direct travel, routes to destinations without transferring through Downtown, better connections to TEXRail and consistent evening and weekend service through a budget-neutral redesign. By incorporating the changes that riders showed preference for in the Goals and Alternatives outreach efforts, the redesign improves service across the system, and added service to new areas. The new network was the result of a year-long outreach process. We are excited to offer you A Better Connection in Fort Worth and the Trinity Metro area.
HOW DID WE GET HERE?
THIS HAS BEEN A YEAR-LONG PROCESS
Public engagement has been the cornerstone of this system redesign process. We have held three rounds of outreach and incorporated your input in each step of the process.
PHASE 1: EXISTING CONDITIONS, GOALS AND TRADEOFFS
PHASE 1 ONLINE PUBLIC MEETINGS
Existing Conditions Established
Public Outreach Round 1: Tradeoffs
PHASE 2: SYSTEM ALTERNATIVES
PHASE 2 ONLINE PUBLIC MEETINGS
Developing System Alternatives
Public Outreach Round 2: Alternatives
PHASE 3: THE DRAFT PLAN AND FINAL PLAN
PHASE 3 ONLINE PUBLIC MEETINGS
Public Outreach Round 3: Draft Plan
Create The Proposed Plan Based On Feedback
Proposed Plan Public Hearing
Board Approval Of The Final Plan
Compare the New Network to the Current System: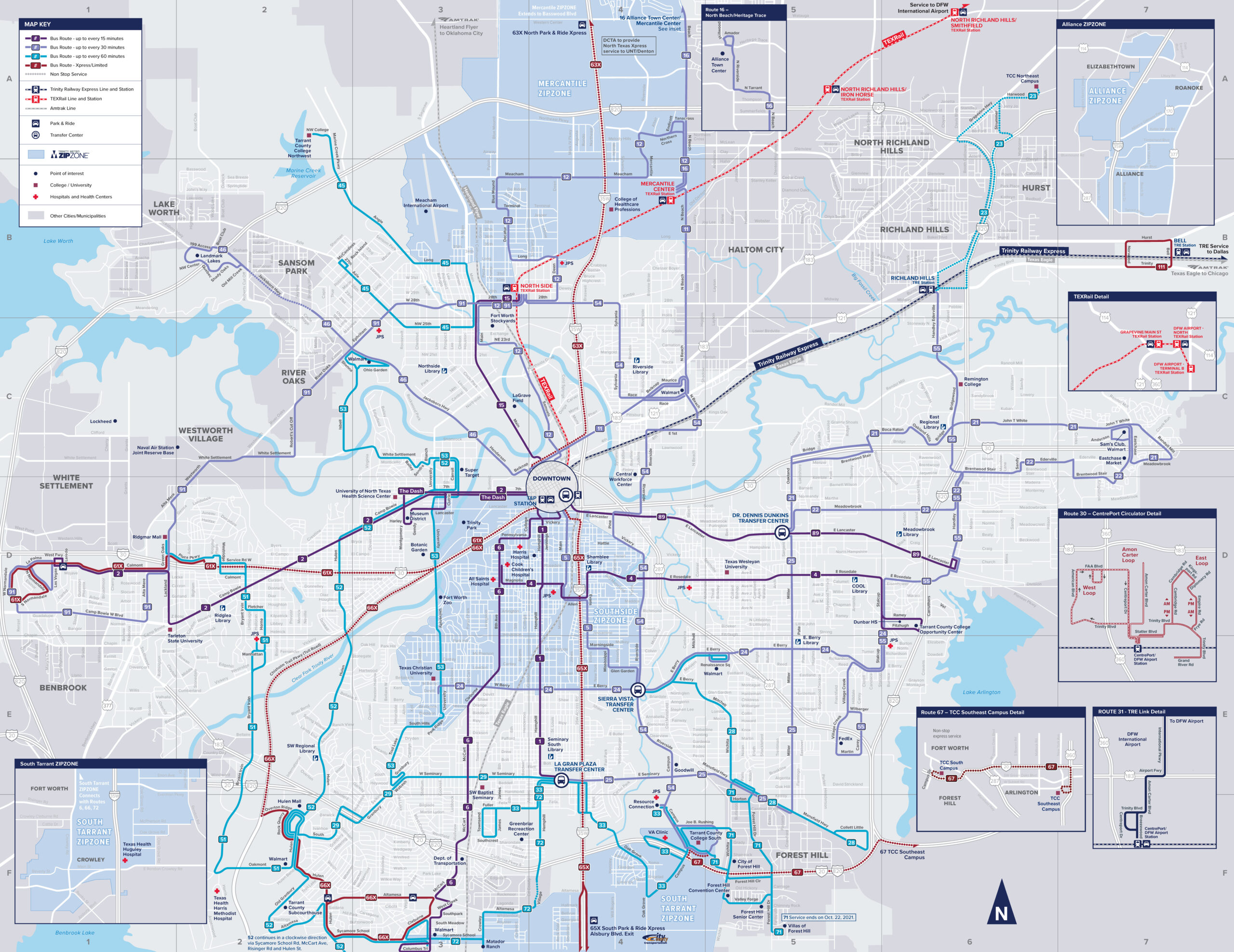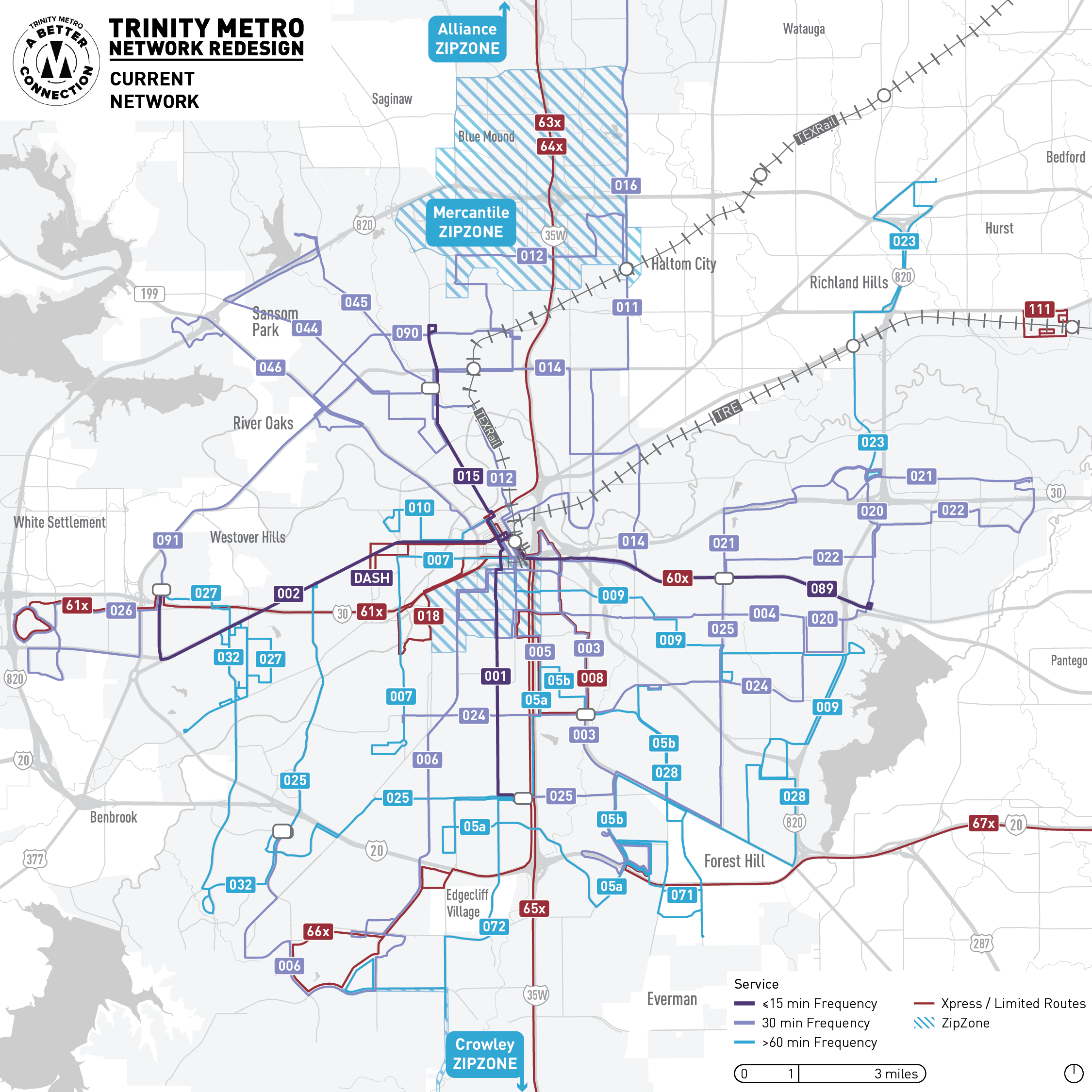 USE TRINITY METRO TRIPS TO SEE YOUR NEW ROUTES
Trinity Metro Trips.
By using this tool, you can compare the different options. In the survey below, we will ask you about specific changes as well as your thoughts on the alternatives as a whole. As mentioned previously, these options are not each individual proposals. They enable us to get your feedback on different ideas, and the draft plan will be designed based on the input we receive.
The trip planning tool is in a prelaunch mode, which gives you a sneak peek at future trip planning. This tool was developed by using the upcoming system changes that go into effect in AUGUST 2021.
THIS TOOL IS NOT INTENDED FOR USE WITH THE CURRENT ROUTES.
THE TRIPS ARE SUGGESTIONS AND WILL HELP IDENTIFY THE ROUTES FOR YOUR TRIP.
THE TIMES DISPLAYED IN THE ITINERARIES ARE SUBJECT TO CHANGE UNTIL THE FINAL SCHEDULES ARE PUBLISHED.
Instructions:
Please start by typing your closest intersection of your origin location, for example, Camp Bowie and University and press "Enter" on your keyboard.
As you type in the origin or destination, suggestions for stops and street intersections are displayed to choose from. This tool does not take specific addresses.
Alternatively, you could pick your origin location by simply clicking on the map.
Similarly, enter your destination location, for example, Magnolia and Henderson.
Click on the "Plan your Trip" button to see the results.
There will be three results displayed for review.
For more advanced instructions, Click Here.